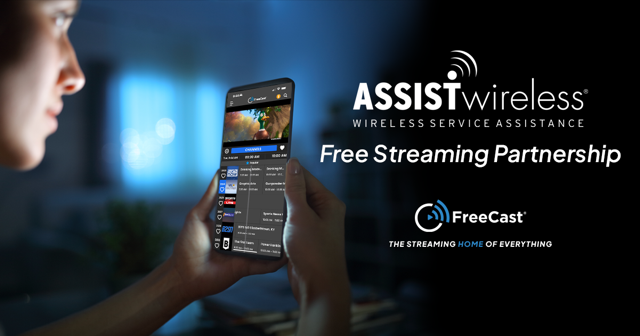 The Oklahoma-based Lifeline & ACP provider will test the in-store distribution of FreeCast.
Assist Wireless and FreeCast are proud to announce a new partnership to provide federal Lifeline and Affordable Connectivity Program customers access to FreeCast's streaming service. Assist Wireless, which operates primarily in Oklahoma, will begin to test distributing FreeCast with each qualifying in-store customer activation within the next 30 days.
Formerly known as SelectTV, FreeCast is an aggregated streaming service offering over 500,000 TV episodes, movies, and over 700 free streaming channels. FreeCast is an ideal service to pair with programs focused on broadband and telecommunications affordability programs because it allows customers to access a wide variety of content at no cost and complete control of their spending on subscription or pay-per-view media.
FreeCast CEO William Mobley discussed the exciting opportunity of partnering with Assist Wireless. He emphasized the importance of adding value to a program focusing on affordable broadband and telecommunications. "In today's world, broadband and phone services are essential but difficult to afford without programs like Lifeline and ACP. Although it's hard for many of us to imagine a world without it, many Americans also struggle to afford TV and other video entertainment. FreeCast's service has always prioritized affordability, and we take pride in offering a vast volume of content at no cost. This partnership aligns perfectly with our values and presents a great opportunity for both companies and consumers alike."
Lifeline & ACP customers who join this program will also receive a free year of Value Channels, a bundle of 20 premium pay channels typically costing $6.99 monthly. This limited promotion is an excellent way for customers to access a wide variety of content without having to pay for it.
David B. Dorwart, CEO of Assist Wireless, added, "Lifeline and ACP Customers deserve the same access to essential services and TV and streaming entertainment content that most of us are lucky enough to enjoy every day. FreeCast's TV and other streaming content will provide a key source of news, weather, politics, and other local information. This free service allows our customers to remain aware of current events, stay safe, and actively participate in our day-to-day society."
Assist Wireless and FreeCast are committed to providing customers with the best possible experiences. This partnership is a great way to ensure that customers have access to affordable phone and broadband service, as well as a wide variety of entertainment content at no cost. With this partnership, customers can enjoy the best of both worlds. We are excited to see the impact of this partnership on our customers.
Media Contact
Company Name: FreeCast Inc.
Contact Person: Kevin Speedy
Email: Send Email
Phone: (407) 374-1607
Address:6901 TPC Drive Suite 200
City: Orlando
State: Florida
Country: United States
Website: https://freecast.com