With the number of companies that have hit the IPO market in the last year, many are wondering if the market has become oversaturated. 
According to the IPO investment firm Renaissance Capital, 222 companies went public in 2013, raising a combined $54.9 billion. That made 2013 the biggest year for IPOs since the "dot-com" bubble of the early 2000s.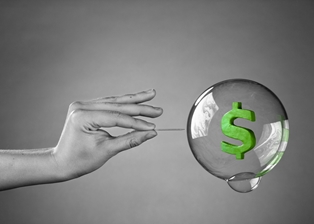 And 2014 is off to an even busier start. Through the last week of March, 64 IPOs have been priced, raising an estimated $10.6 billion. That's more than double the number of companies that went public by this time last year.
It doesn't look to be slowing down either, as 42 IPOs were filed in March 2014. That's more than any month in the past 10 years.
And it's not just the number of companies going public that has stoked the IPO bubble chatter; it's the financial figures behind these companies.
According to the Wall Street Journal, nearly 75% of the companies that have gone public in the United States this year were unprofitable at the time of their initial public offering.
That has skeptics pointing to the multitude of tech startup IPOs that contributed to the dot-com crash. The Pets.com IPO in 2000 raised $82 million, but the stock crashed from $14 to $0.22 in just nine months, forcing the company to shutter its operations. Shares of eToys.com soared to $76 from $20 on its opening day in 1999. That company filed for bankruptcy less than two years after its IPO.   
But before labeling the 2014 IPO market as a repeat of the dot-com era bubble, check out these statistics...
The 2014 IPO Market Is Not the 2000 IPO Market
One indicator that separates 2014 from the dot-com bubble is the average age of companies going public.
While 2014's average age of 13 is the lowest since 2008, companies going public this year are still three times older than they were in 2000. Research from University of Florida Finance Professor Jay Ritter concludes that companies were just four years old, on average, when they went public in 2000.
Another important number to look at is the average return of IPOs. Through March, companies going public this year have averaged a first-day return of 21.1%. In 2013, the average first-day return was almost 41%.
That's nowhere near the first-day average gains companies saw in 2000, which were more than 50% according to Dealogic.
In 1999, an incredible 457 companies went public, and 117 of them doubled in the first day. An average first-day gain of 21.1% in 2014 suggests investors are buying at a much more cautious and modest rate.
While many of the numbers suggest we're far from reaching a dot-com era IPO market, one of the best indicators is the type of companies going public.
Strong Industries Behind 2014 IPOs
As its name suggests, the dot-com era was littered with high-tech startups and Internet companies with very little financial backing or sustainable business models.
In 2014, the IPO market is much more diverse. Renaissance Capital reported that 30 of this year's IPOs came from the healthcare field, while only 10 represent the tech sector. Energy makes up six of the IPOs, and financial services four. The rest of the IPOs are spread over the business services, capital goods, consumer, and transportation industries.
Still, bubble theorists point to the public filing of companies like Box Inc. to suggest that tech companies are achieving unwarranted valuations.
Admittedly, Box Inc. has not turned a profit and doesn't expect to for some time. However, the nine-year-old company boasted revenue of $124.2 million in the year ending Jan. 31. That was up 111% from the previous year. And Box has a customer base of more than 25 million registered users and 34,000 companies. 
Most importantly, Box operates in the cloud-computing field, which continues to grow in revenue and importance every day. By 2020, cloud computing should be a $240 billion industry, and it's an industry that many of 2014's tech IPOs operate in.
The IPO market is the hottest it's been since the dot-com era, prompting some to worry if there's a bubble. These numbers suggest otherwise.
"We're talking about a $240 billion market [for cloud-computing] at the end of this decade versus just $40 billion just three years ago," Money Morning's Defense and Tech Specialist Michael Robinson said on FOX Business' "Varney & Co." "The reason why everyone is moving to the cloud is that's the future. You're going to cut your costs on data centers. The cloud is the future of computing in the United States and globally."
Sure, there will be a "Candy Crush" dud like King Digital Entertainment (NYSE: KING) once in a while, but the IPO market is not flooded with upstart companies lacking business plans and financial backing. Companies like Coupons.com Inc. (NYSE: COUP) and Barracuda Networks Inc. (NYSE: CUDA) have recently hit the market with strong revenue streams and client bases to support their public offerings.
The IPO market may be frenzied, but it isn't a bubble.
Do you invest in IPOs? What are your thoughts on a potential IPO bubble? Let us know on Twitter @moneymorning using #IPOs.
Palladium is critical to our consumer electronics products, and we use it hundreds of times every day. Here's how you can profit from its huge price surge - a price surge you've created...
Related Articles:
Tags:
Best IPOs 2014
,
hot ipos
,
Hot IPOs 2014
,
investing in ipos
,
ipo bubble
,
IPO calendar
,
IPO Calendar 2014
,
IPO Dates
,
ipo dow jones
,
IPO investing
,
IPO List
,
ipo market
,
IPO market 2014
,
IPO news
,
IPO Stock Options
,
IPOs
,
ipos 2014
,
List of IPOs
,
nasdaq IPO
,
nasdaq ipo filings
,
new ipo nasdaq
,
new tech ipos
,
pre ipo stock options
,
social media IPOs
,
upcoming ipos
,
upcoming ipos 2014
,
what is an ipo stock
The post The 2014 IPO Market Is Frenzied, but Not a Bubble appeared first on Money Morning - Only the News You Can Profit From.