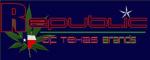 DALLAS, TX -- (Marketwired) -- 04/07/14 -- Republic of Texas Brands, Inc. (PINKSHEETS: RTXBQ) has made a wholesale agreement to distribute the Original Hydrade, the Ultimate Sports Drink which offers Better hydration, better response, bolder taste and higher performance benefits. Original Hydrade is the first sports beverage scientifically proven to revitalize and replenish the body faster. The Secret is Hydrade's super-hydrating combination of glycerol and electrolytes, which we call Revitalytes. Research shows this unique formulation actually improves overall conditioning and endurance levels. In fact, these Revitalytes optimize consumers' performance benefits by improving the body's cooling ability, helping to prevent dehydration and delaying the onset of fatigue. With Hydrade, consumers get the only ready-to-drink sports beverage available with glycerol-and they get the real results they expect. Hydrade delivers -less sugar -fewer calories from sugars -more total electrolytes -highest level of potassium -Exclusive formulation including Vitamin C -More effective carbohydrate levels -Superior hydration from a special active ingredient called glycerol. Flavors are Double-Time Lemon Lime, Flat-Out Orange, Full-Tilt Fruit Punch and High-Gear Grape. Packaging Hydrade is offered in a unique Award Winning Mylar pouch containing 16.9 ounces/500mL.
"Hydrade is the only sports beverage scientifically proven to revitalize and replenish the body faster" with a combination of "super-hydrating glycerol and electrolytes."
CHILL Texas is currently developing a reformulated version of Hydrade that will feature Hemp Extracts. This is one of the most potent foods available, supporting optimal health and well-being, for life.
"We believe this new hemp based Sports Energy Drink will fit perfectly into our product lineup and will allow CHILL Texas to offer a new and exclusive product that can be distributed all across North America." Says Randy Safford COO of Republic of Texas Brands, "We are hoping to finalize the formula in the coming weeks and trademark the new product name. We are hopeful that we can get the product bottled and readied for sale by 3rd. Quarter 2014. Chill Texas will entirely own the product and distribution rights to the new Hemp based product." CHILLO will continue to be our main product as sales thru Chill Texas are moving as planned.
Upon the completion of our reorganization, the merger with CHILL Texas will be finalized.
Click here to order from the Republic of Texas Brands store at AMAZON.com:
http://www.amazon.com/gp/aag/main/ref=olp_merch_name_1?ie=UTF8&asin=B00DE1EZMG&isAmazonFulfilled=0&seller=A2KX6CKNKJOQAL
About Republic of Texas Brands Incorporated:
Our mission is to find the premier cannabis and hemp industry innovators, leveraging our team of professionals to source, evaluate and purchase value-added companies and products, while allowing them to keep their integrity and entrepreneurial spirit. http://www.republicoftexas.com.
Safe Harbor Act: This release includes forward-looking statements made pursuant to the safe harbor provisions of the Private Securities Litigation Reform Act of 1995 that involves risks and uncertainties including, but not limited to, the impact of competitive products, the ability to meet customer demand, the ability to manage growth, acquisitions of technology, equipment, or human resources, the effect of economic business conditions, and the ability to attract and retain skilled personnel. The Company is not obligated to revise or update any forward-looking statements in order to reflect events or circumstances that may arise after the date of this release.
Add to Digg Bookmark with del.icio.us Add to Newsvine