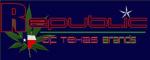 DALLAS, TX -- (Marketwired) -- 04/24/14 -- Republic of Texas Brands Incorporated (PINKSHEETS: RTXBQ) announced today that it has reached a preliminary amicable settlement in its claims against Scott Forsythe, Matthew Nicoletti, Empire Capital LLC and Michael Welch, the Company's former Chief Financial Officer. The terms of the settlement will remain confidential until approved by the Bankruptcy Court.
Jerry Grisaffi, Chief Executive Officer, stated, "We thank Scott Forsythe, Matthew Nicoletti, and everyone at Empire Capital for this resolution and support of our Chapter 11 reorganization plan and wish them every success in their future endeavors."
Grisaffi continued, "This is a giant step towards the Company's successful exit from Chapter 11 reorganization and will benefit both our creditors and our shareholders. With the return of the Welch stock to treasury the share structure will be reduced to 202,730,433. There will be no reversal of the stock and all shares held by investors will be unaffected. This will help us move forward with our plans to acquire Chill Texas, which will provide us with a solid revenue base to grow and meet our plan obligations."
"We are happy to move even further in the reorganization process and to look for acquisitions that create shareholder value," said Grisaffi.
Click here to order CHILLO products via AMAZON.com: http://www.amazon.com/gp/aag/main/ref=olp_merch_name_1?ie=UTF8&asin=B00DE1EZMG&isAmazonFulfilled=0&seller=A2KX6CKNKJOQAL
Safe Harbor Act: This release includes forward-looking statements made pursuant to the safe harbor provisions of the Private Securities Litigation Reform Act of 1995 that involves risks and uncertainties including, but not limited to, the impact of competitive products, the ability to meet customer demand, the ability to manage growth, acquisitions of technology, equipment, or human resources, the effect of economic business conditions, and the ability to attract and retain skilled personnel. The Company is not obligated to revise or update any forward-looking statements in order to reflect events or circumstances that may arise after the date of this release.
Add to Digg Bookmark with del.icio.us Add to Newsvine