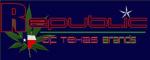 DALLAS, TX -- (Marketwired) -- 04/28/14 -- Republic of Texas Brands, Inc. (PINKSHEETS: RTXBQ) has taken delivery of the Original C Swiss Hemp Ice Tea to its product lineup. C Swiss tastes very rich and complex, very earthy but not at all sour or chalky. The ingredients are natural and delicious, and the caffeine rush from the black tea is strong and natural. This is non-carbonated, using water, non-gmo beet sugar, concentrated lemon juice, hemp seed extract, black tea extract, L-ascorbic acid, and natural flavor. Everything in this tastes natural, delicious, and unique.
"We believe the addition of The Original C Swiss Hemp Ice Tea product line will perfectly fit into our product lineup and will allow CHILL Texas to offer a new and exclusive product that can be distributed all across the state of Texas as well as nationally via internet marketing." Says Randy Safford COO of Republic of Texas Brands, "We are hoping C Swiss Hemp Ice Tea will double our sales in the coming months and help CHILL Texas increase our distribution footprint across the state of Texas."
Upon the completion of our reorganization, the merger with CHILL Texas will be finalized.
Click here to order from the Republic of Texas Brands store at AMAZON.com: http://www.amazon.com/gp/aag/main/ref=olp_merch_name_1?ie=UTF8&asin=B00DE1EZMG&isAmazonFulfilled=0&seller=A2KX6CKNKJOQAL
About Republic of Texas Brands Incorporated: http://www.republicoftexas.com.
Safe Harbor Act: This release includes forward-looking statements made pursuant to the safe harbor provisions of the Private Securities Litigation Reform Act of 1995 that involves risks and uncertainties including, but not limited to, the impact of competitive products, the ability to meet customer demand, the ability to manage growth, acquisitions of technology, equipment, or human resources, the effect of economic business conditions, and the ability to attract and retain skilled personnel. The Company is not obligated to revise or update any forward-looking statements in order to reflect events or circumstances that may arise after the date of this release.
Add to Digg Bookmark with del.icio.us Add to Newsvine