Today's list of hot stocks to watch includes a tech giant hitting a new 52-week high, a penny stock up 20% on M&A news, and a bank stock soaring 40%.
Take a look at these 12 hot stocks to watch today, and why they're on the move.
12 Hot Stocks to Watch Today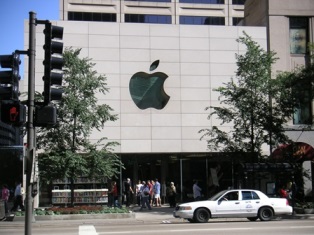 Apple Inc. (Nasdaq: AAPL) shares rose more than 1% to $604.41 intraday, a new 52-week high. Shares of the iPhone maker closed up $8.38, or 1.4%, to $600.96 on Monday, the first time it has closed over $600 in about 18 months. APPL shares have been rising for weeks on the heels of a better-than-expected fiscal Q2 2014 report, announcement of a stock split and dividend boost, plus a successful bond offering. Since the robust earnings report on April 23, shares are up some 13%. Analysts remain bullish. The average rating among the 49 industry experts who cover the stock is "Outperform," according to S&P Capital IQ.
Anadarko Petroleum Corp. (NYSE: APC) shares climbed nearly 5% to a 52-week high of $104.84 intraday. Citigroup upgraded the Woodlands, Texas company to "Buy" from "Neutral" and raised its price target to $115 from $112.
Avago Tech. Ltd. (Nasdaq: AVGO) shares jumped nearly 5% to $68.08 in morning trading. The semiconductor company will be added to the S&P 500 Index after the market close on Wednesday, a day after it closes its acquisition of LSI Corp. (Nasdaq: LSI). AVGO replaces LSI in the broad-based benchmark.
Baxter International Inc. (NYSE: BAX) shares ticked up 0.30% to $74.73 after the company hiked its quarterly dividend 6% to $0.52 per share for an annual dividend rate of $2.08, or nearly 3%. The new rate maintains Baxter's dividend payout ratio of approximately 40%. Since 2008, the healthcare giant has more than doubled its dividend.
Dex Media Inc. (Nasdaq: DXM) shares surged nearly 25% to $9.51 after posting a much narrower year-over-year loss. One of the largest U.S. providers of social, local, and mobile marketing solutions, DXM reported a Q1 2014 loss of $4.74 a share, versus a loss of $5.84 in the same quarter a year ago. Revenue rose 58.3% million to $0.456 million, boosted by digital ad sales growth.
DIRECT TV (Nasdaq: DTV) shares climbed nearly 4% to $82.35 intraday despite reporting a 19% decline in Q1 profit, blamed on a volatile currency situation in Venezuela. Stripping out one-time charges, however, the No. 1 provider of satellite TV services managed to impress Wall Street. DTV earned $561 million, or $1.09 per share, down from $690 million, or $1.20 per share, year over year. Revenue rose 4% to $7.86 billion from $7.58 billion. Wall Street was looking for revenue of $7.93 billion, according to FactSet. Also likely keeping shares elevated is last week's report from The Wall Street Journal that DTV is a possible takeover target of AT&T Corp. (NTSE: T) in a deal that could be valued at more than $40 billion.
EOG Resources Inc. (NYSE: EOG) shares jumped more than 5%, hitting a 52-week high $106.50 in morning trading. The natural gas and oil producer posted Q1 earnings that rose 34% year over year thanks to a 42% boost in oil production. First-quarter net income rose to $661 million, or $1.21 a share, from $495 million, or $0.91 a share, a year earlier. Per-share profit was $0.21 higher than the $1.19 analysts expected. Additionally, the Houston, Texas-based company raised its 2014 crude oil and overall production targets.
Forest Oil Corp. (NYSE: FST) shares surged more than 20% to $2.50 after the company reported it is merging with Sabine Oil & Gas LLC, a privately held natural gas and oil company. Under terms of the deal, Sabine and Forest will combine their businesses in an all-stock transaction.
Office Depot Inc. (NYSE: ODP) shares jumped 16.67% to $5.03 after reporting a surge in first-quarter sales. Thanks to the acquisition of former rival OfficeMax (completed in November 2013), the retail chain posted adjusted earnings per share (EPS) of $0.07, a 111% increase year over year. Revenue came in at $4.4 billion, up from $2.7 billion in the same quarter a year earlier. Expectations were for EPS of $0.03 on $4.3 billion in revenue.
SP Bancorp Inc. (Nasdaq: SPBC) shares surged 40% to a 52-week high of $29 on heavy volume. Shares of the Plano, Texas-based bank rose after it agreed to be bought by Houston-based Green Bancorp for $46.2 million in cash, or $29.55 per share. The transaction has been unanimously approved by the boards of both companies.
Valero Energy Corp. (NYSE: VLO) shares rose 2% to a new 52-week high of $59.69 after Oppenheimer upgraded the stock to "Outperform" from "Perform." The investment firm said the ratings boost for the independent petroleum refining and marketing company comes as Valero moves to return more cash to investors via buybacks and dividends.
VVUS Inc. (Nasdaq: VVUS) shares surged some 12% to $5.95 after reporting a narrower than expected Q1 loss. The company lost $0.13 per share in the first quarter of 2014, much less than the consensus estimate of a $0.34 per share loss, and better than the year-ago loss of $0.53 per share. Total revenue came in at $36.7 million, up significantly from $4.1 million year over year. Analysts were looking for a per-share loss of $0.37 on revenue of $11.7 million. The maker of the weight loss drug Qsymia and the erectile dysfunction drug Stendar also cut expenses 36%.
Today's Top Investing Story: This one strategy will help you quickly isolate huge winners when you're investing. And anyone can use it...
Tags:
best stocks 2014
,
best stocks to buy
,
best stocks to buy 2014
,
best stocks to buy now
,
best stocks to buy right now
,
best stocks to buy today
,
best stocks to invest in
,
best stocks today
,
Best Tech Stocks to buy Today
,
Hot Stocks
,
hot stocks 2014
,
hot stocks to watch
,
hot stocks today
,
stock to buy
,
Stocks to Buy
,
stocks to buy 2014
,
Stocks to Buy Now
,
stocks to buy today
,
stocks to invest in
,
stocks to watch
,
stocks to watch 2014
,
stocks to watch today
,
top stocks
The post Hot Stocks to Watch Today: AAPL, DTV, and 10 Other Movers appeared first on Money Morning - Only the News You Can Profit From.