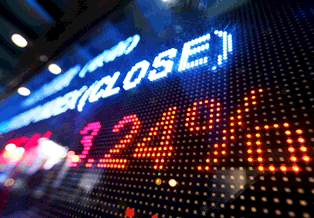 Featured in today's hot stocks to watch list are a number of biotech companies providing promising updates on cancer treatments, a casual food chain soaring on robust sales, and a penny stock shipping company surging some 80% on a new eco-friendly fleet.
Take a look at 12 of Tuesday's hot stocks to watch, and find out what's behind their moves.
12 Hot Stocks to Watch Today
Aeroflex Holding Corp. (NYSE: ARX) starts off today's list of hot stocks to watch. The Plainview, N.Y. maker of wireless communication products for space, avionics, medical markets, and more is being acquired by British aerospace and defense supplier Cobham for $1.46 billion, or $10.50 a share. With the purchase, Cobham continues its quest for more commercial customers as its main defense clients continue to cut spending. ARX shares soared more than 25% to a 52-week high of $10.44.
Clovis Oncology Inc. (Nasdaq: CLVS) shares jumped more than 6% to $61.70 after the biotech company received U.S. Food and Drug Administration breakthrough therapy designation for CO-1686. The drug is used for the second-line treatment of EGFR-mutant small-cell lung cancer in patients with the T790 mutation. Patrick J. Mahaffy, president and chief executive officer (CEO) of Clovis, said the designation is "well-timed" and comes as "we are initiating our registration studies and preparing to submit our initial New Drug Application (NDA) by mid-2015."
Dendreon Corp. (Nasdaq: DNDN) shares soared 11% to $2.45 on brisk volume. Before noon, more than 4.5 million shares changed hands, nearly twice the stock's average daily volume. Behind the action was a report from the biotech company announcing positive data from Provenge, used to treat prostate cancer. Chief Medical Officer Andrew S. Sandler, M.D. said the data shows the "important role immunotherapy (like Provenge) plays in prescribing practices of urologists and oncologists" and may improve outcomes for patients.
Dow Chemical Co. (NYSE: DOW) shares climbed 2% to $50.21 after Wells Fargo raised its rating on the chemical giant to "Outperform" from "Market Perform." The bank boosted its FY2014 earnings per share (EPS) to $2.85 from $2.75. Wells also raised FY2015 EPS estimates to $3.50 from $3.20, citing contributions from Dow's Sadara joint venture in the Middle East and its new propylene dehydration (PDH) plant.
Google Inc. (Nasdaq: GOOG, GOOGL) shares rose 1.58% to $545.73 intraday after reporting late Monday that it's buying Divide, a mobile-device management startup. The purchase is aimed at helping the Internet giant's Android business broaden its reach. While Android is the world's most popular mobile operating system, it isn't widely popular with companies. Divide, founded by former Morgan Stanley IT executives, helps companies manage the growing number of mobile devices that employees use for work. Its main service gives staff the freedom to use an array of devices while still allowing companies to maintain security and control.
Home Depot Inc. (NYSE: HD) shares jumped 2.11% to $78.45 in morning trading despite posting lower than expected earnings. The home improvement retailer earned $0.96 per share in Q1 2014, $0.03 shy of estimates. Sales rose 2.9% to $19.69 billion, also short of the $19.95 forecast. On a positive note, HD raised FY2014 EPS projections to $4.42, up from $4.38. HD also said it intends to buy back up to $3.75 billion additional shares this year.
NewLead Holdings Ltd. (Nasdaq: NEWL) shares surged some 80% to $3.81 on heavy volume. An hour into trading, more than 10.5 million shares changed hands, compared to the stock's average daily volume of 2.26 million. By 1 p.m., volume was a meteoric 41.80 million shares. The rally was a continuation from Monday, when shares of the micro-cap soared a stratospheric 305.2% intraday and closed up 209.72% at $1.95. Sending the stock soaring was news the shipper has received delivery of its eco-friendly "Handysize" vessel. Called the NewLead Albion, the ship boasts a capacity of 32,318 dry-weight tonnage. The company expects the Albion to generate $2 million EBITDA per year. "We are modernizing our fleet with fuel efficient vessels," CEO Michael Zolotas said in a statement.
Ophthotech Corp. (Nasdaq: OPHT) shares surged 23% to $38.73 after announcing it has entered into an ex-U.S. licensing and commercialization agreement for Fostiva (used to treat "wet" age-related macular degeneration) with Novartis AG (NYSE ADR: NVS). Stifel believes the deal strategically positions Fostiva for long-term commercial success. Stifel hiked its price target on the stock $58 from $55, while reiterating its "Buy" rating. Meanwhile, JP Morgan increased its price target on OPHT to $51 from $40.
Red Robin Gourmet Burgers Inc. (Nasdaq: RRGB) shares soared nearly 15% to $72.40 intraday thanks to hearty Q1 2014 results. The casual dining chain reported Q1 net income increased to $11.94 million, or $0.82 per share, up from $9.48 million, or $0.66 per share, in the same quarter a year ago. That was handily better than the EPS of $0.72 analysts had projected. Revenue grew 11% year over year to $340.48 million, also comfortably better than Wall Street estimates of $334.80 million. CEO Steve Carley attributed the robust quarter to the "success of our new Finest line of Black Angus burgers as well as increased media advertising."
Seaspan Corp. (NYSE: SSW) shares climbed nearly 3.32% to $22.62 after Barclays boosted its rating on SSW to "Overweight" from "Equal Weight" and upped its price target to $30 from $25.
Smith & Wesson Holding Corp. (Nasdaq: SWHC) shares rose 2.5% to $15.79 on a bullish upgrade from Wedbush. The firm hiked its rating on the manufacturer of firearms to "Outperform" from "Neutral" and upped its price target to $20 from $13.
Stemline Therapeutics Inc. (Nasdaq: STML) shares soared 14.40% to $15.06 after announcing that data showing SL-401 efficacy in multiple myeloma in preclinical models will be presented at the America Society of Clinical Oncology Annual Meeting to be held on May 30-June 3, 2014. In a statement, Chief Medical Officer Eric K. Rowinsky said that while many agents for multiple myeloma have emerged over the last decade, those therapies have ultimately failed. But, new agents like Stemline's SL-401 have "provided additional improvement in patient outcomes."
Today's Top Investing Story: In late 2013, we let readers in on a way to invest directly in a new oil and gas drilling venture. And we have great news about Money Map Project #1: We struck oil... lots of oil. But there's an even bigger opportunity on the way - learn more about our upcoming Money Map Project #2.
Tags:
best stocks 2014
,
best stocks to buy
,
best stocks to buy 2014
,
best stocks to buy now
,
best stocks to buy right now
,
best stocks to buy today
,
best stocks to invest in
,
best stocks today
,
Hot Stocks
,
hot stocks 2014
,
hot stocks to watch
,
hot stocks today
,
stock to buy
,
Stocks to Buy
,
stocks to buy 2014
,
Stocks to Buy Now
,
stocks to buy today
,
stocks to invest in
,
stocks to watch
,
stocks to watch 2014
,
stocks to watch today
,
top stocks
The post Hot Stocks to Watch Today: GOOGL, NEWL, RRGB, and 9 More Movers appeared first on Money Morning - Only the News You Can Profit From.