It looks like we have a food fight on Wall Street.
In a move that derails Hillshire Brands Co. (NYSE: HSH) simmering $4.3 billion takeover of Pinnacle Foods Inc. (NYSE: PF), Pilgrim's Pride Corp. (Nasdaq: PPC) offered on Tuesday to pay $6.4 billion in cash for Hillshire Brands.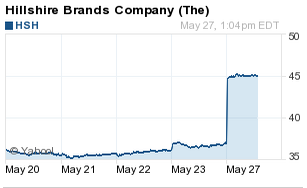 HSH stock surged more than 22% to a 52-week high of $45.52 on the news. Pinnacle shares, meanwhile, sank some 7% to $30.87.
Under terms of the bid, Pilgrim's Pride and its controlling owner, Brazilian meat giant JBS, will pay $45 for each Hillshire share. That's about a 22% premium to the sausage maker's closing price on Friday.
Pilgrim's Pride approached Hillshire about a potential deal in February, but was rebuffed. When it learned of the Pinnacle transaction announced earlier this month, it decided to come forward with an unsolicited bid. "It has always been our desire to acquire the company," Pilgrim's Pride said in a statement.
Behind the unsolicited offer is a clause in the Pinnacle transaction that allows Hillshire's board to weigh a reasonable takeover bid for their company that leads to a superior outcome for shareholders.
Indeed, following news on May 12 that Hillshire was acquiring Pinnacle, Hillshire shares shed more than 6% to $34.22. Analysts had been speculating, and shareholders had been hoping, Hillshire would be taken over in a sizable deal - perhaps by Hormel Foods Corp. (NYSE: HRL) - instead of being the one buying.
Moreover, Moody's Investors Services said it's reviewing Hillshire for a downgrade. Currently rated Baa2 by Moody's, two notches above junk status, a purchase of Pinnacle could push Hillshire's rating below investment grade.
A number of Hillshire investors have argued the Hillshire/Pinnacle transaction doesn't provide enough value and plan to vote against the acquisition.
But all could change with the Pilgrim deal...
Why Pilgrim's Pride Wants Hillshire (HSH)
Pilgrim's Pride believes Hillshire shareholders will prefer a transaction by one of the country's biggest poultry producers over a highly criticized acquisition of brands like Duncan Hines cake mixes and Bird's Eye frozen vegetables.
Key benefits of a Pilgrim's/Hillshire tie-up are:
The combination would create a fully integrated branded protein leader with combined sales of $12.4 billion across a broad portfolio of brands, many of which are No. 1 or No. 2 in their respective markets.
Pilgrim's strong operational efficiency systems and processes would nicely align with Hillshire's innovation and marketing capabilities. Pilgrim's expertise in food service brands and supermarket delis will complement Hillshire experience in retail, marketing, and distributions.
Operational collaborations and value-chain efficiencies would result in substantial cost savings.
Significant growth opportunities would arise in higher margin branded products, both in North America and internationally.
"Our proposal creates considerable value for the shareholders of both Pilgrim's and Hillshire," Bill Lovette, Pilgrim's chief executive officer, said in a statement. "For Hillshire shareholders, our proposal provides a substantial premium, greater certainty and immediate cash value for their shares. We have long respected the Hillshire business and we are confident that Hillshire's Board and shareholders will find our all-cash premium proposal to be superior to the pending acquisition of Pinnacle."
Pilgrim's hopes to have a definite agreement inked within two weeks.
The bid resumes Pilgrim's Pride parent's aim of growing through takeovers. JBS, the world's largest multinational food processing company, has spent $17 billion on acquisitions over the last decade.
HSH stock hit a new 52-week high today on the news. HSH has a P/E ratio of 25.39 and a dividend yield of 1.55%. Find out more about which stocks are the best ones to buy in today's market with this recent update from our Chief Investment Strategist Keith Fitz-Gerald: You Can Make Money in Stocks - Especially These Three - No Matter What Rates Do in 2014
Related Articles:
Tags:
$HRL
,
$HSH
,
$JBS
,
$PPC
,
best stocks 2014
,
best stocks to buy
,
best stocks to buy 2014
,
best stocks to buy now
,
best stocks to buy right now
,
best stocks to buy today
,
best stocks to invest in
,
best stocks today
,
Hillshire stock
,
Hot Stocks
,
hot stocks 2014
,
hot stocks to watch
,
hot stocks today
,
HSH stock
,
HSH stock 2014
,
HSH stock today
,
NYSE: HSH
,
NYSE: HSH
stock,
NYSE: HSH
stock 2014,
stock to buy
,
Stocks to Buy
,
stocks to buy 2014
,
Stocks to Buy Now
,
stocks to buy today
,
stocks to invest in
,
stocks to watch
,
stocks to watch 2014
,
stocks to watch today
,
top stocks
The post Hillshire Brands (NYSE: HSH) Stock Soars 22% on Pilgrim's Pride Proposal appeared first on Money Morning - Only the News You Can Profit From.