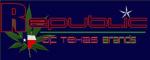 DALLAS, TX -- (Marketwired) -- 06/24/14 -- Republic of Texas Brands, Inc. (PINKSHEETS: RTXBQ) is proud to announce former professional athlete and Beverage Industry Executive Tom Shuman as the new CEO of Republic of Texas Brands. Tom has over 30 years of beverage industry experience including such soft drinks greats as Coca-Cola, Dr Pepper and 7UP. In addition to countless distributor and marketing contacts, Tom Shuman has also launched from concept to store shelves the 100 calorie SMARTERITA Margarita drink that is currently stocked on various retailers' shelves in Texas & Illinois. SMARTERITA can be found in SPECS, Goody Goody and PK Liquors locations, and has been authorized for distribution in 7-Eleven stores in seven states.
"Republic of Texas Brands has prepared an investor friendly Chapter 11 exit strategy that is awaiting ratification by the courts in a confirmation hearing on July 1st. As soon as the Chapter 11 is behind us we plan to bring in the offensive unit and very quickly move forward as a whole company," states Tom Shuman the new company CEO. "Our first play from offense is to move forward with the introduction of a series of new hemp based drinks. The new Iced Tea drink which has already been formulated will be our first introduction and will be soon followed by an exciting new energy drink. We have been working with a marketing company for several months developing and trade marking the new beverage products. A Texas based bottling company will produce the Iced Tea drink and we hope to go to production over the summer and get the product immediately placed in local stores. The new Iced Tea drink will be branded with several unique product labels and will have very strong demographic appeal by our targeted markets. Retailers will be quick to jump on board as the product will offer superior product margins, a larger product size, more attractive retail price points and stylish labeling, we believe the new product will score a touchdown in retail stores."
Tom Shuman the new CEO stated, "Looking forward to the emergence of Chapter 11 loyal shareholders will benefit by a reduced Authorized and Outstanding Share count and no reverse splits."
Click here to order from the Republic of Texas Brands store at AMAZON.com:
http://www.amazon.com/gp/aag/main/ref=olp_merch_name_1?ie=UTF8&asin=B00DE1EZMG&isAmazonFulfilled=0&seller=A2KX6CKNKJOQAL
About Republic of Texas Brands Incorporated:
Our mission is to be the premier Hemp Beverage Company in the USA.
Safe Harbor Act: This release includes forward-looking statements made pursuant to the safe harbor provisions of the Private Securities Litigation Reform Act of 1995 that involves risks and uncertainties including, but not limited to, the impact of competitive products, the ability to meet customer demand, the ability to manage growth, acquisitions of technology, equipment, or human resources, the effect of economic business conditions, and the ability to attract and retain skilled personnel. The Company is not obligated to revise or update any forward-looking statements in order to reflect events or circumstances that may arise after the date of this release.