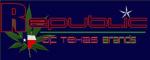 DALLAS, TX -- (Marketwired) -- 07/18/14 -- Republic of Texas Brands, Inc. (PINKSHEETS: RTXB) has successfully exited Chapter 11 and now can move forward with new corporate objectives with Tom Shuman as the new CEO. The Outstanding share count has been reduced to 232,433,700 as of July 09. The Authorized Share reduction to 400 million has been applied for with the State of Nevada and is pending approval.
RTXB plans on introducing a new Hemp water line that will feature 4 flavors and is in the formulation stage, currently we are testing several different variations of a hemp additive and the final formulation that will be scheduled for production will be announced in about 2 weeks' time. RTXB is hoping to roll out the first production run in September and get them immediately on Texas store shelves.
All of the new Trademarks for the new product lines have been filed with the United States Patent and Trademark Office and have been assigned serial numbers. In addition RTXB has applied for a trademark for the new corporate name that will be announced soon.
"We are moving closer to going into production of our Hemp Iced Tea drink product. We are waiting on the final overseas hemp seed extract samples to arrive to our lab in California so that we can test and make a final decision on which extract we want to utilize and have shipped to the bottler," states Tom Shuman the new company CEO.
"RTXB has been approached by several investment groups who are very interested in our new hemp based product lines. Now that the company is no longer in Chapter 11, we can now sit down with these groups in an effort to strike a private placement deal for additional funding. Our intention is to be able to announce the completion of the funding deal very soon."
Click here to order from the Republic of Texas Brands store at AMAZON.com: http://www.amazon.com/gp/aag/main/ref=olp_merch_name_1?ie=UTF8&asin=B00DE1EZMG&isAmazonFulfilled=0&seller=A2KX6CKNKJOQAL
About Republic of Texas Brands Incorporated:
Our mission is to be the premier Hemp beverage company in the United States and elsewhere. http:// www.republicoftexas.com.
Safe Harbor Act: This release includes forward-looking statements made pursuant to the safe harbor provisions of the Private Securities Litigation Reform Act of 1995 that involves risks and uncertainties including, but not limited to, the impact of competitive products, the ability to meet customer demand, the ability to manage growth, acquisitions of technology, equipment, or human resources, the effect of economic business conditions, and the ability to attract and retain skilled personnel. The Company is not obligated to revise or update any forward-looking statements in order to reflect events or circumstances that may arise after the date of this release.