Steven Klein, President of Kleincepts, Inc., honored as an "Inspiring Professional" for his sustainability initiative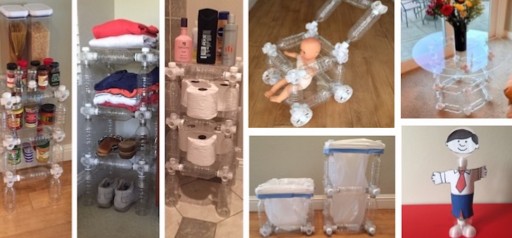 SAN FRANCISCO - April 19, 2018 - (
Newswire.com
)
In the next 60 seconds, according to an article at Forbes.com, people around the world will use one million plastic containers. Plus, another one million every minute around the clock, every day all year. Tragically, 91 percent of those bottles will not be recycled. Do the math: roughly 1.2 billion durable plastic containers are added to landfills and waterways daily, where they'll slowly decay over the next several hundred years.
11 years ago, a former educator named Steven Klein came up with an idea to repurpose those super strong plastic containers. In a nutshell, a simple and practical way to give them new lives as other items, such as tables, storage cubes, toys, and even building insulation. He spent the next 10 years nurturing and developing his concept, which was officially launched in 2017.
First, Klein designed and developed a recess in the container base that enables an empty re-capped bottle to firmly connect to the recess in a second container. He then developed a series of separate threaded connector pieces that enable the connected bottles to be constructed into an unlimited number of stable structures. The connector pieces will be available online with free two-day shipping.
After receiving a patent for his container coupling system, the next step was to find a bottle machine manufacturer to efficiently produce the recessed Eco Connect Bottles® with their high-speed machines. That was accomplished in December 2015 when a leading, international bottle machine manufacturer developed molds and successfully produced the recess utilizing a proprietary blow molding process. Importantly, many existing water brands already use the same machines, which can be easily modified to produce Eco Connect Bottles®.
This simple technology gives every customer the bonus option to repurpose their empties in addition to recycling. It is especially beneficial for nations that do little or no recycling. Because the bottles can be repurposed, they add even more value to water containers that are provided, often donated, following natural disasters.
Mr. Klein has spent the past year getting the word out about his idea for rescuing billions of empty water bottles. According to Klein, "When I was informed by Total Prestige magazine that I had been selected as an 'Inspiring Professional,' I asked how they found out about my sustainability initiative. They responded by sending me information on others who were being honored, telling me that I belonged in this distinguished group. I hope that, someday, the world agrees."
Please take a look at Steven Klein's interview in Total Prestige magazine at http://bit.ly/2lgwqHp.
About: Eco Connect Bottle System
Kleincepts, Inc. was incorporated in 2007 to develop the Eco Connect Bottle® System...a revolutionary new way to re-purpose empty water bottles. The container coupling system was awarded patents in 2009 and 2010. In 2015 a trial was successfully completed to produce Eco Connect Bottles® in high-speed PET bottle blowing machines. A recent improvement in the proprietary base recess, which provides a vacuum seal in addition to the frictional grip is in patent pending status. Going forward Kleincepts, Inc. will be doing business as the Eco Connect Bottle® System.
Press Contact
Steven Klein
Phone: 925 263 8955
Email: steven@eco-connectbottle.com
Related Links
Forbes.com article
Press Release Service by
Newswire.com
Original Source:
74-Year-Old Has a Crazy Plan to Rescue Billions of Empty Water Bottles