Upswing Expands Tutoring Course Options Making 24-hour Tutoring Available to All Students
AUSTIN, Texas (PRUnderground) February 26th, 2019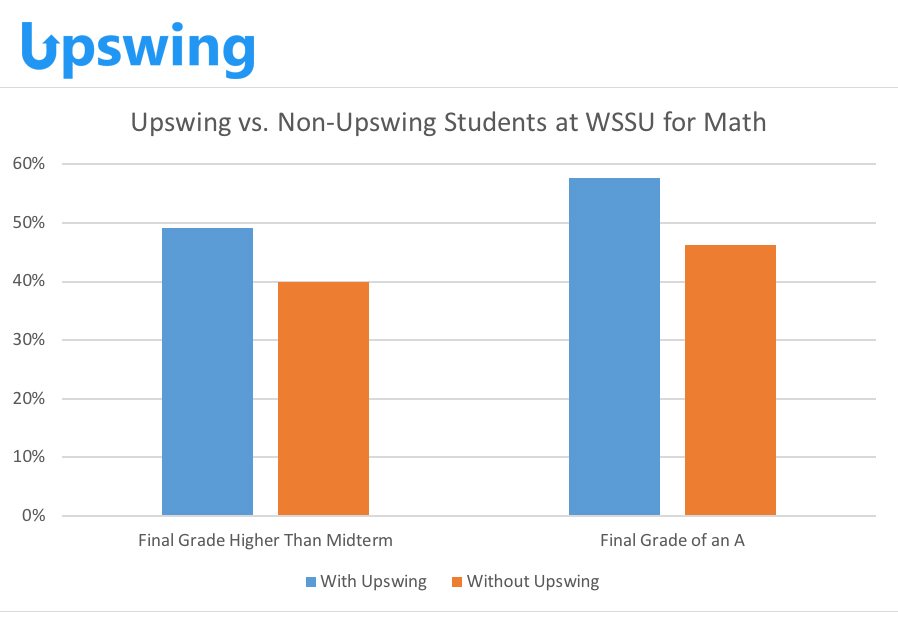 Upswing, an education technology startup, is helping Winston-Salem State University, (WSSU), a public historically black university, increase its student's writing grades by 20 percent, and math grades by 10 percent thanks to its student success solutions built around the students' lifestyle.
WSSU's more than 6,000 students require academic tutoring support services through technology easily accessible to them. Some of WSSU's students reside on campus (traditional), while others are online (non-traditional).
The university's goal was to expand tutoring course options while making online 24-hour tutoring available to all students in a more efficient manner.
Its venues and availability of tutors limited WSSU's brick and mortar tutoring services.
Online Tutoring Services
"We partnered with Upswing to solve these challenges, and quickly found using Upswing's online tutoring solutions, in addition to face-to-face tutoring services to be a successful move," says Derick Virgil, PhD., dean, at Winston-Salem University.
Upswing's solution for WSSU includes TutorUp, a tutoring platform connecting WSSU's tutors with students online to improve the reach of the university's student support services.
WSSU rolled out Upswing three years ago, and immediately students began telling their peers about the service.
Students Benefits from Upswing
Virgil says students are finding a benefit in Upswing.
"We've seen literal improvement in GPA's, especially with our sports teams who engage with the service primarily through our study hall program," says Virgil.
He says what separates Upswing from other education platforms is the ease of interaction for students with live tutors and the cost for the university.
The cost for Upswing is not passed on to the students, and Virgil says working directly with the university helps WSSU provide more academic tutoring that supports services and benefit students, without an added financial burden.
Upswing is helping WSSU engage all of its students in a more efficient manner and providing more subjects, ubiquitous reach and 24-hour access to tutoring.
Win-Win for Winston-Salem University
"Our partnership with Upswing has been a win-win for the university in many ways," says Virgil. "We've seen a direct increase in student success markers like GPAs since gaining the platform, and we're expecting to see indirect increases in retention and graduation as a result of using Upswing."
Melvin Hines, Upswing's co-founder, and CEO says he's thrilled with WSSU results.
"Upswing is proud to partner with Winston-Salem University, the 2018 recipient of the prestigious HEED Award for Diversity," says Hines. "As a former HBCU professor, I'm immensely proud of our work helping to impact over ten percent of HBCUs."
Learn how Upswing can enhance your college's student services at https://upswing.io/demo/
Use the ROI Calculator to see how much Upswing can save your school at https://upswing.io/roi-calculator/
About Upswing
Upswing is an Austin, Texas-based educational technology startup removing the barriers to degree equality. Learn more about Upswing at https://upswing.io/
Press Contact
Name: Renee Hewitt

Phone: 917.965.8712

Email: renee@reneehewitt.com

Website: https://upswing.io/
Original Press Release.