Could Gold Have Lost Its Luster For Now?
September 11, 2019 at 15:55 PM EDT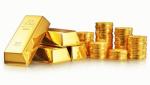 While gold has had a strong year so far, breaking out above $1,550 an ounce, the highest level over the past six years, lately it appears the shiny metal may have lost some of its luster. Spot gold had been rallying strongly, moving to the upside for three weeks out of the past four recently, but...