Winners Chosen from Industry Organizations RR Donnelley, Sutherland Global Services, Televerde and ISS

WINDERMERE, Fla. - Jan. 24, 2020 - PRLog -- IAOP®, together with The Rockefeller Foundation, announced today the winners of its 2020 Global Impacting Sourcing Award (GISA). This award recognizes both buyer and provider organizations as well as influencing organizations impacting local communities by creating jobs in the BPO industry in underserved areas.

Winners were chosen in three categories and are as follows:

Impact Sourcing in a Purchasing Organization: RR Donnelley
Impact Sourcing in a Provider Organization: Sutherland Global Services (tie)
Impact Sourcing in a Provider Organization: Televerde (tie)
Impact Sourcing Influencer: ISS
IAOP and The Rockefeller Foundation will
present their third annual Global Impact Sourcing Awards to the winners at a luncheon on February 18

th

during OWS2.0
.
"The GISA winners for 2020 were chosen based on the significance of Impact Sourcing to their business model and their public commitment to this strategy," said Jon Browning, IAOP CSR Committee Chair. "Impact Sourcing has become an integral component of today's BPO industry and service providers are adapting quickly to catch up to buyer demand. I am very glad to see that many companies across all business sectors are now employing this model."
"We work with many companies today who are making a conscious effort to put impact sourcing practices into action because it's a win-win," said Debi Hamill, CEO, IAOP. "Doing so helps society, creates goodwill for their reputations and contributes positively to their brands' health and performance. We applaud these winning organizations for blazing a trail because doing well by doing good isn't' just a passing trend, it's a paradigm shift that is changing our industry for the better."
Impact Sourcing in a Purchasing Organization — RR Donnelly:
RRD is a leading global provider of multichannel business communications services and marketing solutions. With more than 50,000 customers and 39,500 employees across 34 countries, RRD offers the industry's most comprehensive offering of solutions designed to help companies—from Main Street to Wall Street—optimize customer engagement and streamline business operations across the complete customer journey. RRD offers a comprehensive portfolio of capabilities, experience and scale that enables organizations around the world to create, manage, deliver, and optimize their marketing and business communications strategies.
Impact Sourcing in a Provider Organization — Sutherland Global Services:
Established in 1986, Sutherland Global Services is a global BPO and technology-enabled services company offering an integrated set of back-office and customer facing front-office services that support the entire customer lifecycle. It is one of the largest, independent BPO companies in the world serving marquee clients in major industry verticals. Headquartered in Rochester, New York, United States, Sutherland employs over 38,000 professionals and has more than 60 locations in the United States, Australia, Brazil, Bulgaria, Canada, China, Colombia, Egypt, Estonia, India, Jamaica, Malaysia, Mexico, Morocco, the Philippines, Slovakia, Sweden, the United Arab Emirates, and the United Kingdom.
Impact Sourcing in a Provider Organization — Televerde:
Established in 1994, Televerde is the first and only fully integrated sales and marketing technology organization with a proven execution model for generating demand and accelerating sales. The company combines end-to-end sales and marketing solutions to drive engagement, pipeline and revenue for the world's leading B2B companies including SAP, Microsoft, Honeywell, Adobe and Dell. A purpose-built company, Televerde believes in second chances and strives to help disempowered people find their voice and reach their human potential. Four of Televerde's nine call centers are staffed by incarcerated females representing 70 percent of the company's 600+ global workforce.
Impact Sourcing Influencer — ISS:
ISS is a leading workplace experience and facility management company. In partnership with customers, ISS drives the engagement and well-being of people, minimizes the impact on the environment, and protects and maintains property. ISS brings all of this to life through a unique combination of data, insight and service excellence at offices, factories, airports, hospitals and other locations across the globe.
About IAOP:
IAOP is the global association that brings together customers, providers, and advisors in a collaborative, knowledge-based environment that promotes professional and organizational development, recognition, certification, and excellence to improve business service models and outcomes. Our members and affiliates worldwide are digging deep at IAOP conferences, learning at IAOP chapter meetings, getting trained and certified at IAOP courses and workshops, and connecting through IAOP social media, all with one goal: better business results. Whether you are a customer, provider or advisor, new to collaborative business models like outsourcing, or you are an experienced professional, IAOP connects you and your organization to our growing global community and to the resources you need to get the results your company deserves and demands. Visit
IAOP.org
.
About The Rockefeller Foundation:
The Rockefeller Foundation's mission—unchanged since 1913—is to promote the well-being of humanity throughout the world. Together with partners and grantees, The Rockefeller Foundation strives to catalyze and scale transformative innovations, create unlikely partnerships that span sectors, and take risks others cannot. Visit
RockefellerFoundation.org
.
Media Contact:
Kate Tulloch-Hammond
Director, Media & Communications
+1.845.452.0600, extension 122
kate.hammond@iaop.org
Contact
Kate Hammond
***@iaop.org
Photos: (Click photo to enlarge)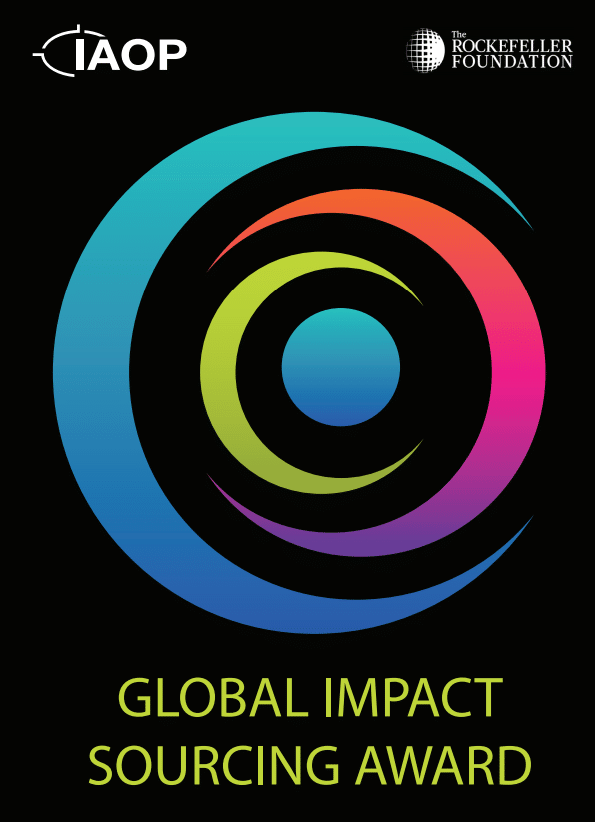 Read Full Story -
IAOP and The Rockefeller Foundation Announce Winners of 2020 Global Impact Sourcing Award
|
More news from this source
Press release distribution by PRLog