Could Housing Payment Delays Spark MBS Issues For Mortgage-Related ETFs?
March 23, 2020 at 14:11 PM EDT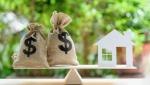 Just last week the regulator for mortgage companies Fannie Mae and Freddie Mac released news of a tolerance initiative for borrowers who can't pay their loans because of financial hardships resulting from the effects of the coronavirus. The Department of Housing and Urban Development, which...