Where are the Opportunities in International Real Estate?
May 21, 2020 at 11:13 AM EDT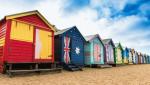 The coronavirus pandemic is opening up opportunities in international real estate whether it's taking advantage of downtrodden markets that are poised to pop or emerging markets that are on the rise. "Nothing like the coronavirus crisis has come along before,"said Ronan McMahon of Real Estate Trend...