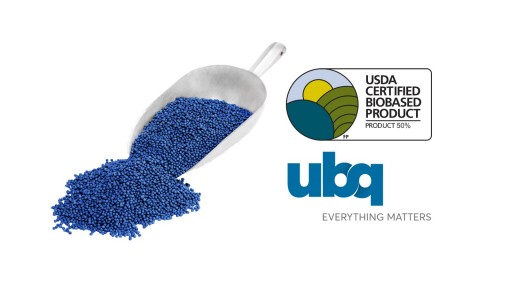 TEL AVIV, Israel - September 24, 2020 - (
Newswire.com
)
UBQ Materials Ltd. announced today that it has earned the U.S. Department of Agriculture (USDA) Certified Biobased Product label. The product, UBQ™ material, is now able to display a unique USDA label that highlights its percentage of biobased content. Third-party verification for a product's biobased content is administered through the USDA BioPreferred Program, an initiative created by the 2002 Farm Bill (and recently reauthorized by the 2018 Farm Bill). One of the goals of the BioPreferred Program is to increase the development, purchase and use of biobased products. 
The USDA Certified Biobased Product label displays a product's biobased content, which is the portion of a product that comes from a renewable source, such as plant, animal, marine, or forestry feedstocks. Utilizing renewable, biobased materials displaces the need for non-renewable petroleum-based chemicals. Biobased products, through petroleum displacement, have played an increasingly important role in reducing greenhouse gas (GHG) emissions that exacerbate global climate change. Biobased products are cost-comparative, readily available, and perform as well as or better than their conventional counterparts.
UBQ Materials has developed a patented process technology to convert landfill-destined household waste into a sustainable, bio-based thermoplastic material. UBQ™ is a proprietary, climate-positive composite that can substitute conventional plastic, wood and concrete in the manufacturing of thousands of everyday products. UBQ™ is the world's first bio-based material made of unsorted organic, paper and mixed plastic waste – everything from banana peels to dirty diapers to used yogurt containers, plastic bags and cardboard. 
"We applaud UBQ Materials for earning the USDA Certified Biobased Product label," said Kate Lewis, USDA BioPreferred Program. "Products from UBQ Materials are contributing to an ever-expanding marketplace that adds value to renewable agriculture commodities, creates jobs in rural communities, and decreases our reliance on petroleum." 
About UBQ Materials, Ltd.
UBQ Materials was founded in 2012 by entrepreneurs Rabbi Yehuda Pearl and Tato Bigio. A certified B-Corp, Israel-based  UBQ Materials has developed an advanced conversion technology, patenting the world's first bio-based material made of unsorted household waste, a revolutionary way to divert municipal solid waste from landfills and transform it into a sustainable substitute for oil-based plastics. With a climate-positive impact and a cost-competitive price, UBQ™ is replacing linear consumption models with a circular economy, eliminating the need for landfills, and conserving finite resources for future generations. 
About the USDA BioPreferred Program and Certified Biobased Product label 
The BioPreferred Program is a USDA-led initiative that assists the development and expansion of markets for biobased products. The BioPreferred Program is transforming the marketplace for biobased products through two initiatives: mandatory purchasing requirements for Federal Agencies and Federal contractors and voluntary product certification and labeling. 
Media Contacts: ​​
Liat Arad  
UBQ Materials, Ltd. 
Vernell Thompson 
USDA BioPreferred Program  
Related Links
UBQ Materials
UBQ Materials in the Washington Post
Press Release Service by
Newswire.com
Original Source:
UBQ Materials Earns USDA Certified Biobased Product Label