Genevieve's Dream, a Hemp product line, was recently created by GCRC founder Mike Robinson - Genevieve's Dad
(PRUnderground) September 26th, 2020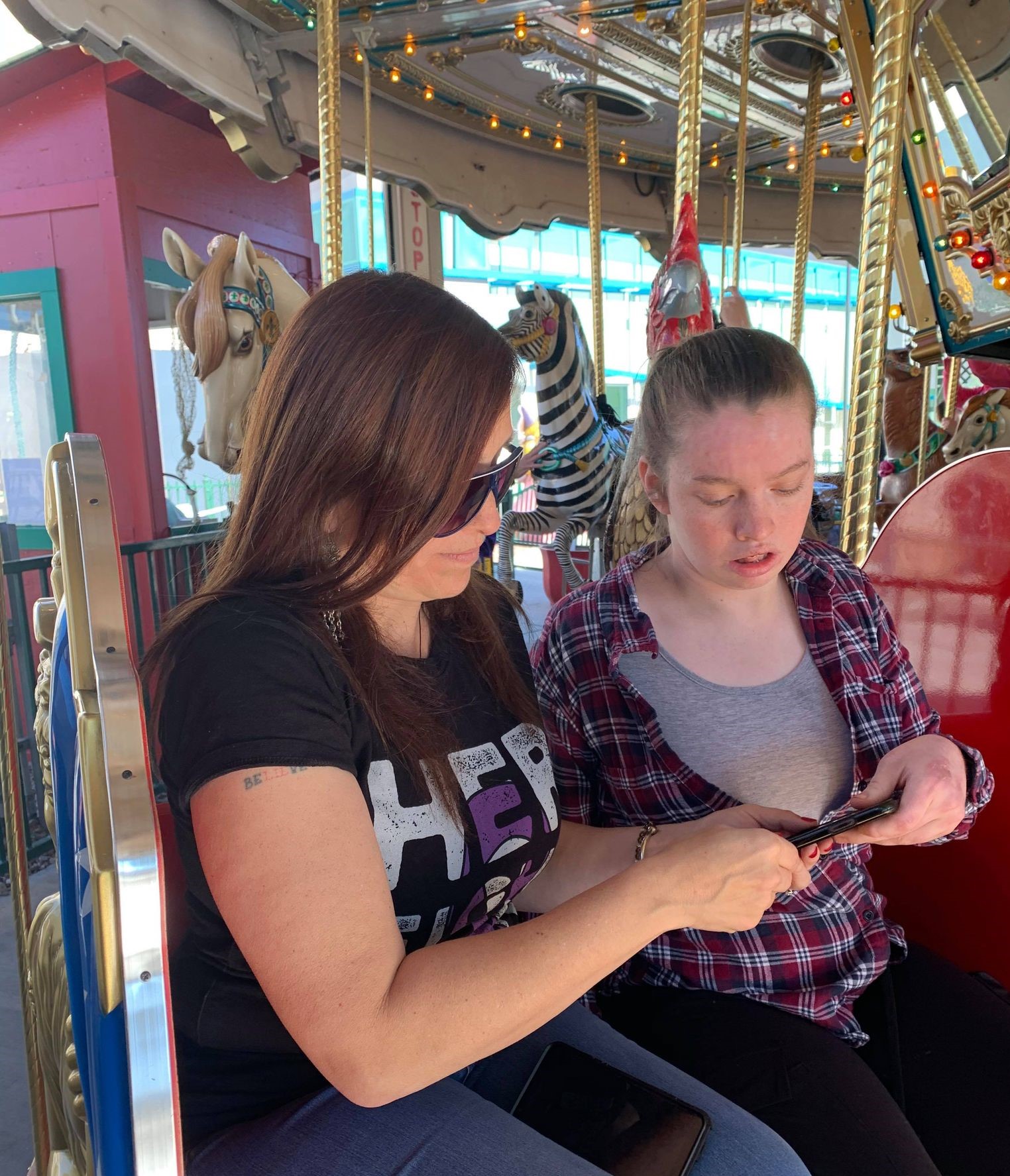 The flash and fun of a carousel ride has been enjoyed by kids, adults, and quite a few celebrities across the globe for centuries. We're all adapting to a new normal that most of us would rather not face – and that holds true even for the Hemp Instruction Center at Global Research Center (GCRC). The emerging research and development entity is the sole sponsor of Genevieve's Carousel Challenge, a California non profit created to build a developmental center. "I made the non profit for Genevieve, who has developmental delays, on her birthday in 2019 because the local carousel closed here in Santa Barbara" said research center founder Mike Robinson. "Her mom and I are hoping to gain local support to make the plan happen – to put a developmental center in the area with a carousel involved as she loves them so much."
Covid-19 has forever changed the U.S. and Global economies and in doing so has threatened the existence of what used to be the norm – non profits that benefit local communities. "When we created this it was a business as usual world, it started gettign traction and has over 40,000 followers on Facebook alone" said Mike Robinson" Many of those are India, another country hit hard by the pandemic that's closed all carousels." Small businesses and non profits have been struggling according to a recent study by the Candid group, which doesn't give a bright future for endeavors like Genevieve's Carousel Challenge. "Studies show that the average person isn't happy but over 90% of people with a Devolopemental Delay will answer 'Yes' to the question of whether or not they're happy. I love big smiles and Genevieve's filled with them, she's a reason to make this happen" said Robinson.
Genevieve is a well known fixture in the hemp industry and world of alternative medicine. Her father, Robinson, wasn't always a researcher. At one time he was known across the lands for providing compassion or giving to those who are less fortunate and can't afford specialty oils.In 2016 Genevieve was the recipient of compassion oils which started a relationship that's flourished into a well known family in the world of hemp, many refer to their journey as the  Love Story. Recently Robinson ran a special Hemp Relief giveaway based on the Pandemic in which over 100,000,000 milligrams of CBD, and Hemp oils. Across all social media channels people gathered funds and helped cover the cost of moving pallets stacked with cases of products to Veterans and other support groups, Green Nurse Groups, and more. Individual packages were sent out to thousands of people who had lost their jobs, needed help for their kids, or simply were anxious over what's going on and wanted to try the hemp products. "Our whole family gets involved in helping others" Robinson explained.
"Compassion and philanthropy are what made our family and will always be part of the mission at the Global Research center (GCRC) so making sure that Genevieve's Dream, which is truly that carousel, comes to a reality is a must. That's why I recently made a formulation called Genevieve's Dream out hemp" said Mike Robinson. "We should all, as adults, put the children first and not just with words. To me compassion is an action and love is a motion. I believe kids like Genevieve and her incredible recovery story that came from using plant based medicine, phytonutrients and more, are here for a reason. She has a special message and that carousel is part of it. So let there be lights and sound, the sooner the better!"
The non profit, Carousel Challenge, Inc., has extensive plans that include a minature golf course, carousel, learning center, and general store that will engage the developmentally disabled in learning activities as well as employement. "We want kids like our Genevieve to have a bright future with a paycheck involved in it. People discount kids like my daughter just because she has severe autism and epilepsy" her mom Anne Mari Nacef explained. "She misses the carousel so bad she can't sleep at night and although she doesn't talk like other people she can communicate and let's us know on and off 24/7 that she wants one back here. We aren't doing this non profit because we just want to have fun, we're doing it because our daughter and others like her need it – the developmental center aspect is so important. Society needs to integrate ourselves into the lives of people like Genevieve, because when you do you'll see my daughter is joy."
Director of Communications David Uhalley at the GCRC shed more light on this. "There's various ways to help the mission of the Carousel Challenge for both the public and industries. It's hard to look to the private sector for donations to a non profit during a time when everyone needs help, so we have to adjust and we have to look deeper to those that might have a special interest to help a special someone like Genevieve. We're no longer focusing only on the hemp and research industries for support as the non profilt won't survive that way unless the GCRC keeps on making product lines like Relaxation Recovery and Tropical Torpicals. These GCRC creations give proceeds to the Carousel Challenge. This is the system Mike has set up to fund it – but it's a slow process that we're not sure will work. We held an event at Circus Circus in Las Vegas at the end of 2019 but without the ability to get on the carousel this whole thing is in jeapordy. Let's all cross our fingers."
The original age of the carousel itself came to a sudden halt towards the middle of the 20th century when the last of the hand carved wooden beauties went into a museum. What started out as rides for the royalty in Germany ended in the carving of full wooden figurines – those are now replaced with replicas. Genevieve actually owns one of the original C.W. Parker horses that was to go in the famed museum in Leavenworth Kansas, but was instead sold off by Parkers son. "We've bought her 3 carousels horses so far, or her Daddy has, and one of them was from a guy that didn't know he had this treasure. We told him what it was and where it came from but he sold it to us anyway at a reduced priced for Genevieve. She has a way of making people say "OK" and give in" her mom said.
As the global shutdown continues, people are staying away from rides that are open. This is causing the operators of carousels to keep limited hours, if any, and that is giving this non profit a further sting as they rely on people to post photos of going on a ride. "We have an Instagram account @carouselchallenge" Genevieve's mother Anne Mari went on, "people would go on rides and use the hashtag #CarouselChallenge. That doesn't raise funds for us but it's also about Autism Awareness and the fact our kids matter. Right now none of them are being educated as special education has been literally closed since March.Our kids need things like the carousel, and so do we for our mental health as they make us happy."
About Global Cannabinoid Research Center, Genevieve's Dream, Inc.
Changing the face of healthcare and educating clinicians on the Endocannabinoid System are two primary goals of the Global Cannabinoid Research Center. Founded by Mike Robinson in 2018, we're expanding quickly and planning a very busy 2021 with multiple projects ahead to further cannabinoid and other plant medicine.
The post Genevieve's Carousel Challenge: California Non Profit Battles To Stay Afloat During Pandemic first appeared on PRUnderground.
Press Contact
Name: Mike Robinson

Phone: (805)617-9539

Email: Contact Us

Website: https://www.mikesmedicines.com/
Original Press Release.