Taking place on the 4-5 November, the Cyber Security and Cloud Expo is a free to attend fully online conference covering two days of top-level content and thought leadership discussions looking at the Cyber Security & Cloud ecosystem..
(PRUnderground) October 22nd, 2020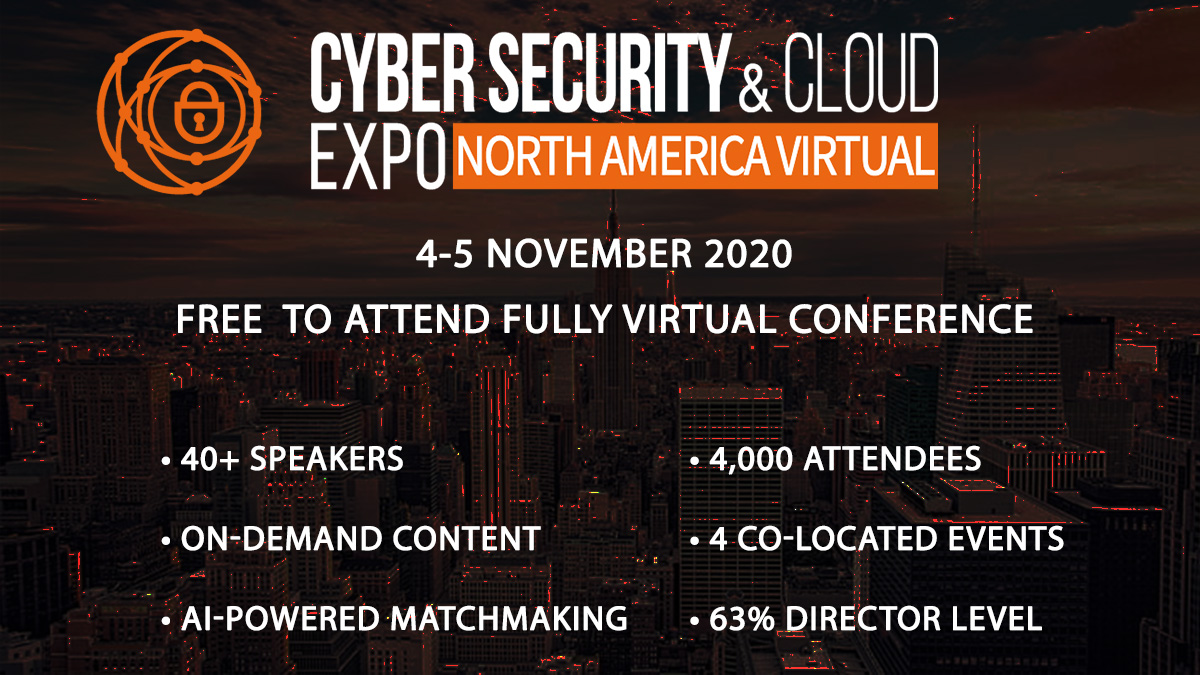 The Cyber Security & Cloud Expo North America Virtual show consists of 4 co-located events | 4000+ attendees | 40+ speakers
As the leading enterprise event across Blockchain , IoT, AI & Big Data, Cyber Security & Cloud we introduce our North America Expo on the 4-5th November 2020 and registration is completely free. Make sure to register for a ticket here.
The conference will bring together 4000+ online attendees from across the globe to explore the entire enterprise technology ecosystem across now, a co-located event covering Cyber Security & Cloud, Blockchain, IoT and AI & Big Data. The free to attend Cyber Security & Cloud Expo North America will give you a chance to access top quality content from experts in leading organisations and gain access to our matching making facility. Attendees are expected to join virtually from across the globe including CTO's, Heads of Innovation and Technology, IT Directors, Telecom Providers, Developers, Start-Up's, OEM's, Government, Automotive, Operators, Technology Providers, Investors, VCs and many more.
This virtual conference is for the ambitious enterprise technology professional, seeking to explore the latest innovations, implementations, and strategies to drive businesses forward. Consisting of live and on-demand sessions, don't miss this opportunity to explore this innovative technology and its impact on a range of industries including, manufacturing, transport, supply chain, government, legal sectors and financial services energy, utilities, insurance, healthcare, retail and more!
Our matching making tool enables users to connect with and organise virtual meetings with other attendees, speakers, sponsors, and vendors. To ensure you get the opportunity to connect with other delegates, we have now extended meeting booking times, so you can confirm your virtual meetings over the period of the expo. To book meetings via the matchmaking tool you must register to attend. Once you have registered, you will be sent your login details.
Benefits of the App & Networking Tool:
• Opportunity to set up 1-1 face time with fellow industry enthusiasts
• Increased opportunities to meet prospective clients and suppliers
• Find attendees within the sectors you are most interested in
• A chance to share your experience and knowledge
• Engage with session speakers' pre-event, create thought provoking discussions & questions
• Easily plan which session you would like to attend using the add to schedule options on each session
• Increase your social connections
The Cyber Security & Cloud Expo North America Virtual 2020 will be hosting a variety of sessions covering: tenants of CISO success, cloud security, risk & governance, cyber resilience, strategy & policy, as well as privacy & CCPA, trust & identity, and the human factor.
Once you are on the platform prepare your questions to the events 40+ thought leading speakers in Q&A sessions. These speakers include:
Laura Juanes

, Global Director, Privacy Policy Engagement,

Facebook

Sujeet Bambawale

, Chief Information Security Officer,

7-Eleven

James Burd

, Chief Privacy Officer,

Cybersecurity and Infrastructure Security Agency

Chad Childers

, Connected Vehicle Security,

Ford Motor Company

Darren Bowie

, Global Chief Privacy Officer & Managing Director,

MUFG

Manish Gupta

, Director, Global Cybersecurity Services,

Starbucks

Ashish Gupta

, Director of Technology, Identity Access Management,

Target

Christopher Witbracht

, Global Director, Technology & Security,

Anheuser-Busch InBev

Chuck Siu

, Chief-of-Staff to the CISO,

Mattel, Inc.

Tony Batalla

, Chief Technology Officer

, City of Leandro

Kelvin Coleman

, Executive Director,

National Cyber Security Alliance
See our full speaker list here.
Our World Series conferences are constantly evolving to meet the demands of our current global situation and the blockchain ecosystem.  Find further information on our Cyber Security & Cloud Expo North America Virtual conference here. We hope to see you at the Cyber Security & Cloud Expo Europe taking place virtually on 25-26th November 2020 and Cyber Security & Cloud Expo Global 17-18th March 2021 at Olympia London.
For further information contact:
Cyber Security & Cloud Expo
Matthew Hammerstone
Marketing Manager
enquiries@cybersecuritycloudexpo.com / +44 (0)117 980 9023
www.cybersecuritycloudexpo.com/
About Cyber Expo
The Cyber Security & Cloud Expo Global will host two days of top level content and discussion around cyber security and cloud, and the impact they are having on industries including government, energy, financial services, healthcare and more. Cyber Security & Cloud event is also co-located with the IoT Tech Expo, AI & Big Data Expo, 5G Expo, and Blockchain Expo so you can explore the convergence of these technologies in one place.
The post The leading Cyber Security & Cloud Expo World Series announces free North America Expo Virtual taking place on the 4-5th November 2020. first appeared on PRUnderground.
Press Contact
Name: Kirsty Legge

Phone: 01179809023

Email: Contact Us
Original Press Release.