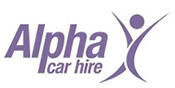 Alpha Car Hire supporting Gold Coast getting back to normal.
Alpha Car Hire Replace Nearly Two-Thirds of Their Vehicles as Gold Coast Airport Welcomes More Visitors.
Gold Coast, Australia - 28th February, 2022 - As the pandemic restrictions lift further, the Australian tourism industry is starting to see an upturn.  Like all airports, Gold Coast's Coolangatta Airport has had a difficult couple of years with limited travel allowed.  The Gold Coast Airport is usually the busiest airport in Australia outside the major cities, but the pandemic resulted in its passenger figures dropping by over 98%.  
Before the pandemic, Gold Coast Airport handled about 18,000 passengers and had 60 return flights daily. Chris Mills, CEO of Queensland Airports Limited, said, "Gold Coast Airport has been particularly hard hit by travel restrictions, given its reliance on the leisure market and the importance of its connections to Sydney and Melbourne".  However, things are rapidly improving.  In one week in December 2021, about 52,000 travellers passed through the airport, more than in the entirety of the previous month!
Gold Coast Airport has come a long way since its opening in 1936 as an emergency landing strip for airmail service planes flying between Brisbane and Sydney.  In 1939 passenger services began, but the airport was just three grass landing strips.  Over the decades, Gold Coast Airport has developed and expanded and can now claim to be the gateway to Australia's premier tourism and lifestyle destinations. The Gold Coast area offers more than 70 kilometres of golden sand, several major theme parks, six National Parks and mountains fringed with rainforests.  It is easy to see why it is such a popular destination with so much variety.  Gold Coast Airport is partway through an ambitious five-year development plan to continue to grow and accommodate more visitors.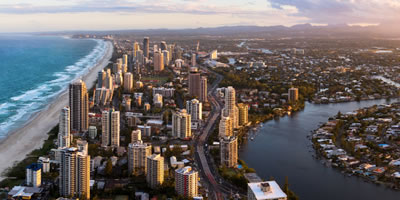 As the airport becomes busier, local tourism businesses are also getting ready to welcome visitors.  Alpha Car Hire's Gold Coast Airport car rental centreis no exception, and they are looking forward to getting back to full capacity.  Alpha Car Hire has recently replaced nearly two-thirds of its vehicles to provide customers with a better driving experience.  "We took the opportunity offered by the pandemic to revamp everything", explains Magdalena Kusyk, Chief Marketing Officer of Alpha Car Hire.  "We wanted to be in a position to offer tourists the biggest range of clean, reliable vehicles possible.  The Gold Coast is a great part of Australia to drive through, and we want to give our customers the best drive possible, whether they are locals, on holiday, visiting family or working."  
Technology moves fast, and there have been many improvements in how comfortable and safe cars now are. Car drivers are also accustomed to having their phones blue-toothed to their vehicle and sat-nav systems to guide them, conveniences not usually found on older cars.  By acquiring new, more modern vehicles, Alpha Car Hire can pass on the benefits of these advancements to their customers.  "We have replaced the majority of cars with newer ones, and the remainder have been thoroughly overhauled and upgraded," Magdalena explains.  "Whatever you want to do, Alpha Car now has the ideal car for you."
Alpha Car Hire is looking forward to being busy again.  "We like to think of ourselves as airport car rental specialists," Magdalena tells us.  "We make it as easy and as simple as possible for our clients to collect their car and get their holiday started."  Alpha Car Hire's complimentary shuttle takes customers to their offices in 5 minutes from the Gold Coast Airport's Transit Centre.  The shuttle is bright purple, so it's easy to spot. The staff at Alpha Car Hire are eager to be working at full capacity again.  "One of the most enjoyable parts of our business is welcoming visitors to our fantastic area.  We have all missed the interactions with customers, and we are looking forward to being able to help and advise as many as possible."
Further encouraging news for Gold Coast tourism is that three new Virgin Australia services have started flying from Gold Coast Airport to Launceston, Cairns and Hobart. "Virgin Australia have significantly expanded their presence on the Gold Coast, and these services were part of an overall capacity increase," Chris Mills said.  "It is particularly pleasing as we start to rebuild, that Virgin Australia is prioritising the Gold Coast as a key destination.  It shows the strength of the region and reinforces our belief that people are keen to come back here as soon as the Queensland border reopens to NSW, Victoria and the ACT.  It also highlights the growth of the Gold Coast itself and the increasing number of locals that are keen to book their next holiday." 
Both Alpha Car Hire and Gold Coast Airport have used the hiatus enforced by the pandemic to upgrade and improve their businesses so that, as they welcome increasing numbers of tourists, they can provide the best possible service.
Media Contact
Company Name: Alpha Car Hire
Contact Person: Magdalena Kusyk
Email: Send Email
Phone: +61 1300 227 473
Address:511B Nudgee Rd Hendra
City: Brisbane
State: Queensland
Country: Australia
Website: https://alphacarhire.com.au