If the first two months are any indication, the 2014 IPO market could be the biggest ever.
Through the first two months of 2014, 56 companies filed for initial public offerings in the United States. That's the highest total for any year in the past decade, and 60% higher than the next closest year, 2007.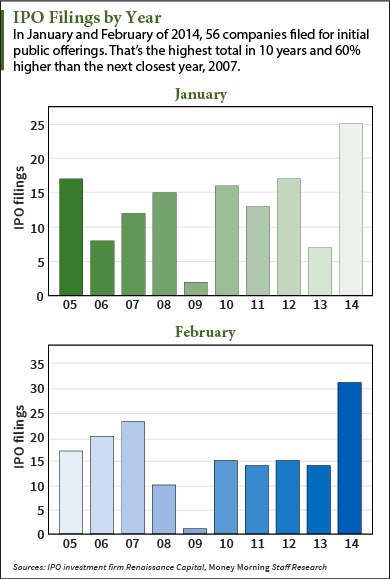 The closest years to January 2014's total of 25 filings were 2005 and 2012. Those each saw 17 filings.
February 2007 was a busy month for IPO filings with 23, but it's dwarfed by February 2014's 31 filings.
The trend has continued into March as well. Six companies have already filed for IPOs just six days into the month.
Note: The IPO market is back, and that means there are huge profit opportunities for investors. These eight IPOs should be on every investor's radar in 2014...
Of the 62 companies that have filed for IPOs through the first week of March, 37 have completed their IPOs and are now public. According to Renaissance Capital, the average return among those companies is an impressive 36.4%.
The biggest winners have been biotech stocks. Of the 37 companies to go public, 20 have been from the healthcare industry. Dicerna Pharmaceuticals Inc. (Nasdaq: DRNA) and Ultragenyx Pharmaceutical Inc. (Nasdaq: RARE) have led the way with first-day gains of 207% and 101%, respectively.
The energy industry has had six companies go public in 2014, while the capital goods and service industry has had three. Energy IPOs have averaged returns of nearly 12% in 2014. Newly public companies in the capital goods and services industry have an average return of 35% this year.
So what does the size of this year's IPO market mean to investors?
Naturally, many are wondering how to invest in IPOs. And for those looking to ride the wave of IPO gains and minimize risk, investing in IPO ETFs is one of the best plays. Find out more here.
Do you invest in IPOs? Which IPOs are you watching in 2014? Join the conversation on Twitter @moneymorning using #IPOs.
By using this one simple trading technique, you can protect the gains you've already made and open yourself to major new profit opportunities...
Tags:
2014 IPO market
,
Initial Public Offering
,
Initial Public Offerings
,
investing in initial public offerings
,
investing in ipos
,
IPO calendar
,
IPO Calendar 2014
,
IPO chart
,
IPO chart 2014
,
IPO investing
,
ipo market
,
IPO market 2014
,
IPOs
The post 2014 IPO Market Chart: Why This Could Be the Biggest Year Ever for IPOs appeared first on Money Morning - Only the News You Can Profit From.