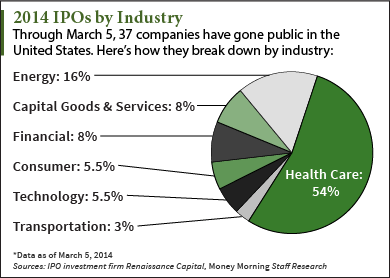 The 2014 IPO market has already seen 37 companies go public, and this IPO chart shows which industries have produced the most initial public offerings.
When numerous companies go public from one industry, it means there is high demand for stocks in that field. And in 2014, one industry has trumped the rest: healthcare.
The healthcare industry has accounted for 54% of the IPOs in 2014 and has also brought in hefty returns. The 20 healthcare companies that have gone public in 2014 have averaged returns of nearly 53%.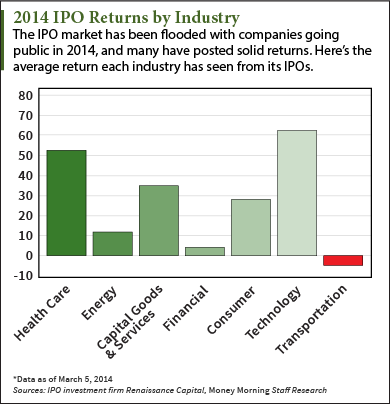 While the energy industry comprises 16% of 2014's IPO, the average return among those companies is just 11.8%.
The biggest returns have come from the tech industry. Even though it's only had two companies go public this year, their average returns are 63%.
The only losing industry so far this year is transportation, and it also has the smallest share of the 2014 IPO market at just 3%.
Note: The IPO market is back, and that means there are huge profit opportunities for investors. These eight IPOs should be on every investor's radar in 2014...
Not only have the profits from IPOs been big this year, but 2014 has also seen the highest number of filings through February than any year in the past decade. Through February, 56 companies had filed for IPOs.
With such large gains just two months into 2014, it makes sense that many investors are wondering how to invest in IPOs. The initial payoffs from IPO investing can be huge - but so too are the risks...
That's why investing in IPO ETFs is one of the best ways to play the IPO market. These funds open investors up to the profits IPOs see in their first few months or years, while minimizing much of the volatility risk inherent in IPO trading.
Do you invest in IPOs? Which IPOs are on your "must-watch" list for 2014? Join the conversation on Twitter by following @moneymorning and using #IPOs.
The longer the crisis between Russia and Ukraine remains unresolved, the higher the tension in Europe will grow. Here's the real way the West can impact the Ukraine crisis...
Tags:
2014 IPO market
,
Initial Public Offering
,
Initial Public Offerings
,
investing in initial public offerings
,
investing in ipos
,
IPO calendar
,
IPO Calendar 2014
,
IPO chart
,
IPO chart 2014
,
IPO investing
,
ipo market
,
IPO market 2014
,
IPOs
The post IPO Market Charts: These Industries Are Booming with New Companies in 2014 appeared first on Money Morning - Only the News You Can Profit From.