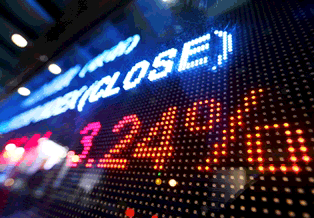 Today's list of hot stocks to watch includes a coffee pod company soaring 10%, a satellite TV provider and fast food titan both hitting 52-week highs, and several surging penny stocks.
Check out these 12 hot stocks to watch today, and find out why they're on the move.
12 Hot Stocks to Watch Today
AstraZeneca Plc (NYSE ADR: AZN) rose nearly 2% to $79.18 in morning trading. Reports are that Pfizer Inc. (NYSE: PFE) is planning a higher bid for the British drug company, if it will engage in talks. The new offer is expected to increase the value slightly above the current 50 pounds ($84.35) per share. It will likely, however, come with concessions appealing to AstraZeneca, such as not slashing jobs. AstraZeneca maintains that a new offer will have to be compelling for it to even consider. Pfizer is ready to go hostile if turned down again, according to people familiar with the matter.
Corinthian Colleges Inc. (Nasdaq: COCO) shares soared some 25% to $1.14 after the struggling post-secondary and online education company reached an agreement with lenders to amend a credit facility and to waive an event of default. The default occurred as a result of the deferred tax asset valuation allowance the company recorded during the quarter ended March 31, 2014. Bettors are wagering gains will be short-lived. Bearish option activity surged Tuesday, with heavy volume in the May 14, $1 strike puts.
DirecTV (Nasdaq: DTV) shares climbed more than 2% intraday to $89.46, a 52-week high. Sending shares higher is news AT&T Inc. (NYSE: T) is close to completing a takeover of DirecTV that could value the satellite-television provider at $50 billion, or some $105 per share. The two companies are said in to be talks for a transaction that would include a mix of cash and AT&T stock. A deal could be sealed in two weeks or sooner.
Everyday Health Inc. (Nasdaq: EVDY) shares surged some 18% to $14.35 after posting healthy Q1 2014 earnings. The leading digital health and wellness company reported that Q1 revenue total grew 23% year over year to $37.5 million. Advertising and sponsorship revenue rose 29% year over year to $32.7 million, while average revenue per advertiser increased 43% year over year. Adjusted earnings before interest, taxes, depreciation, and amortization (EBITDA) was $3.2 million in the first quarter, compared to $166,000 in the same quarter a year ago. The company just completed its IPO in March. Chief Executive Officer Ben Wolin said the company is off to a "strong start as a newly public company." In separate EVDY news, TV news host Meredith Vieira announced Tuesday she has joined the EVDY team.
Gold Resource Corp. (NYSEMKT: GORO) shares surged nearly 35% to $4.79 on nearly three times its average daily volume in morning trading. The gold and silver producer, with operations in the southern state of Oaxaca, Mexico, reported sterling production results for Q1 2014 of 23,734 ounces of precious metal gold equivalent (calculated at actual sales price ratio of 64:1) while decreasing its total cash cost by 18% year over year. The company also said it's "on track to meet its annual production outlook goal."
Keurig Green Mountain Inc. (Nasdaq: GMCR) shares jumped 10.22% to $123.62 in morning trading. The Coca-Cola Co. (NYSE: KO) is exercising its option to boost its stake in the coffee pod maker to 16% from 10%. The option was included in a February deal in which Coke acquired its original stake in the coffee company.
KKR & Co LLP (NYSE: KKR) shares rose 2.32% to $23.52 thanks to an upgrade from Evercore Partners. The independent advisory firm upgraded KKR to "Overweight" from "Equal Weight" with a $28 price target.
Masco Corp. (NYSE: MAS) shares jumped 2% to $21.21 in early trading after Jefferies upgraded the stock to "Buy" from "Hold" and raised its price target to $25 from $23. Jefferies said the recent pullback in shares of the home improvement and building products company created an attractive buying opportunity.
McDonald's Corp. (NYSE: MCD) shares ticked up a modest 0.36%, but that was good enough for the fast-food giant to hit a 52-week high of $103.62 intraday. Sending shares higher was a price target boost from UBS. The firm upped its price target to $120 from $107 and maintained its "Buy" rating on the stock. The new price target suggests a healthy 16% upside from MCD's current price. "We see limited downside from here, given still low expectations and valuation well below most restaurant and multinational consumer peers, and instead see significant upside improvement in the U.S.," UBS wrote in a note to clients.
Microsoft Corp. (Nasdaq: MSFT) shares moved up nearly 2% to $40.50 on reports its Office for iPad is a huge success. The app has been downloaded about 27 million times since its release six weeks ago, a company keynote speaker said Monday at its TechEd customer conference in Houston. Office for iPad is a free app for people who have paid subscriptions to Microsoft's cloud version of Office (Office 365), which costs about $100 a year. Money Morning Capital Wave Strategist Shah Gilani reckons MSFT shares could eventually hit $100.
Plug Power Inc. (Nasdaq: PLUG) shares jumped 15% to $4.55 intraday after the electric fuel cell maker for trucks reiterated its forecast for FY2014 revenue of $70 million, above the consensus estimate of $65 million. The Latham, N.Y.-based company expects to ship more than 3,000 fuel cell units to 20 manufacturing facilities or distribution centers in 2014. Money Morning first featured PLUG in January in Penny Stock Picks: 5 Under $5, and we continue to follow its progress.
Telik Inc. (Nasdaq: TELK) shares surged some 50% to $2.06 intraday after announcing an all-stock merger agreement with privately held cancer immunotherapy company MabVax Therapeutics. Upon closing the transaction, MabVax and Telik will be combined into a publicly traded company (no ticker as of yet) focused on the development of proprietary immunotherapy based products to diagnose and treat cancer. The new company will be named MabVax Therapeutics Holdings Inc. MabVex President and Chief Executive Officer David Hansen said he hopes the transaction will help the company expand its clinical platform as it moves forward with its lead monoclonal antibody product 5B1 and clinical-stage cancer vaccine program. Hansen said he hopes to "see several of our programs achieve significant milestones in the next 24-30 months."
Today's Top Story: The numbers are in, and they're ugly. First-quarter U.S. GDP is only 0.1%, despite the Federal Reserve spending $3.2 trillion to boost the economy. Simply put, the Fed's "growth-buying" scheme is failing...
Tags:
best stocks 2014
,
best stocks to buy
,
best stocks to buy 2014
,
best stocks to buy now
,
best stocks to buy right now
,
best stocks to buy today
,
best stocks to invest in
,
best stocks today
,
Hot Stocks
,
hot stocks 2014
,
hot stocks to watch
,
hot stocks today
,
stock to buy
,
Stocks to Buy
,
stocks to buy 2014
,
Stocks to Buy Now
,
stocks to buy today
,
stocks to invest in
,
stocks to watch
,
stocks to watch 2014
,
stocks to watch today
,
top stocks
The post Hot Stocks to Watch Today: GMCR, MSFT, and 10 Other Movers appeared first on Money Morning - Only the News You Can Profit From.