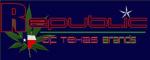 DALLAS, TX -- (Marketwired) -- 05/28/14 -- Republic of Texas Brands, Inc. (PINKSHEETS: RTXBQ) has presented an amended Bankruptcy Reorganization Plan and Disclosure Statement, and the Disclosure Statement, as amended, was accepted by the Court last week as a viable and shareholder friendly exit strategy. The Disclosure Statement has now has been signed off by the Court and the process will now enter its next stage which is a confirmation hearing on the Amended Plan which should occur by the end of June. Jerry Grisaffi, the CEO, stated, "There are no known objecting parties to the reorganization plan and we expect the upcoming confirmation hearing to ratify the plan. Looking forward to the emergence of Chapter 11 and RTXB once again being a whole company the loyal shareholders will certainly benefit by an Outstanding Share count that will be reduced by 500,000,000 down to approximately 211,000,000 and we will press forward to reducing the Authorized Share count back from 5,000,000,000 to 400,000,000. In addition we have been in search of a new CEO to move Republic of Texas Brands forward and which we believe will be announced in the near future."
As of February 13, 2014 the company has changed its business plan to the distribution of legal hemp based products to be targeted in the State of Texas and to develop a network of retail sellers so that the company can develop a firmly established foothold in the cannabis market place prior to the eventual anticipated decriminalization of marijuana in Texas. In addition the company has also marketed products via Amazon.com to achieve a national sales presence and to reinforce to the general public the strength and resolve of Republic of Texas Brands.
Upon the completion of our reorganization through the amended Plan being confirmed, the acquisition with CHILL Texas will be finalized.
Click here to order from the Republic of Texas Brands store at AMAZON.com:
http://www.amazon.com/gp/aag/main/ref=olp_merch_name_1?ie=UTF8&asin=B00DE1EZMG&isAmazonFulfilled=0&seller=A2KX6CKNKJOQAL
About Republic of Texas Brands Incorporated:
Our mission is to find the premier cannabis and hemp industry innovators, leveraging our team of professionals to source, evaluate and purchase value-added companies and products, while allowing them to keep their integrity and entrepreneurial spirit. http://www.republicoftexas.com.
Safe Harbor Act: This release includes forward-looking statements made pursuant to the safe harbor provisions of the Private Securities Litigation Reform Act of 1995 that involves risks and uncertainties including, but not limited to, the impact of competitive products, the ability to meet customer demand, the ability to manage growth, acquisitions of technology, equipment, or human resources, the effect of economic business conditions, and the ability to attract and retain skilled personnel. The Company is not obligated to revise or update any forward-looking statements in order to reflect events or circumstances that may arise after the date of this release.