GW Pharmaceuticals PLC (Nasdaq: GWPH) stock surged some 10% to $74.90 during trading today (Friday) on news the U.S. Food and Drug Administration granted Fast Track designation status to the British company's product Epidiolex.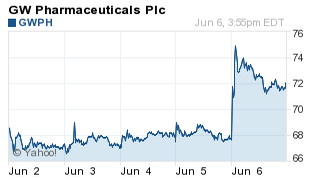 The in-development treatment is an investigational cannabidiol product used to treat Dravet syndrome, a rare and catastrophic form of childhood epilepsy.
The FDA's Fast Track designation means a drug under review (Epidiolex) targets serious medical conditions and fulfills an unmet and urgent medical need. Typically, trial drugs that have received Fast Track designation are generally granted greater access to the FDA for the purpose of accelerating the drug's development and FDA review. The designation also implies a much quicker drug approval process when the drug is given the nod from the FDA.
"GW is focused on advancing the Epidiolex development program as rapidly as possible with the aim of addressing the significant unmet need in children suffering from Dravet syndrome," Justin Gover, GW's chief executive officer, said in a statement. "The granting of Fast Track designation, in addition to Epidiolex having already received orphan drug designation from the FDA, represents significant additional support toward this objective. With GW having already opened an Investigational New Drug (IND) for Epidiolex, we are on track to commence a phase 2/3 clinical trial in Dravet syndrome in the second half of this year."
Excitement over Epidiolex was what sent GWPH stock soaring Friday. But this is no short-term bump.
The company has been on fire for months thanks to its deep pipeline of promising cannabinoid products - with one in particular getting a lot of attention...
GWPH's Pipeline Standout Will Boost Revenue - and Stock
The world's first plant-derived cannabinoid prescription drug, Sativex, is already approved for the treatment of spasticity associated with multiple sclerosis in 25 countries. Additionally, Sativex is in phase 3 clinical developments as a potential treatment for pain in people with advanced cancer.
Japanese drug giant Otsuka Pharmaceuticals is funding Sativex's phase 3 clinical trials. It has also agreed to pay all development costs related to the U.S. market.
GW has also teamed up with three other heavy hitters to advance Sativex's presence and reach. Almirall S.A. is collaborating with GW to develop the drug in Mexico and parts of Europe. An arm of Novartis AG (NYSE ADR: NVS) is aiming at parts of the Middle East. And, Bayer AG (OTCMKTS ADR: BAYRY) has been instrumental in assisting with Sativex's development in the UK and Canada.
These are some of the reasons analysts have been delivering these bullish forecasts for GWPH stock...
When Money Morning Defense & Tech Specialist Michael A. Robinson wrote about the budding marijuana industry in late March, as a flurry of marijuana-related stocks were flying high, he cited GW as the best profit play in the sector. Sativex was among reasons he favored the stock over other industry names.
"GW is partnering with a couple of the world's largest publicly traded drug firms and stands to gain more than $300 million in revenues from those alliances alone," said Robinson. "Sativex has awesome potential to treat patients with pain from cancer as well as those with a condition known as MS spasticity, which results in muscle spasms and stiffness associated with the disease."
CNBC's Jim Cramer is also a fan of GWPH and says shares are going higher. Commenting on air Friday, Cramer said he sees the FDA's Fast Track status as the strict government agency's way of stating it's starting to think of marijuana as an important and legitimate treatment for side effects resulting from a number of illnesses.
Wall Street overall is bullish on GW. All six of the analysts who cover the stock rate shares "Buy," with a median 12-month target of $92.50, according to Schaeffer's Investment Research. The biggest bull is Morgan Stanley, with a sky-high price target of $103.
"With its solid science, multiple uses for its main cannabis-based biotech product, and strong alliances with global drug leaders, GW Pharmaceuticals should leave investors richly rewarded," said Robinson.
GWPH stock closed Friday with a 6.21% gain, closing at $71.99.
Now for today's top investor story: Toyota leaving California has given us a beautiful, long-term, market-crushing opportunity... Read more here.
Related Articles:
Tags:
$BAYRY
,
$NVS
,
GW Pharmaceuticals stock
,
GWPH
,
GWPH stock
,
Hot Stocks
,
Nasdaq: GWPH
,
pot stocks
The post Why GW Pharmaceuticals (Nasdaq: GWPH) Is a Hot Pot Stock for 2014 appeared first on Money Morning - Only the News You Can Profit From.