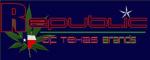 DALLAS, TX -- (Marketwired) -- 06/27/14 -- Republic of Texas Brands, Inc. (PINKSHEETS: RTXBQ) Chapter 11 exit strategy is right on target with a new beverage industry executive Tom Shuman at the helm as the new CEO. The planned merger with CHILL Texas is a top priority as we exit voluntary Chapter 11 and details of the merger will be released after the Court formally approves the Bankruptcy plan as early as next week. The synergy created with the marketing of popular hemp based products CHILLO-energy drink and C-Swiss Iced Tea has opened a sizeable Texan customer base and will open the gateway for an easy entry of our own locally produced hemp-based Iced Tea drink. Tom Shuman's 30 years of beverage industry experience and countless marketing contacts with retailers such as Albertsons, Wal-Mart, Sam's Club and 7-Eleven will allow the product launch to be in many large beverage retailers hands right from the start.
"We have finalized our new Hemp Iced Tea drink formula with the bottler and we have decided to go with a slim line 12 ounce can that will provide the company with attractive profit margins while offering the consumer a competitively priced product. Our initial production run will be a minimum of 5,000 cases and we have finalized the can design with the marketing company who has done an excellent job designing the labeling on the new cans. We have already applied for the trademark of the new brand and we will announce the new name of the product as soon it has cleared the trademark office," states Tom Shuman, the new company CEO.
"We want to once again remind our shareholders that the share structure will be improved post Chapter 11 with a reduction of the Authorized Shares to 400,000,000 and the Outstanding Shares will be reduced to approximately 202,000,000 shares."
About Republic of Texas Brands Incorporated:
Our mission is to be the premier Hemp Beverage Company in the USA.
Safe Harbor Act: This release includes forward-looking statements made pursuant to the safe harbor provisions of the Private Securities Litigation Reform Act of 1995 that involves risks and uncertainties including, but not limited to, the impact of competitive products, the ability to meet customer demand, the ability to manage growth, acquisitions of technology, equipment, or human resources, the effect of economic business conditions, and the ability to attract and retain skilled personnel. The Company is not obligated to revise or update any forward-looking statements in order to reflect events or circumstances that may arise after the date of this release.