Pot stocks are getting a boost from recently enacted U.S. marijuana laws.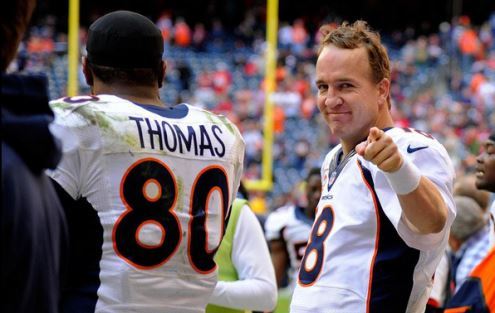 Courtesy of John Leyba,

The Denver Post
Over the last 12 months, Cannabis Science Inc. (OTCMKTS: CBIS) has climbed 30.8%, Hemp Inc. (OTCMKTS: HEMP) is up 47.37%, Enertopia Corp. (OTCMKTS: ENRT) has gained 96.67%, and Creative Edge Nutrition Inc. (OTCMKTS: FITX) is up a whopping 3,228%.
But they aren't the only ones benefiting from the country's changing stance on marijuana legalization...
There's also Denver Broncos' quarterback Peyton Manning.
You see, in late 2011, Colorado voted to legalize recreational marijuana use. Sales in the state began on Jan. 1 of this year, and now Colorado's had a banner year for tax revenue. Total revenue from marijuana taxes, licenses, and fees reached $7 million in June (the most recent available data). And in July, recreational sales ($29.7 million) surpassed medical sales ($28.9 million) for the first time ever.
So what's made Manning a beneficiary of pot spending?
His purchase of 21 Papa John's pizza stores statewide in late 2011, just before the legalization vote.
"There's some different laws out here in Colorado," Manning joked in an interview with Sports Illustrated a couple of weeks ago. "Pizza business is pretty good out here, believe it or not, due to some recent law changes."
According to TMZ, Manning's locations raked in record sales post-legalization. One store alone saw a 25% profit increase in 2013.
While Manning's cashing in, you can, too. There's more marijuana money to go around that'll fuel pot stocks higher; take a look.
The U.S. Pot Market Is Taking Off
Washington's the only other state that voted for legalization so far, and it's flying high as well. Only two months after its first recreational use pot shops opened their doors in July, total sales have more than doubled, from $3.2 million in July to $6.9 million in August.
Monthly tax revenue there shot up from roughly $805,000 to $1.75 million. It's estimated that the state's recreational marijuana market will bring in nearly $190 million over a four-year period starting mid-2015, according to the Economic and Revenue Forecast Council.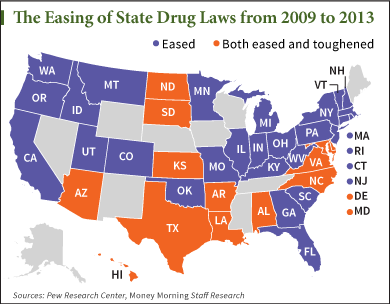 Not only are the states that have legalized cannabis use raking in cash, but their success is encouraging more states to open up their free markets to the drug.
Right now, 15 states have decriminalized certain amounts of possession of the drug, and 40 states have taken at least some action to ease their drug laws since 2009, according to Pew Research Center.
And as Manning's statement suggests, public sentiment toward the drug is becoming drastically more positive.
Additionally, 69% of people think alcohol is more harmful to a person's health than pot, and 63% believe it's more harmful to society than pot. A recent government poll showed that 18.9 million Americans over the age of 12 used marijuana in the prior month - 7.3% of the population.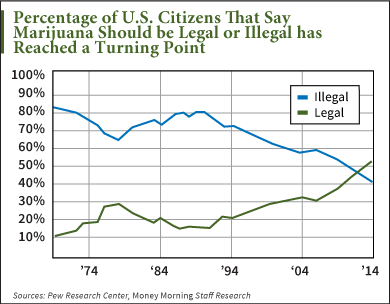 "With increased acceptance and legalization of marijuana for both recreational and medical purposes, this is one resource whose production and use are sure to grow exponentially, perhaps for decades," Money Morning Resource Specialist Peter Krauth told readers in April.
How to Play Pot Stocks Right Now
With recreational legalization just beginning to catch on, there's a unique opportunity for investors to pick up pot stocks ahead of their rise. But for now, there are few pure plays out there, and they're overly risky.
For instance, Growlife Inc. (OTCMKTS: PHOT), which sells lights for indoor growing and other equipment for legal cultivation, saw its shares zoom nearly 300% from January through April. But on Aug. 5, the U.S. Securities and Exchange Commission shut down trading on PHOT. It charged four promoters with manipulating shares, along with some other marijuana-related microcaps, in a pump-and-dump scheme.
As this brand new subsector unfolds, stay tuned to Money Morning in coming months to get recommendations on the best pot stocks to buy. For now, the smartest way to play marijuana is on the medical side.
That's because medical legalization has a longer track record. It reaches across 23 states and Washington D.C., with four more pending legislation (Florida, Pennsylvania, North Carolina, and Ohio). For these states, medical sales bring in millions. California alone receives roughly $59 million to $109 million in estimated tax revenue from pot sales annually.
Our experts agree there's one pot stock that's the "king of the crop" on the medical side - with a market capitalization of $1.51 billion, this drug-developer "is in its own cannabis class." Get our profile on this stock here.
Related Articles:
Tags:
best pot stocks
,
best pot stocks to buy
,
investing in pot stocks
,
marijuana stocks
,
pot stock
,
pot stock investing
,
pot stocks
,
pot stocks 2014
,
pot stocks 2015
,
pot stocks to buy
,
pot stocks to watch
,
top pot stocks
The post What Pot Stocks and Peyton Manning Have in Common appeared first on Money Morning - Only the News You Can Profit From.