Has the 10-Year Treasury Yield Hit a Ceiling?
December 13, 2018 at 14:13 PM EST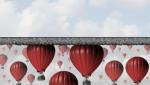 The 10-year Treasury yield edged higher to 2.908 on Thursday as the capital markets play the waiting game on U.S.-China trade talk news and next week's potential rate hike, but is the benchmark note close to hitting its ceiling? The 10-year note has been on an upward trajectory since October...