Should We Anticipate a Recession in 2019?
January 18, 2019 at 08:45 AM EST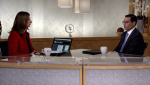 "We've seen numerous media reports citing the duration of the post-2008 economic recovery, along with the recent volatility in the U.S. stock market, as indications that a recession is imminent. Vanguard Global Chief Economist Joe Davis shares his view that, despite these concerns, key...