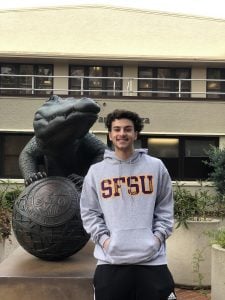 Originally posted on https://syndication.cloud/ipe-woods-usa-annual-scholarship-highlights-dangers-of-impaired-driving/
Ipe Woods USA awarded the 2019 Caitlan Wallace Memorial Scholarship to San Francisco State University student Zayd Albowyha. This year's $1,500 scholarship was awarded to Albowyha for his three-page essay on the dangers of impaired driving. Founded two years ago in honor of Caitlan Wallace, who died tragically in a 2015 car accident, the scholarship amount will continue to increase annually and be presented to college students who demonstrate financial need. 
SALT LAKE CITY, Utah — December 23, 2019 — Ipe Woods USA is proud to announce that Zayd Albowyha from San Francisco State University (SFSU) in California has received $1,500 as the winner of the 2019 Caitlan Wallace Memorial Scholarship.
Ipe Woods USA, an exotic hardware supplier specializing in Ipe or Brazilian walnut, has offered this scholarship for the second year in a row to students submitting essays on the topic of impaired driving. Last year's recipient was Samantha Martinez from Arizona State University.
"The Caitlan Wallace Memorial Scholarship was founded in honor of my niece who we tragically lost in a car accident after her 18th birthday, " said Steven Rossi, president of Ipe Woods USA. "She wasn't able to pursue her own dreams of attending college, so the scholarship is designed to help college students in financial need and raise awareness about the dangers of impaired driving."
The award has increased each year, explained Rossi, and will again for students applying in 2020. The 2019 Scholarship awarded for Albowya's winning essay was based on an alarming statistic that "almost 30 people die in the United States every day in drunk driving crashes — that's one person every 48 minutes in 2017."
"We're proud to be able to provide this scholarship and hope that asking college students to consider this issue could help prevent, at the very least, just one tragedy," said Rossi.
Information about the 2020 Caitlan Wallace Memorial Scholarship will be posted shortly at ipewoods.com. Essay submissions must deliver the opinion of the writer, be previously unpublished and include three reliable sources as support. They are judged on writing style and the concise conveyance of points highlighting safe driving.
Current or incoming college students can also visit their school counselor or scholarship office for details on applying for the 2020 scholarship.
ABOUT IPE WOODS USA
In 2017 Ipe Woods USA took the exotic hardwood market by storm. A once relatively unknown company, we're now the leader in direct to consumer exotic hardwood, with a strong emphasis on Brazilian hardwoods. We won the prestigious Houzz "Best of Customer Service" award in 2018 and 2019, which is awarded by a community of over 40 million members. Our specialty is Ipe wood due to its superior qualities and being known as the gold standard of hardwoods. All of our Ipe is legally sourced and we're proud to be an environmentally conscious company. We provide over 200 pickup locations for customer convenience or we can ship directly to your location. Learn more about choosing wood that will last a lifetime at Ipe Decking Company.
Contact
Steven Rossi
President, Ipe Woods USA
869 E 4500 S
Salt Lake City, UT 84107
(844) 674-4455