China Shows Signs of V-Shaped Recovery, But Can Other Nations Follow?
June 04, 2020 at 12:31 PM EDT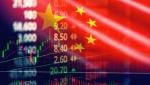 Economic data is showing that China is well on its way to a "V-Shaped" recovery given the latest manufacturing numbers from the country's National Bureau of Statistics. With China leading the way, can other nations follow its path? "China's official manufacturing PMI for May came in at 50.6,...