Super music producer, top promoter, graphics designer and clothing fashion expert has become the grist of the moment as he continues to recount successes and overwhelm anticipations from numerous fans and customers across the globe.
El Dorado, Sep 1, 2020 (Issuewire.com) - Decio aka "GrindKing" is an El Dorado, Arkansas born Music Artist/Graphic Designer/Producer/Promoter, CEO/Owner of Frawr Clothing Brand, Founder of Grind King Executives and gifted Graphics Designer at Eye Of Decio with a zeal to improve and induce a new line of music in the 21st Century.
-The Gifted Entrepreneur has stood an active ground in promoting hit across all mobile music platforms with over 50,000+ listeners in every continent. A few of his latest hits and Productions Include Plays, Do Better featuring Joeazzy, #MyReUp, Pretty Brown, How Its Done, Fareal, and the very popular Taliban featuring Reese and Yae Marley. But his most latest video upload on his Youtube Channel, #NoJusticeNoPeace, has raised alot of Controversy.
Decio's numerous appreciable successes and happy fans is a clear proof of his potentiality being put in good use. 
-With recent developments, Decio has proven to be the march marker in capturing desired sound, placing it top on the list and adding a touch of perfection to the desired soundscape. He's recently been able to gain a Publishing Deal.
In a recent post from his social media Page, Decio expressed his last month's hits to be a glance into his latest hits to be anticipated. This indeed, has left fans more curious and surprised.
Decio has also filled his roles in every endeavor through maintaining not only a standard but reliable clothing line enterprise and an active designer career. This he used as a medium to prove that hard work and skill act alike when put in a good display. However, he remained relentless in all other areas of life as a model of talent and excellent time user. Decio is the producer every Label desires!
For more information and access to Decio's latest music Visit:
Follow Decio on
Facebook:
https://www.facebook.com/GrindKingDecio
Instagram:
https://www.instagram.com/decio_grindking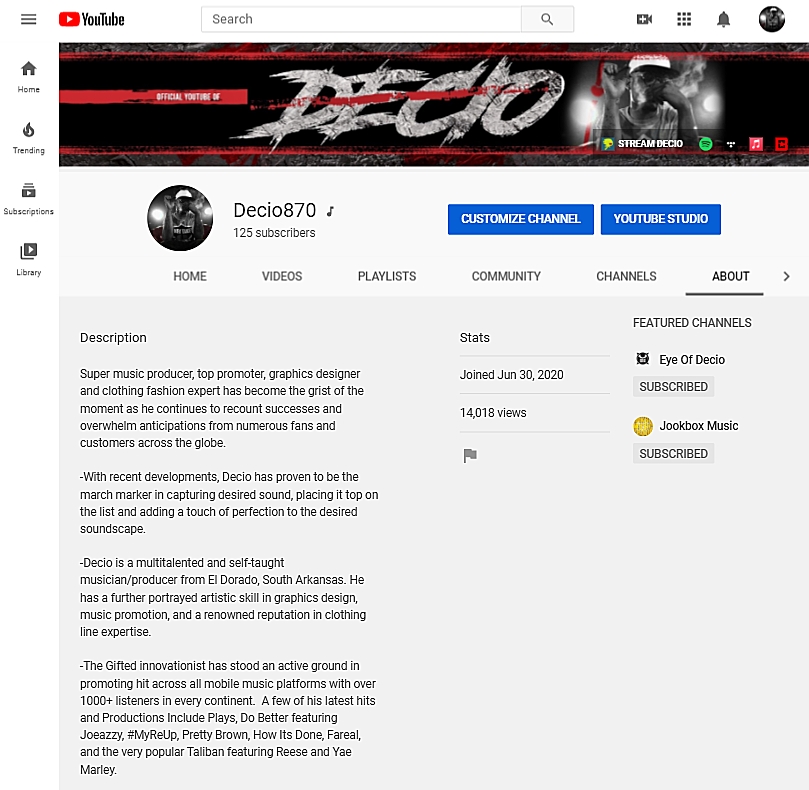 Media Contact
Grind King Decio
8703141970
El Dorado, AR.
Source :Grind King Decio
This article was originally published by IssueWire. Read the original article here.