Stocks to watch for May 28, 2014: While earnings season on Wall Street has nearly wound down, several names have yet to report.
A number of key industry players post numbers Wednesday and land on our stocks to watch list. Included on the roster are an upscale apparel retailer, a designer shoe warehouse, and a luxury home builder. Also making the list is an automaker that's been making headlines for all the wrong reasons.
Take a look at 10 companies in the news today and what could send their shares soaring or swooning.
Wednesday's Stocks to Watch
Brown Shoe Co. Inc. (NYSE: BWS) kicks off today's list of stocks to watch. The $2.5 billion global footwear giant of brands including Naturalizer, Dr. Scholl's, LifeStride, and Ryka is expected to post before the open first-quarter earnings per share (EPS) of $0.30, $0.02 below the same quarter a year ago. For all of 2013, BWS reported a 55.6% year over year (YOY) increase in EPS on a 3% decline in revenue (blamed on harsh winter weather). The St. Louis, Mo.-based company also provided uninspiring FY2014 EPS guidance of $1.45 to $1.55, below consensus estimates of $1.62.
Chico's FAS Inc. (NYSE: CHS) reports Q1 earnings before the open, and expectations are low. Forecasts are for the women's specialty retailer to post EPS of $0.28 on revenue of $681.42 million. In the prior quarter, EPS came in at $0.04, sorely missing estimates by $0.11. Revenue of $610.20 million was also shy of the $653.40 million forecast. Shares are trading around $15.67, near its 52-week low of $15.47.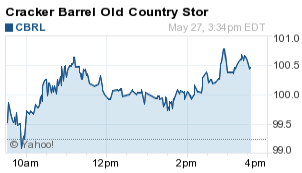 Cracker Barrel Old Country Store Inc. (Nasdaq: CBRL) also reports fiscal Q3 earnings before the open. Expectations are for the full service "comfort food" restaurant chain to report EPS of $1.22, up from $1.02 in the same quarter a year ago. Since the stock hit an all-time intraday high of $118.62 on Nov. 25, shares have floundered. Shares are down nearly 10% year to date. In April, shareholders overwhelming rejected a proposal put forth by Biglari Capital to put the company up for sale.
Daktronics Inc. (Nasdaq: DAKT) releases Q4 and fiscal 2014 financial results before the market opens. Analysts expect the Brookings, S.D. electronic display maker to reports EPS of $0.14, up from $0.04 a year ago. On the following 10 a.m. CDT conference call, investors will be listening for news of more deals like the one inked in March with the Jacksonville Jaguars. The NFL team has partnered with DAKT to manufacture and install the largest HD LED video displays in the world at the each end zone of EverBank Field in Jacksonville, Fla.
Discovery Communications Inc.'s (Nasdaq: DISCA) President and Chief Executive Officer (CEO) David Zalav will present today at the 2014 Sanford C. Bernstein Strategic Decisions Conference. Held at New York City's Waldorf Astoria Hotel, the conference is a 28-year Sanford Bernstein tradition. It combines research from Bernstein's independent equity analysts with CEO insights from some of the world's largest and most influential companies. On May 22, Bernstein said Discovery should be "bought aggressively" after the recent pullback. The firm believes the company is the purest play on the growth of global pay TV, which Bernstein thinks is the most important secular growth driver in media.
General Motors Co. (NYSE: GM) shares could see some action today, along with fellow automakers. The auto industry's future in under the microscope at a Detroit meeting of the National Association for Business Economics. Economists and analysts will discuss the global outlook for the sector and trends that are affecting its growth.
Michael Kors Holdings Ltd. (NYSE: KORS) shares rose 2% intraday Tuesday to a 2-month high of $98.96 ahead of Wednesday's fiscal Q4 earnings, released before Wall Street's opening bell. Analysts anticipate the upscale apparel retailer's profit to have risen 36% YOY to $0.68 per share. Shares climbed 2.9% Friday after Cowen and Company hiked its price target on KORS to $111. Shares are up a fashionable 18.7% year to date.
Palo Alto Networks Inc. (NYSE: PANW) reports fiscal Q3 earnings after the close. The consensus revenue estimate is $146 million, up 44% YOY, continuing a streak of double- and triple-digit growth going back more than 17 quarters. EPS is forecast to rise 67% to $0.10. Ahead of the release, the leading developer of next-generation technology used to protect company networks from virus attacks got a boost from a bullish upgrade from Nomura Securities. Shares climbed more than 3% to $70.07 intraday Tuesday after analyst Fredrick Grieb upped PANW to "Buy" from "Neural" and hiked his price target to $80 from $68. "We continue to view Palo Alto as one of the best-positioned vendors in the network security space," Grieb wrote in a research note. "The company has product offerings that are consistently well rated in our checks and has shown a consistent ability to take share."
Seadrill Ltd. (NYSE: SDRL) releases Q1 results on Wednesday at a time not specified. Expectations are for the offshore drilling contractor to post EPS of $0.68 per share, down 5.6% from a year earlier. Revenue, however, is expected to have risen 11.3% to $1.41 billion. SDRL has beaten in two of the last four quarters. In recent months, analysts have tempered their views on Seadrill earnings, trimming Q1 estimates by 14% and cutting FY2014 and FY2015 projections by roughly 8%. Shares, however, rose more than 2% to $37.51 intraday Tuesday after announcing an Investment and Co-Operation Agreement has been signed with Rosneft, an integrated oil giant owned by the Russian government, to pursue growth opportunities onshore and offshore in the Russian market through at least 2022.
Toll Brothers Inc. (NYSE: TOL) reports Q2 earnings before the market opens with a conference call at 2 p.m. to follow. The designer and builder of luxury homes is expected to post EPS of $0.26 on revenue of $830.94 million. Last quarter, Toll reported Q1 EPS of $0.25, handily better than the $0.18 per share projected. Revenue of $643.7 million was in line with estimates of $643.92 million. A brief update on Q2, however, was lackluster. "Through the first three-and-a-half weeks of our second quarter, our contracts in units were down 8%," Toll said on its Q1 conference call, playing down the slump. "During this time, traffic has actually been up about 8% per community, which in encouraging, especially given the weather in many of our markets."
NEXT: At the end of Putin's two-day trip to China last week, the two nations signed a landmark natural gas supply deal, driving another large nail in the petrodollar's coffin. As the trend accelerates, there are two plays you can make right now to profit from the petrodollar's demise...
Tags:
$BWS
,
$CBRL
,
$CHS
,
$DAKT
,
$DISCA
,
$TOL
,
best stocks 2014
,
best stocks to buy
,
best stocks to buy 2014
,
best stocks to buy now
,
best stocks to buy right now
,
best stocks to buy today
,
best stocks to invest in
,
best stocks today
,
GM
,
Hot Stocks
,
hot stocks 2014
,
hot stocks to watch
,
hot stocks today
,
KORS
,
PANW
,
SDRL
,
stock to buy
,
Stocks to Buy
,
stocks to buy 2014
,
Stocks to Buy Now
,
stocks to buy today
,
stocks to invest in
,
stocks to watch
,
stocks to watch 2014
,
stocks to watch today
,
today's stocks to watch
,
top stocks
The post Ten Stocks to Watch Today appeared first on Money Morning - Only the News You Can Profit From.