Tickers: XCNQ:CANA, XOTC:CNNXF
Tags: None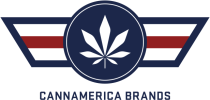 VANCOUVER - TheNewswire - January 14, 2020 - CANNAMERICA BRANDS CORP. ("CannAmerica" or the "Company") (CSE:CANA) (CNSX:CANA.CN) (OTC:CNNXF) is pleased to announce today the launch of CannAmerica Clothing, a fashion and merchandise division for all of the Company's world renown cannabis brands providing consumers with the opportunity to purchase branded clothing and accessories through its online e-commerce website https://cannamericaclothing.com.
"At CannAmerica, we believe that Cannabis is the 'Spirit of Freedom' in the 21st Century for enthusiasts around the world. Connoisseurs and consumers representing a diverse subset of the population drawn to the movement of 'freedom of access' are always searching for opportunities to show off their support for the legalization of cannabis through fashion. CannAmerica is proud to introduce our amazing cannabis inspired logos and brands to the world with a new fashion and accessories line that highlights our concept of 'cannabis is freedom' for people everywhere to show their support for legal cannabis and forward-looking companies like ours," said Dan Anglin, CEO and Co-Founder of CannAmerica.
Anglin continued, "Our initial launch of CannAmerica Clothing will be focused on what have been previously hard to get branded items, as the consumer had to be in a dispensary when our brand ambassadors were handing them out as promotional items. Now, our supporters can find these on www.cannamericaclothing.com and have them shipped directly to their home, no matter where they are located As our momentum builds, we intend to create partnerships with artists known for their work in creating exciting imaging for activity based industries like music, surfing, snowboarding, motorcycling and more to create a link between the lifestyle of a cannabis consumer and the activities that drive their interests. Our goal is to link the enthusiasm for cannabis culture with the lifestyle and adventurism that go hand-in-hand with the people consuming cannabis."
"Our team not only continues to exceed our company's goals to expand our market reach nationally in the Consumer Packaged Goods licensed and regulated cannabis space, but also by creating new opportunities for growth for our brands and enlarge our reach to cannabis interested consumers." In 2020, we will be introducing additional brands for new lines of cannabis products for our markets across the nation, as well as additional concepts and new brands for accessories, clothing, and other exciting artistic items for cannabis enthusiasts to proudly display their shared belief that cannabis represents the Spirit of Freedom in the 21st Century."
The Company will promote the launch of CannAmerica Clothing Co by providing social media followers with an electronic discount for purchases on its e-commerce site to boost awareness of the new fashion line of products available to a global audience, thereby maximizing the potential for brand recognition outside of the cannabis marketplace.
For more information, please visit www.cannamericabrands.com.
On Behalf of the Board,
Dan Anglin
CEO and Director
1(844) 484-3996
About CannAmerica Brands Corp.
CannAmerica is a U.S. marine veteran founded and operated portfolio of cannabis brands with licensing agreements in the states of Colorado, Nevada, Oklahoma, Maryland, Massachusetts and the Country of Canada. The Company aims to maximize the value of its brands by employing strong brand management teams, marketing and licensing the brands through various distribution channels, including dispensaries, wholesalers and distributors, in the United States and internationally. The Company's core strategy is to enhance and monetize the global reach of its existing brands, and to pursue additional strategic acquisitions to grow the scope and diversity of its brand portfolio. For more information, please visit www.cannamericabrands.com.
Neither the Canadian Securities Exchange nor its Regulation Services Provider (as that term is defined in the policies of the Canadian Securities Exchange) accepts responsibility for the adequacy or accuracy of this release.
Copyright (c) 2020 TheNewswire - All rights reserved.