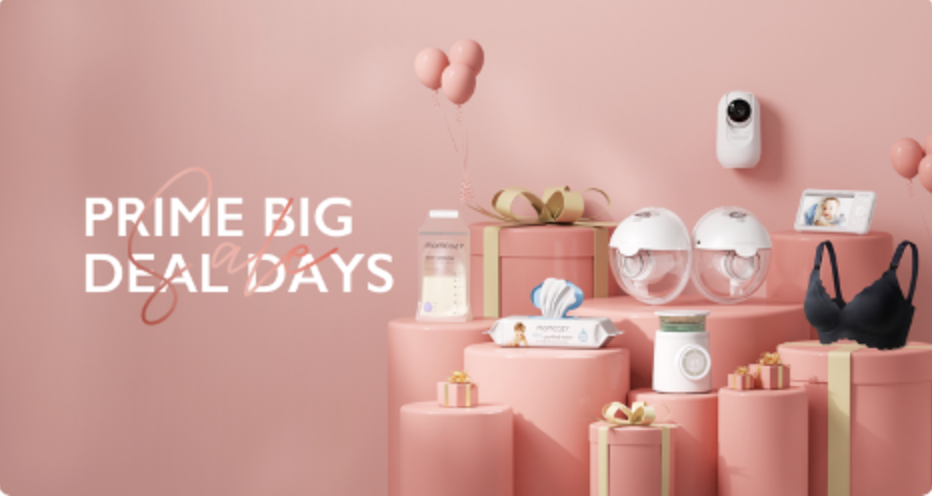 Since 2018, top maternity and baby brand, Momcozy, has been at the side of three million moms across the world. Poised as a best friend and caring companion, the brand produces best sellers like Momcozy Wearable Breast Pumps and Seamless Nursing Bras.
The brand's impressive lineup of small, light and quiet wearable breast pumps allow moms to pump on their own terms. Its nursing bras, made of buttery soft, breathable fabric, give moms extra support in the postpartum period. Plus, high-quality and fashion-foward, the bras help moms stay true to their style and feel confident with their new curves. Additionally, with Momcozy, parents have peace of mind with baby staples such as video monitors and bottle warmers.
This October, Momcozy will expand access to these notable essentials and give the gift of love to families everywhere by participating in Amazon Prime Big Deal Days (October 10, 11) and running special discounts on their website (October 8-14).
During Amzon Prime Big Deal Days, moms can enjoy a 20% discount on the brand's bestselling M5 and V2 Wearable Breastpumps when visiting Momcozy's flagship store. Deep discounts will also be provided on the YN46 and YN21 Nursing Bras. With the breast pumps and nursing bras, moms will be fully accomodated to meet the beautiful changes that come with motherhood.
The unbeatable 20% discount on the M5 and V2 werable breast pumps will extend to Momcozy's website as well. As a bonus, Momcozy will provide 30% off the YN46, YN21, and other bras to shoppers who purchase over $79 in bras.
About Momcozy
Since 2018, Momcozy has been bringing the best in comfort to mothers with wearable breast pumps, nursing bras and other mom caring products. Endorsed by 3 million mothers in over 40 countries, Momcozy is a companion to women from pregnancy to early motherhood. With continuous innovation and a commitment to creating cozy designs born from love, Momcozy is growing in reach and impact to make moms'lives easier around the world.
More about Momcozy: https://momcozy.com/
Media Contact
Company Name: MomCozy
Contact Person: Fiona Fan
Email: Send Email
Country: United States
Website: https://www.amazon.com/stores/page/D329FDC3-5B8B-42BD-85B4-48964314B3BF?ingress=3&visitId=4a526b26-7ed1-405b-8267-d4329f4edb93&utm_source=pd-pr-amz&utm_medium=contents&utm_campaign=pd-pr-amz