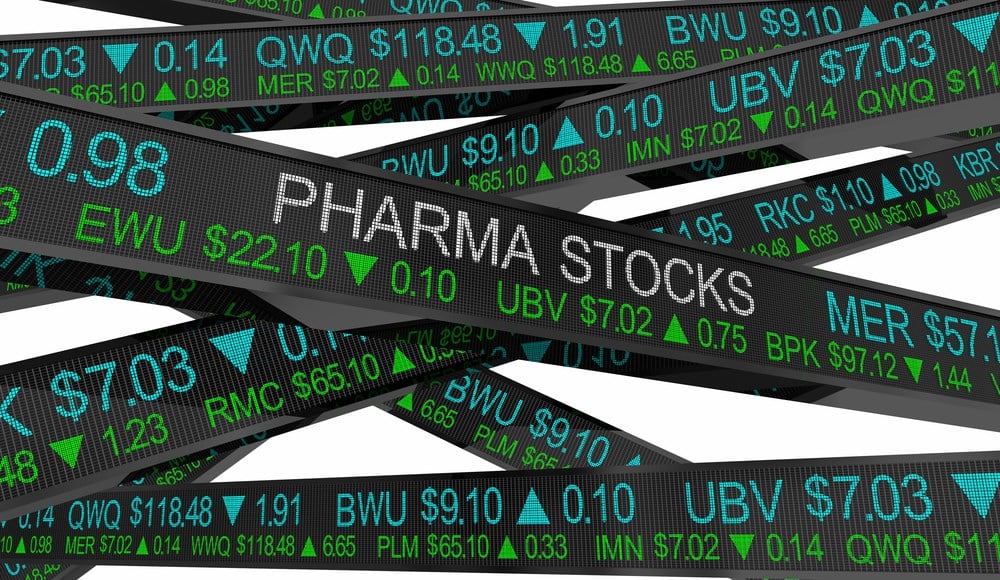 Big pharmaceutical stocks, including Novartis AG (NYSE: NVS), Eli Lilly & Co. (NYSE: LLY), Merck & Co. (NYSE: MRK), and Novo Nordisk A/S (NYSE: NVO) have been outperforming the broader market recently, even as the healthcare sector as a whole lags. 
Pharmaceutical stocks aren't immune to either a poor economy or a downward-trending market, but they do tend to book more consistent sales and earnings than companies whose products are considered more discretionary.
On the other hand, these stocks are prone to move based on government actions. For example, if the federal government successfully negotiates lower costs for medicines it purchases for Medicare and Medicaid plans, pharmaceutical profits will be slashed and research and development may be severely curtailed.
On the flip side, Medicare and Medicaid reimbursement changes can sometimes benefit pharmaceuticals and medical device makers, as occurred recently with Shockwave Medical Inc. (NASDAQ: SWAV). 
Here's a look at how a few big pharma stocks are outpacing the wider market.
Novartis
Novartis stock is trading below its April 25 all-time high of 105.56, but in a sign of strength, is still holding 7.1% above its 50-day average. 
Novartis earnings show that the company easily beat top and bottom-line views in the most recent quarter, driven by the success of three key drugs: Entresto, Kisqali, and Kesimpta. 
Entresto, an effective heart failure treatment, contributed to a 32% surge in sales. Kisqali, used in breast cancer treatment, and Kesimpta, a multiple sclerosis medicine, notched revenue growth of 81% and 100% respectively. Overall, earnings were up 17% while revenue grew by 3%.
Despite the positive results and new price highs, Novartis analyst ratings show a consensus of "hold" on the stock, with a price target of $85, a downside of 16.25%. While analysts are optimistic about the company's long-term prospects, they believe mid-term growth may be challenging. 
Novartis also confirmed its plan to spin off its generics business, Sandoz, in the second half of this year. The new Sandoz shares may provide an extra growth boost for those currently owning Novartis stock.
Eli Lilly
The Eli Lilly chart shows the stock trading at record highs, partly on optimism that the company's experimental Alzheimer's treatment, donanemab can achieve blockbuster status by 2025. On May 3, the company announced positive results from a Phase III clinical trial, sending Eli Lilly stock up 6.68% in three times average volume.
Analysts project that donanemab could generate $465 million in sales in 2024, followed by $1.4 billion in 2025 and $3.2 billion in 2030. The drug, administered through intravenous infusion, slows cognitive decline in Alzheimer's patients. Eli Lilly is also working on a subcutaneous injection and an oral treatment for Alzheimer's.
Eli Lilly's success extends beyond Alzheimer's treatment. Its diabetes drug, Mounjaro, also leads to significant weight loss in patients. Eli Lilly plans to submit data to the FDA for approval as an obesity treatment.
Year-over sales and earnings declined in the past two quarters, largely due to sharp decreases in sales of Covid antibodies. Many pharmaceuticals are no longer breaking out sales of Covid-related treatments as their importance diminishes rapidly. 
Eli Lilly analyst ratings show a "moderate buy" view on the stock. Since April 28, 10 analysts boosted their targets on the stock. 
Merck
The Merck chart shows that the stock pulled back from its May 3 record high, but is holding 2.1% above its 50-day average, as well as above its April 27 structure low of $110.66.
Merck earnings data show the company exceeded Wall Street's expectations in the first quarter, with growth primarily driven by the sales of cancer treatment Keytruda, which surged 20% to nearly $5.8 billion, ahead of analysts' views. Merck's human papillomavirus vaccine, Gardasil, also contributed to the positive results with sales of $1.97 billion, a 35% increase.
However, sales of Merck's Covid pill, Lagevrio, fell at a double-digit rate. That's consistent with other companies' declining Covid-related sales. 
Despite challenges, including declining sales of diabetes drug Januvia, Merck raised its sales outlook for the year to a range between $57.7 billion and $58.9 billion, and said it expects net income between $6.88 and $7 per share. 
Wall Street expects earnings of $6.97 this year, down 7%. Next year, analysts see growth resuming, with net income of $8.50 per share, up 22%.
Merck stock may be forming a consolidation below its May 3 high of $119.65; if the stock finds a floor above its 50-day line, that could offer a new buy zone. 
Novo Nordisk
Novo Nordisk shares have been trading in a narrow range recently, down 0.56% in the past month as the stock pulls back from an April 21 record high of $172.97. 
Novo Nordisk's recent results show that investors can be very demanding: In the most recent quarter, the company's weight loss drug, Wegovy, fell short of revenue expectations, although sales grew 240% to $676.8 million.
Obesity treatment Saxenda brought in $486.4 million, exceeding expectations. The company's diabetes drug Ozempic has also shown potential for weight loss. Ozempic sales grew 74% to $2.91 billion in the quarter, ahead of expectations. 
Novo Nordisk earnings came in at $1.28, up 38% from the year-earlier quarter. Revenue of $7.767 billion represented an increase of 24%. 
Novo Nordisk analyst ratings show a "moderate buy" consensus on the stock. 
Morningstar analyst Karen Andersen is maintaining her fair value estimate on the stock, writing, "We think Novo Nordisk's wide moat, based on innovation in diabetes and other cardiometabolic diseases, remains solid, although we think shares look overvalued at recent prices, given our uncertainty around the long-term sustainability of Novo's increasingly semaglutide-reliant growth."
Semaglutide is the pharmaceutical name for both Wegovy and Ozempic.  
Andersen added that Novo Nordisk's track record for innovation bodes well for the development of new combination regimens in diabetes and obesity.