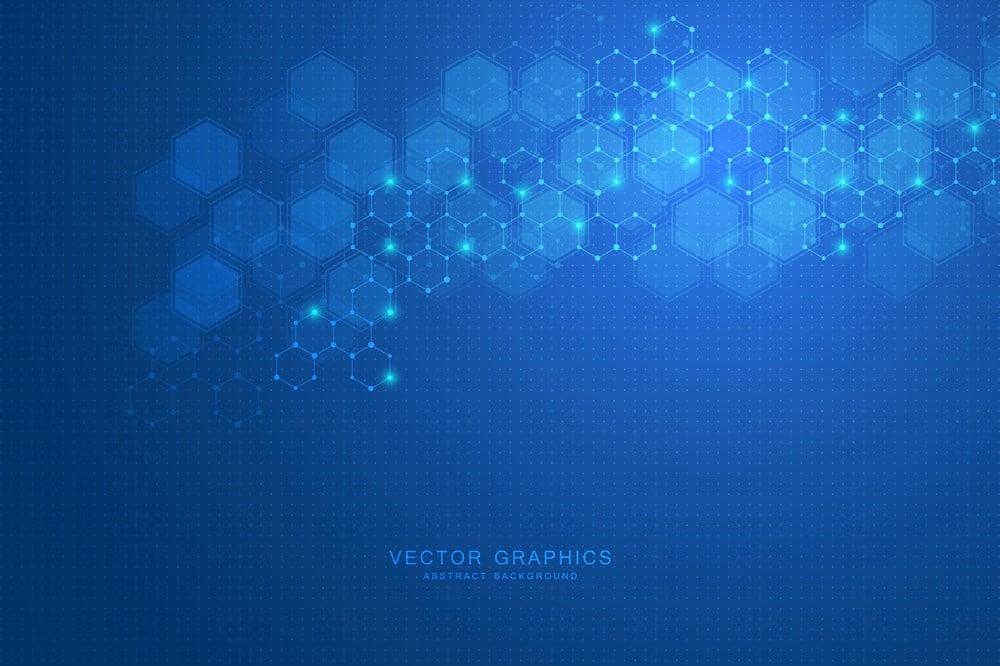 Can-Fite BioPharma Ltd. (NYSEAMERICAN: CANF) is an Israel-based biotechnology firm that develops small-molecule therapeutic treatments for cancers, inflammatory diseases and sexual dysfunction. It targets the A3 adenosine receptor (A3AR) and creates small molecule therapies to bind or stick to the A3 receptor and disrupt the growth of pathological cells. The A3AR has been targeted for combatting inflammation and cancer for the past 20 years.
Both Can-Fite's Namodenoson and Piclidenosen are A3AR agonists inducing apoptosis of inflammatory and cancer cells through a molecular mechanism that deregulates the Wnt signaling pathway. Large pharmaceutical companies working on treatments for liver cancer and other carcinomas include Eli Lilly & Co. (NYSE: LLY), Bristol-Myers Squibb Co. (NYSE: BMY), and Merck & Co. Inc. (NYSE: MRK).
What are Pathological Cells?
Pathological cells are abnormal cells that have been altered by disease. They are identified through blood tests and biopsies and examined under a microscope. Infections, whether viral, fungal or bacterial, can cause cells to turn abnormal as normal functions get disrupted. Autoimmune diseases cause the immune system to attack its cells.
Degenerative diseases like Alzheimer's and Parkinson's cause cells to lose function over time and degenerate. Cancer cells are a type of pathological cell. They have abnormalities that cause them to grow, split and spread uncontrollably. They have distinct structural abnormalities when viewed under a microscope.
Namodenoson
Namodenoson (CF102) is an orally bioavailable drug that binds with the A3AR with high affinity and selectivity. It's being developed for liver cancer and non-alcoholic steatohepatitis (NASH) treatments. Namodenoson deregulates the Wnt signal transduction pathway, a key modulator of cancer cell growth. Irregular Wnt pathway activation can grow into uncontrollable cell growth and division, which are the hallmarks of cancer cells.
It's currently in pivotal phase 3 trials to treat advanced liver cancer. Namodenoson was used for an advanced cancer patient who was completely cured and free of liver cancer since beginning treatment six years ago. Namodenoson's protective effects on the liver, bone marrow and cardiovascular system
Pancreatic Cancer
The five-year survival rate for Pancreatic cancer is 11%. Can-Fite scientists discovered Namodenoson's significant anti-cancer effect from pre-clinical studies performed on advanced pancreatic carcinoma patient cells exposed to Namodenoson. It can be used as a monotherapy combined with standard-of-care chemotherapy like gemcitabine. Namodenoson has a strong safety profile with its ability to inhibit pancreatic tumor growth indirectly. The company filed for a patent application covering the use of Namodenoson treatment for pancreatic cancer. The company plans to develop Namodenoson for the treatment of aggressive tumors.
Can-Fite CEO Dr. Pnina "Knowing Namodenoson's mechanism of action in pancreatic cancer is an important step in moving this indication toward potential partnerships. Our findings inform potential dosage and study design and increase the probability of success in human trials." 
Can-Fite Pipeline of Drugs
There are two other drugs in the pipeline in addition to Namodenoson. Piclidenosen (CF101) is an oral drug for treating autoimmune inflammatory diseases like psoriasis and rheumatoid arthritis. CF602 is being developed for the treatment of sexual dysfunction. The company had a $7.5 million direct offering of 1 million ADS at $5.50 period ADS on January 11, 2023.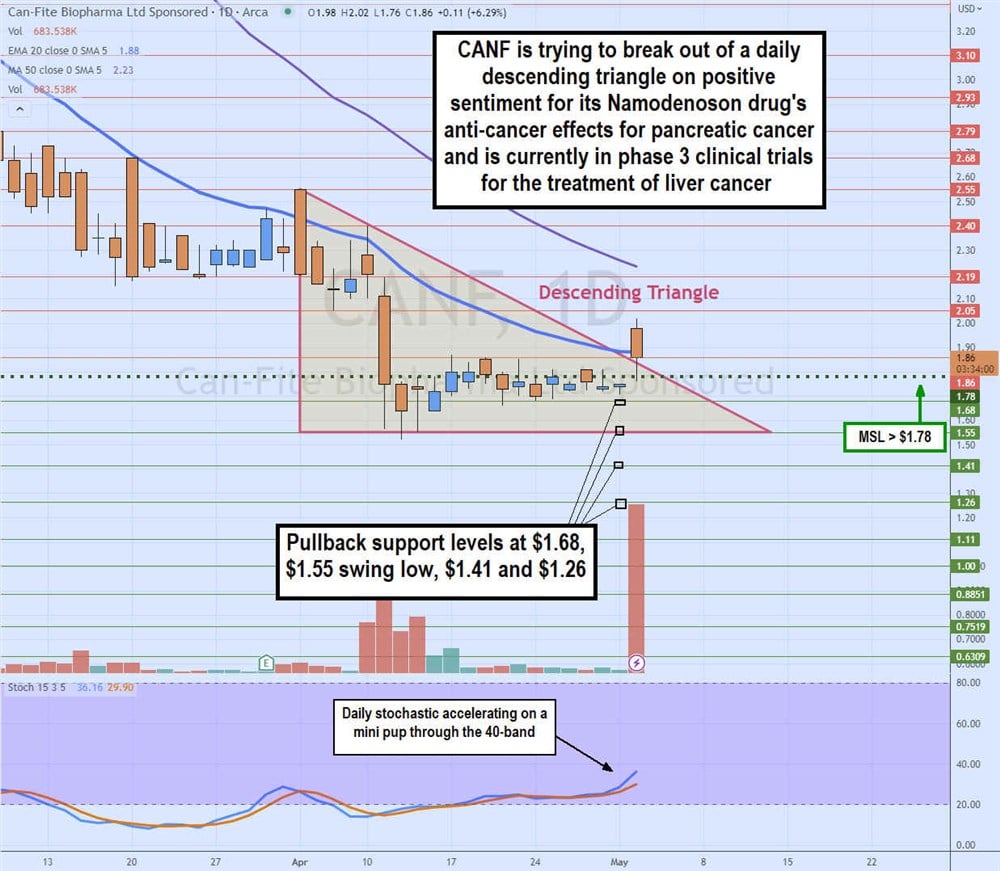 Daily Descending Triangle
The daily candlestick chart on CANF illustrates the bearish descending triangle that has been forming since peaking at $2.55 on April 3, 2023, as it sold down to the swing low range of $1.55 by April 13. Shares have been in a steady decline from $11.20. The daily market structure low (MSL) triggered the breakout through $1.78 as shares attempted to also break out of the daily descending triangle range.
The triangle falling diagonal trendline resistance was at $1.84. The daily 20-period exponential moving average (EMA) is $1.88, and the daily 50-period MA resistance is $2.23. The daily stochastic also forms a mini pup accelerating higher towards the 40-band. Pullback support levels are at $1.68, $1.55 swing low, $1.41 and $1.26.