--News Direct--
A video accompanying this announcement is available at: https://youtu.be/DcY33qUP6Vk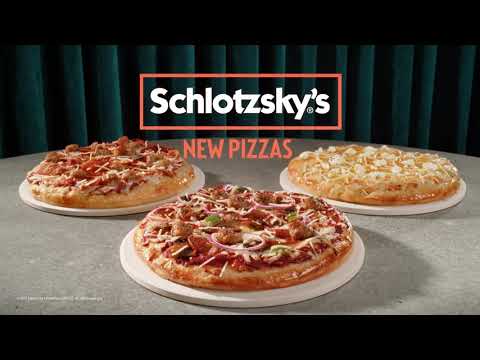 Calling all cheese connoisseurs, pepperoni people, and toppings lovers! National Pizza Month is just ahead (Oct 1st – Oct 31st) and pizza lovers everywhere are rejoicing.
To celebrate, Schlotzsky's, the popular fast-casual restaurant, is expanding its pizza menu by releasing new flavors and deals. The restaurant is redefining pizza by taking their made-in-house, oven-baked sourdough bread and turning it into delicious pizza crusts.
The new flavor toppings include one for the cheese lovers with a Four Cheese White Pizza with Garlic Butter, for the meat lovers Schlotzsky's is introducing the Meaty Pizza topped with Pepperoni, Italian Sausage and Bacon, and then a Supreme Pizza topped with all of your favorite veggies accompanied by Pepperoni and Italian Sausage.
All pizzas are freshly baked and made to order, and start at just $8.79
Schlotzsky's is so excited for National Pizza Month this year, that they launched a new, limited time Bare Naked Pizza!
The Bare Naked Pizza is available now until the end of National Pizza Month, and is priced at $4.99.
In addition to the Bare Naked Pizza, Schlotzsky's is celebrating with a special buy one pizza, get one free deal, which is available every Wednesday. You can enjoy any of the new or existing pizzas by taking advantage of the BOGO deal.
This offer also runs through the end of October and is available to Schlotzsky's Rewards members when ordering online, in-store or through the Schlotzsky's Rewards app at one of the 320+ locations nationwide.
For more information on all things Schlotzsky's, the newest pizza flavors, and Bare Naked Pizza, visit schlotzskys.com.
Contact Details
YourUpdateTV
+1 212-736-2727
View source version on newsdirect.com: https://newsdirect.com/news/its-all-in-the-crust-celebrating-national-pizza-month-at-schlotzskys-827141263