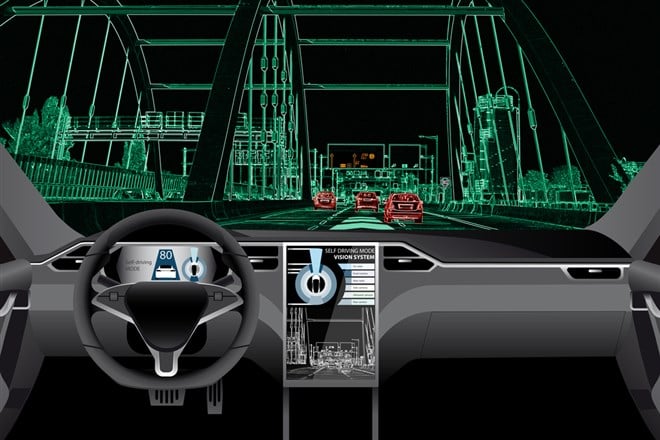 Self-driving cars are one of the hottest topics in the auto industry, however, many view the adoption as "zero-to-one." Mobileye (NASDAQ: MBLY), an established autonomous vehicle leader, proves that the march toward full autonomy is incremental.
Mobileye creates advanced driver-assistance systems (ADAS) and supplies them to automakers like Ford, GM, BMW, and Volkswagen. These systems, which consist of cameras, sensors, and software, enable "computer vision" to help keep drivers safe on the road.
Mobileye's ADAS is responsible for many of those lane-assistance and automatic emergency braking features built into newer cars, and some 42% of new cars sold in 2022 had Mobileye technology integrated.
Automakers are eager to pay for these chips because they achieve higher safety ratings while providing more features to the end buyer. Mobileye currently finds itself in the midst of a massive spending ramp on ADAS technology within the auto industry, and as the market leader in this vertical, the company stands to greatly benefit.
With strong top-line growth already, Mobileye could see its success skyrocket as key trends in the auto industry continue to unfold.
Mobileye's Inflection Point
Profits in the auto industry mean selling cars that are about more than getting from point A to point B. Automakers understand that discretionary features are high-margin items, so even base-model cars now come with bells and whistles. With the advent of new driver assistance technology, automakers can now offer more advanced features that increase the safety of their vehicles and command higher prices.
This trend is already in motion, with most automakers opting to produce higher-priced vehicles and pack them with more advanced features—margin over volume. The average price of a new car in the US is now over $49,000, according to Kelley Blue Book. And advanced driver-assistance systems (ADAS) are one-way automakers differentiate themselves and meet consumer demand. Heated seats and navigation don't cut it at today's new car prices.
And the auto industry is amid a massive ramp in spending on ADAS technology, with penetration rates already set to surpass 80% in US vehicle sales in 2023 for level 0 ADAS. However, lower-level ADAS are lower margin units for Mobileye. While supplying the industry with entry-level ADAS led to serious top-line growth and a whopping 69% market share in the vertical, we're still in very early innings regarding the real growth.
It's the more sophisticated features that are yet to penetrate the mass vehicle market and as of now, are relegated to the luxury automakers. For instance, according to Counterpoint's US Autonomous Vehicle Tracker, less than 4% of new cars in the US ship with level 2+ ADAS features.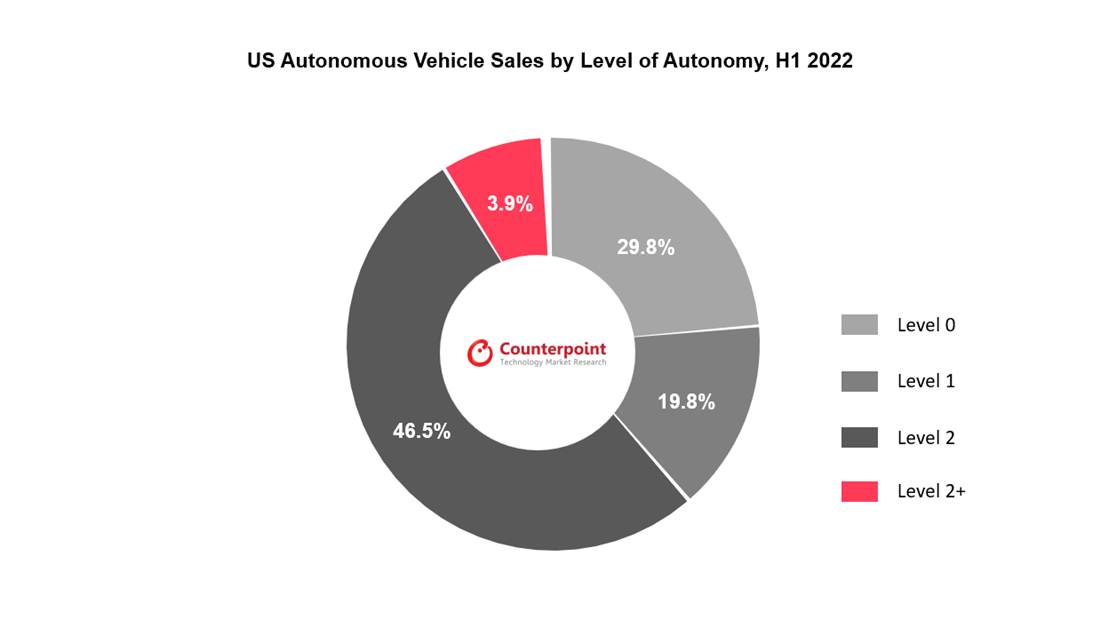 As level 0 and level 1 ADAS become the standard for new cars, automakers will begin to splurge for the more advanced, higher-margin systems. And Mobileye is well positioned to benefit from the continued adoption of level 2+ autonomous features in cars, as the company already has a $17 billion backlog through 2030, including significant revenue from their most advanced products like Mobileye SuperVision, which is an "eyes-on, hands-off" system already being implemented in Chinese EVs. These more advanced products have much higher average sales prices per unit than their standard ADAS solutions.
Then there's the catalyst of electric vehicle adoption. Carrying a much higher average sales price than traditional vehicles, EVs are also packed with much more than ADAS technology. Once a luxury niche, EVs are going mainstream and are slated to grow at a 22.5% CAGR through 2030, providing additional fuel to Mobileye's growth story.
Three Key Catalysts
Mobileye's stock has been on fire lately, returning 23% year-to-date, thanks partly to Wall Street's renewed interest in AI and automation stocks. Leaders of the rally, like C3.ai (NYSE: AI) are posting year-to-date returns north of 100%.
However, investors should look to three key catalysts to assess whether Mobileye stock will benefit from recent enthusiasm around the stock.
Watch The Float
Mobileye broke from tradition in selling only about 5% of its outstanding shares in its October 2022 IPO, compared to the usual 10-20% that typically move in an IPO. This means there's a tight supply of Mobileye shares, and the stock price could experience a disproportionate effect in the face of a surge in demand.
Furthermore, the company has an unusually high short interest, representing roughly 14% of the float.
Conference Participation
As a young stock, Wall Street hasn't gotten to know Mobileye yet, with firms only initiating coverage on the stock in recent months. That means there's a lot of mystery surrounding the company.
The company's participation in two investor conferences this week could provide key insight into the upcoming quarter and other catalysts. It's common for stocks to rise due to an investor conference, especially fresh IPOs. With Mobileye being one of the only successful tech IPOs in recent memory, Wall Street will have its ear to the ground.
Mobileye will be participating in both the Citi 2023 Global Industrial Tech and Mobility Conference on Wednesday, February 22, and the Barclays Industrial Select Conference on Thursday, February 24.
Watch Car Sales
Car sales remain unusually strong despite an inflationary regime where many consumers are gearing up for a recession. Mobileye's business heavily relies on new car sales remaining. Below is a chart of new vehicle sales over the last five years: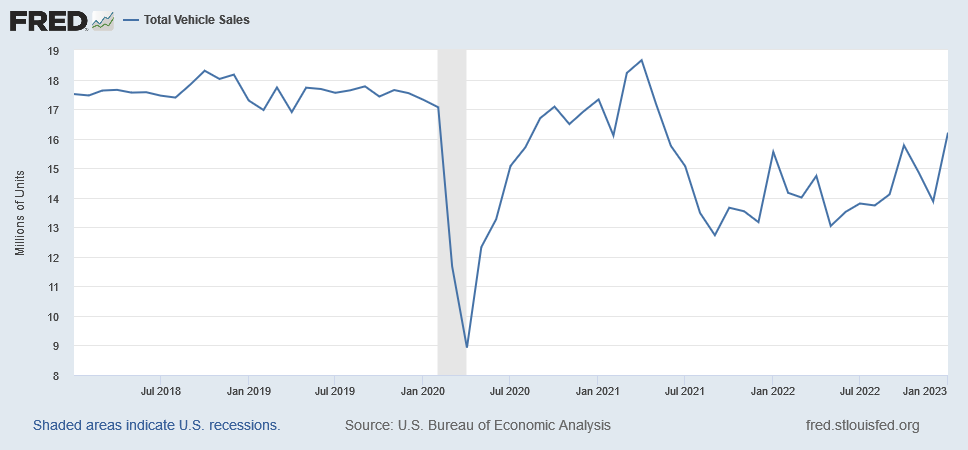 Bottom Line
While Wall Street is kind to Mobileye now, worries about car sales and the company's high valuation will mount if it doesn't continue its growth trajectory and justify its high valuation given its lack of profitability.