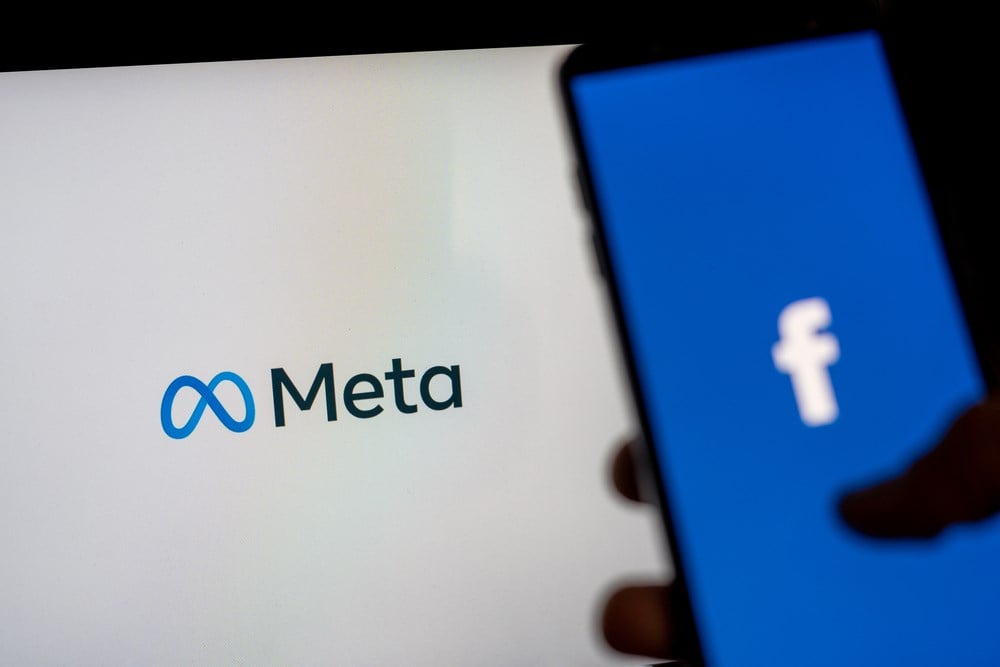 While many high-beta and market-leading technology stocks experienced retracements over the past week, shares of Meta Platforms (NASDAQ: META) were relatively unchanged on the week, down just 1.15%.
Compared to the sector benchmark Invesco QQQ (NASDAQ: QQQ), which was down almost 3.5%, indeed results in META standing above the rest as the stock displayed notable relative strength. 
META is trading near a critical resistance level, nearing a potential breakout. If shares of the tech giant continue to outperform the rest of the sector, a hefty breakout might be just around the corner. 
So, let's take a closer look at the chart and what analysts are saying about the stock. 
Meta Platforms (NASDAQ: META)
As you may be aware, Meta Platforms is a leading US tech giant among the Big 5. It emerged in 2004 as Harvard's digital hub before expanding to a global community of 2.9 billion users by 2022. Its 2012 IPO, aiming for $5 billion, exceeded expectations with over $16 billion raised, making it the third-largest IPO at the time. While facing industry shifts and challenges, early investors enjoyed substantial gains. 
Now operating as Meta, the company thrives in the metaverse, connecting people across devices with its diverse digital applications and relying heavily on advertising revenue from the Family of Apps segment, complemented by the innovative Reality Labs.

Today, the company boasts an almost $770 billion market capitalization and P/E ratio of 34.86. With a beta of 1.22, META is certainly a high-beta name, historically experiencing greater volatility than the overall market. That is well-reflected in the stock's staggering 52-week range, $88.09 - $326.20. However, META currently trades near the high end of that range, previously closing at $299.08.

In its latest earnings report on July 26th, 2023, Meta Platforms exceeded expectations with earnings per share (EPS) of $3.23, surpassing the consensus estimate of $2.87 by $0.36. The company reported quarterly revenue of $32 billion, exceeding analyst estimates of $30.91 billion. Over the past year, Meta Platforms has generated $8.58 in earnings per share and currently maintains a price-to-earnings ratio of 34.9. Analysts anticipate a 26.92% earnings growth for the company in the coming year, increasing from $13.26 to $16.83 per share. 
Analysts are Bullish on META
Just last Friday, Citigroup reiterated its rating on META as a Buy, with a price target of $385, which sees over 26% upside for the stock. And they aren't alone in their thinking. Forty-four of the fifty-two analyst ratings have META as a Buy, and the stock has a Moderate Buy rating. META currently has a consensus price target of $319.79, predicting an almost 7% upside for the tech giant. While the consensus price target may not seem too impressive, it's worth keeping in mind that shares of META are already up almost 150% year-to-date.
A Closer Look at the Chart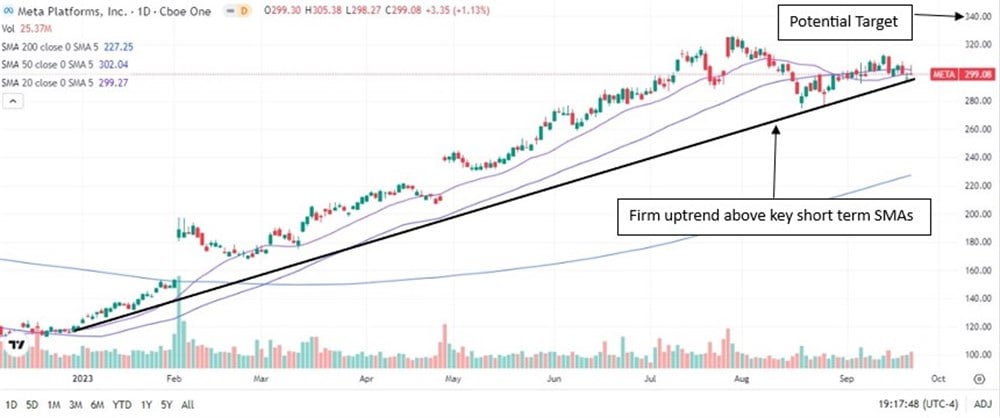 Among the heavyweight tech giants, META's chart stands out as particularly enticing. Not only has it remained resilient amidst recent market fluctuations, but it's currently consolidating right at crucial moving averages, firmly within its upward trajectory. This recent price compression could potentially lead to an upward breakout if META breaks above short-term resistance and maintains a firm bid over $315 to $320.
Should the stock overcome short-term resistance with sustained volume growth, it could gain significant momentum, with $340 as a potential target.