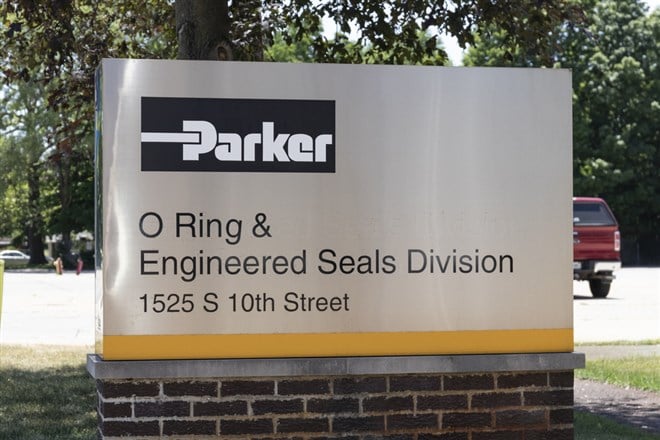 You may not know its name, but S&P component Parker-Hannifin Corp. (NYSE: PH) may deserve a place on your watch list.
The stock broke out of a base above $340 in early February, following a better-than-expected second-quarter report. 
Parker-Hannifin is a Cleveland-based industrial, selling industrial products to both original equipment manufacturers and distributors serving the replacement-parts markets. Industries served include manufacturing, packaging, processing, transportation, mobile construction, refrigeration, and air conditioning, agricultural and military machinery, and equipment industries.
Its Aerospace Systems segment serves both commercial and military customers. 
That's not as glamorous as the latest cloud-computing start-up, but tech is never the only sector with opportunities for growth and momentum investors. 
In its last quarterly report, Parker-Hannifin earned $4.76 per share on revenue of $4.67 billion, topping views of $4.45 a share and $4.44 billion. Revenue accelerated in the past two quarters, while earnings decelerated. However, the company topped the year-ago results on top and bottom lines.
Raised Full-Year Revenue & EPS View
In its earnings release, the company also boosted full-year guidance. The company expects fiscal 2023 organic sales growth in a range between 6% and 8%, and earnings per share in a range from $13.50 to $14.00. On an adjusted basis, the midpoint would be $19.50 per share, what Wall Street is currently expecting. That would be a 4% year-over-year increase. 
Since the earnings report, shares are up 7.5%. A look at Parker-Hannifin's chart, using either candlesticks or bars, shows the stock is etching a trend of higher lows, after it rallied 9.44% the week ended February 3. 
Industrials, along with materials and utilities, are among the most unloved S&P sectors when it comes to getting attention. Bank of America analysis suggests that industrials and materials, another "old-economy" sector, may be ready to rotate into leadership after lagging the broader market over the past decade. 
In a February 5 report, Bank of America analysts Savita Subramanian and Ohsung Kwan noted underinvestment in old-line, capital-intensive businesses, such as energy, materials, and industrials, over the past 10 years.  However, they believe that's about to change as more investment flows into these sectors. 
MarketBeat dividend data for Parker-Hannifin shows an annual dividend of $5.32 per share, for a yield of 1.50%. The company has been increasing its dividend. That's slightly below its industry average. 
Outperforming The Industrials Sector 
Parker-Hannifin's price performance has been outpacing its industry, as tracked by the Industrial Select Sector SPDR Fund (NYSEARCA: XLI). Parker-Hannifin is up 11.30% in the past month, while the sector ETF has only returned 0.60%.
The sector's largest holdings are Raytheon Technologies Corporation (NYSE: RTX), United Parcel Service Inc. (NYSE: UPS)  and Honeywell International Inc. (NASDAQ: HON). Parker-Hannifin is outperforming all of them. Parker-Hannifin's market capitalization is $45.39 billion, giving it a sector weighting of 1.56%. That's not insignificant, but hardly enough to move the sector direction on its own.  
Analysts have a "moderate buy" rating on the stock, according to MarketBeat data. The price target is $361.46, with a potential upside of 2.29%. Although that's not a significant increase, investors are generally well served by viewing Wall Street consensus price targets as indicators of sentiment toward the stock, rather than literally selling when it reaches that price.
Those targets are routinely adjusted higher or lower, based on various factors, including economic conditions or the company's own outlook. For example, Parker-Hannifin's price target was increased by $40, or 12%, in the past month. 
The stock's price now extended beyond its buy point above $340. Perhaps uncoincidentally, that area of resistance around $340 wasn't far from the previous price target. Shares are trading just above the short-term 10-day moving average; if the stock pulls back to get support near that, or another key price line, for several sessions, that could precede another uptrend.