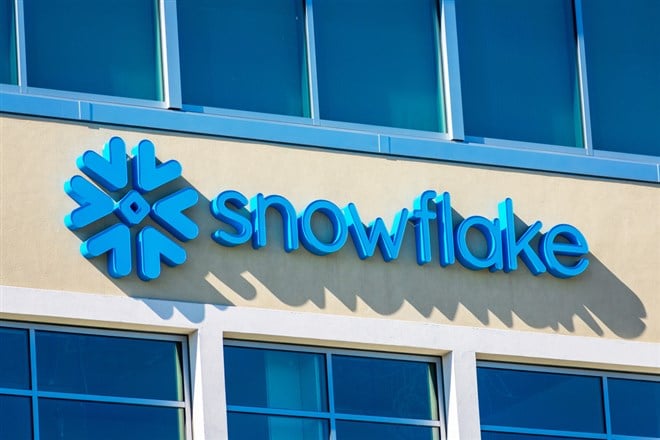 High-growth cloud computing firm Snowflake (NYSE: SNOW) reported earnings after the close on Wednesday, and the results were not what investors were hoping for. The stock dropped by 11% following the earnings report, which showed disappointing guidance.
Snowflake is one of the fastest-growing tech companies in the stock market, providing data warehousing and analytics services to large companies. 
Despite being one of the hottest post-COVID tech IPOs, even alluring Warren Buffett's Berkshire Hathaway to take a stake, Snowflake struggles to adapt to the changing economic backdrop as Wall Street increasingly prefers yield and value stocks.
The disappointing results are part of a trend, as cloud computing peers like Datadog (NASDAQ: DDOG) report weaker outlooks. The cloud computing giants like Google Cloud, Amazon Web Services, and Microsoft Azure see notable cooldowns in corporate cloud spend.
Snowflake Earnings
In the current stock market climate, guidance is everything for growth stocks. Investors are trying to get ahead of a potential sustained slowdown in tech and are taking any excuse to sell.
So it is no surprise that Snowflake's disappointing outlook for the coming fiscal year led investors to sell aggressively, pushing the stock price down 11%.
The company's guidance for the first quarter and full fiscal year failed to meet Wall Street consensus. Snowflake anticipates generating sales between $568 million and $573 million for the first quarter and $2.7 billion, while estimates were $624 million and $3 billion, respectively.
As a result, analysts are rushing to downgrade the stock and slash price targets. After the report, Goldman Sachs, Raymond James, and Wolfe Research downgraded the stock.
Snowflake beat top and bottom line estimates, reporting $589 million in revenue and $0.14 in EPS, compared to estimates of $572 million and $0.04, respectively. Most interesting, however, is that this earnings report looks good in a vacuum. If reported two years ago, the stock might even rise on the news.
And the company is still growing like a weed, with product revenue up 54% year-over-year, even as enterprises get more disciplined with cloud expenses and recession worries bubble.
So what gives? After all, the stock is already down nearly 70% from all-time highs and seems to be consistently executing on growth targets. 
In a word, it's sentiment.
End of the Growth Rally?
Market reactions to reports from story stocks like Snowflake can offer a glimpse into trader sentiment relating to high-growth names. As rising rates continue to nudge investors into more resilient stocks with valuable assets and dividends, a change in sentiment can quickly spell death for a risk-on rally.
The start of 2023 saw a significant rally in speculative assets, with many previously thought left-for-dead growth stocks joining in the rally. Even the ARK Innovation ETF (NYSE: ARKK), perhaps the poster child for speculative momentum, staged a considerable rally to start the year.
But cracks are forming. ARKK pulled back to its 20-day moving average. Tesla (NASDAQ: TSLA), another bellwether for trader risk-taking, cratered 6% following its long-awaited Investor Day. All the while, treasury yields, the textbook definition of risk-off, are rising.
So when an already-depressed growth stock like Snowflake gets hammered on mixed results, the market might be pointing to writing on the wall.
Looking Forward
Following Thursday's gap-down, Snowflake trades near the critical resistance zone between $115 and $125. Notably, hitting the resistance level would erase the stock's considerable year-to-date gains.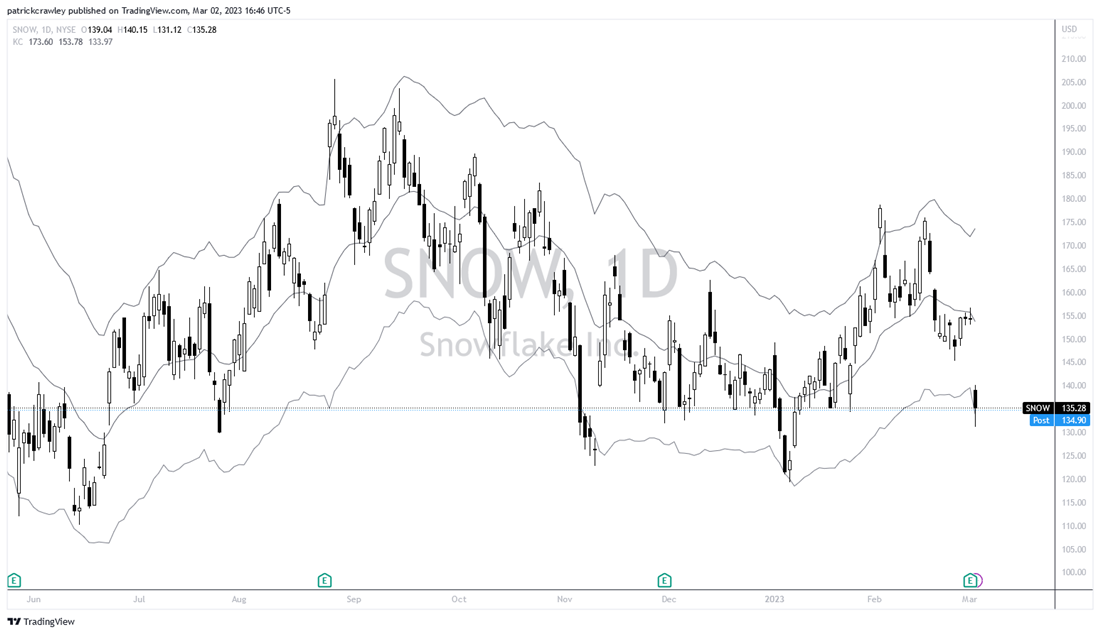 A convincing sell-off through resistance would mark an all-time low for the stock, which is pretty much no man's land.
In conjunction with reading the technical analysis tea-leaves, Snowflake bulls should "read the room" and look for relative strength in speculative assets like ARKK and Tesla before becoming convinced that a rally is imminent.
Bottom Line
Wall Street's harsh reaction to Snowflake's earnings report raises concerns about the health of growth stocks. While the company's results might look good in isolation, its future expectations drive stock prices.