Atai Life Sciences (NASDAQ: ATAI), a clinical-stage biopharmaceutical company aiming to transform the treatment of mental health disorders, was featured in a recent analysis report that discusses Atai and other companies with a hand in psychedelic drug development. The report, written by LikeFolio's Andy Swan, reads, "Atai was founded to address unmet needs and lack of innovation in the mental health landscape. Areas of focus include depression, anxiety, schizophrenia, substance use disorder, and traumatic brain injury. Atai is developing a pipeline of treatments leveraging various psychedelics from MDMA derivatives to DMT… Bottom line: psychedelic-focused pharmaceutical companies are well-positioned in an area that is top of mind for consumers. Consumer conversations related to mental health concerns are at all-time highs, +72% YoY."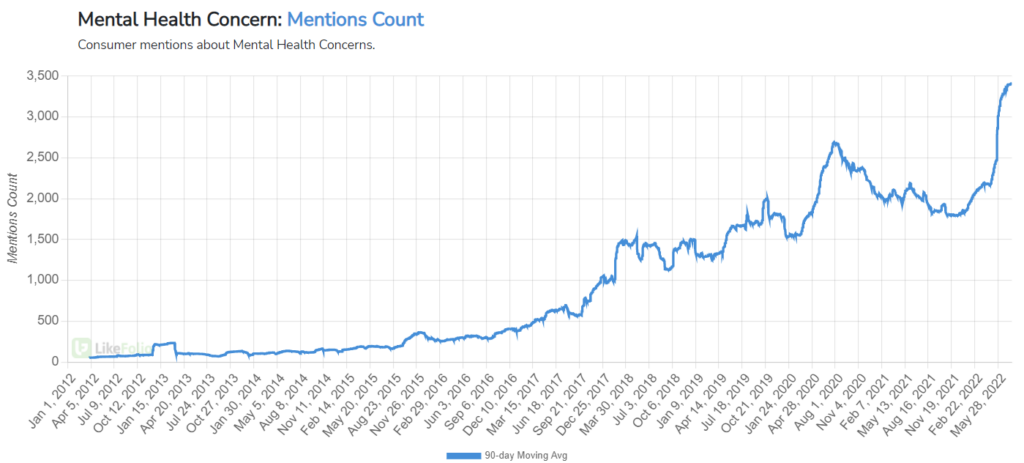 About Atai Life Sciences
Atai Life Sciences is a clinical-stage biopharmaceutical company aiming to transform the treatment of mental health disorders. Founded in 2018 as a response to the significant unmet need and lack of innovation in the mental health treatment landscape, Atai is dedicated to acquiring, incubating and efficiently developing innovative therapeutics to treat depression, anxiety, addiction, and other mental health disorders. Atai's business model combines funding, technology, scientific, and regulatory expertise with a focus on innovative compounds, including psychedelic therapy and other drugs with differentiated safety profiles and therapeutic potential. By pooling resources and best practices, Atai aims to responsibly accelerate the development of new medicines across its companies to achieve clinically meaningful and sustained behavioral change in mental health patients. Atai's vision is to heal mental health disorders so that everyone, everywhere can live a more fulfilled life. For more information, please visit www.atai.life.
About InvestorWire
InvestorWire is the wire service that gives you more. From regional releases to global announcements presented in multiple languages, we offer the wire-grade dissemination products you'll need to ensure that your next press release grabs the attention of your target audience and doesn't let go. While our competitors look to nickel and dime you with hidden fees and restrictive word limits, InvestorWire keeps things transparent.
As part of its service, InvestorWire provides coverage of noteworthy announcements. To further expand visibility of achievements being made throughout a multitude of sectors, InvestorWire's syndication partners have extended the digital coverage to include individual broadcasts on financial websites and platforms visited by millions of investors daily.
For more information, please visit https://www.InvestorWire.com
Please see full terms of use and disclaimers on the InvestorBrandNetwork website applicable to all content provided by IBN, wherever published or re-published: http://ibn.fm/Disclaimer
InvestorWire (IW)
8033 Sunset Blvd Suite 1037-IW
Los Angeles, CA 90046
310.299.1717 Office
www.InvestorWire.com
Editor@InvestorWire.com
InvestorWire is part of the InvestorBrandNetwork.