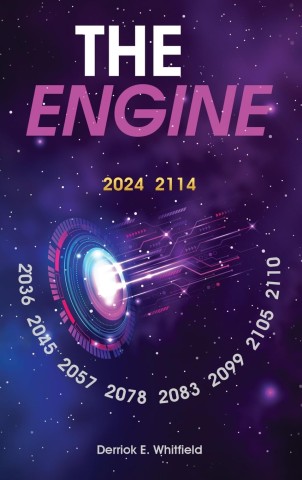 Derrick E. Whitfield, an emerging author in science fiction literature, is making waves with his novella "The Engine." This debut work introduces readers to the captivating world, a place where imagination meets innovation and the boundaries of possibility are redefined.
Within "The Engine," readers are acquainted with Captain Ben Thompson, a resolute protagonist charting the intricate waters of time travel as a Time Enforcement Advanced Missions (T.E.A.M) Agency member. Whitfield's unique perspective, forged by his former U.S. Army Combat Engineer and Information Technology Professional background, infuses the novella with a rare authenticity and a profound grasp of innovation.
As readers delve into "The Engine," they are transported into a world where Quantum Plasma energy fuses with stolen technology, sparking a narrative that challenges norms and constructs new horizons of potential. Whitfield's adept storytelling is evident as he expertly balances heart-racing action with thought-provoking themes, ensuring a gripping read from start to finish.
"The Engine" is the first chapter of a captivating 6-book series, firmly establishing Derrick E. Whitfield as a compelling voice in the science fiction universe. 
About the Author
Born in Tuscaloosa, Alabama, Derrick E. Whitfield discovered his passion for reading through 80s sci-fi classics like Star Wars. His debut novella not only offers an unforgettable time-travel adventure but also stands as proof of imagination's lasting influence and humanity's unwavering spirit.
Whitfield transitioned from being a U.S. Army Combat Engineer to mastering the Information Technology skills. His storytelling drive was fueled during college and grad school, leading to his debut sci-fi thriller "The Engine."
The Engine is now available on Amazon, Barnes & Noble, and Kobo.
For more information:
Email: dewhitfieldmsa@gmail.com
Amazon: https://www.amazon.com/Engine-Derrick-Whitfield/dp/1961028166
Instagram: https://www.instagram.com/theenginebyderrickwhitfield/
Facebook: https://www.facebook.com/TheEnginebyDerrick/
Linkedin: https://www.linkedin.com/in/derrick-e-whitfield-7a19bb7/
Twitter: https://twitter.com/DEWHITFIELD
Media Contact
Company Name: Derrick Whitfield
Contact Person: Derrick Whitfield
Email: Send Email
City: Atlanta
State: Georgia
Country: United States
Website: www.gettheengine.com