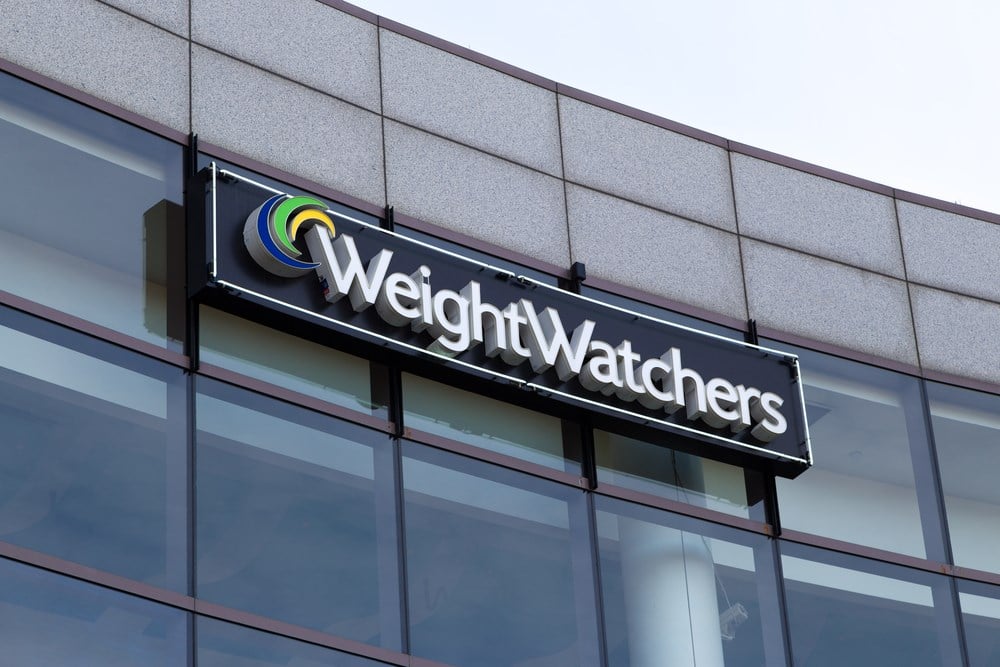 Weight management meals and services provider WW International Inc. (NYSE: WW) stock made a 52-week high of $10.02 after its Q1 2023 earnings release. Shares collapsed (26%) as Artal Group S.A. sold its remaining 14.8 million share stake. Despite the stock sell-off, the Weight Watchers turnaround is taking shape as the company continues to cut expenses and return to growth as it readies itself for integrating its $132 million Sequence Inc. acquisition.
Telehealth platform provider Teladoc Health Inc. (NYSE: TDOC) recently announced its intention to start its own clinical weight-loss management service, which can also prescribe weight-loss drugs.
Entering the Clinical Space
The Sequence platform is a one-stop weight loss telehealth service that can prescribe weight loss drugs to qualified members. WW introduced the concept of "weight health," similar to mental health or heart health, as a complete lifestyle program to also focus on preventing and managing weight-related chronic diseases like obesity, Type-2 diabetes, high cholesterol, liver diseases and cardiovascular diseases. This will introduce Sequence to its membership as WW enters the clinical space.
Weight Health
CEO Sistani noted the new term "Weight Health," similar to mental or heart health. Weight health comprises unique genetic, hormonal, biological and behavioral factors for each individual. It targets better managing and preventing chronic diseases caused by excess fat, like Type-2 diabetes, cardiovascular disease and high cholesterol. She stated, "Weight Watchers will be synonymous with delivering Weight Health through our pillars of coaching, accountability and community through evidence-based intervention." This led to the introduction of Sequence, which will jumpstart its entry into the clinical space.
Sequence  Acquisition 
WW polled its members about the Sequence acquisition. Nearly 50% of the surveyed WW members said the acquisition made them think more positively about Weight Watchers, as 80% felt WW was keeping up with the latest scientific research. Nearly 18% of surveyed current WW members said they are interested in trying weight-loss medication, indicating WW is bringing credibility to the space. Sistani stated that the top 3 expectations for Sequence were providing access to GLP-1 medication, coordination insurance and personalized lifestyle programs encompassing nutrition, fitness and coaching for people living on the medications.
About GLP-1 Medications
GLP-1 drugs stimulate insulin secretion to regulate blood sugar levels suppressing glucagon to maintain normal blood glucose levels and leaving the user feeling full. They gained much attention for their off-label use for losing weight since they were initially designed to manage Type-2 diabetes. Various drugmakers, including Eli Lilly& Co. (NYSE: LLY), Novo Nordisk A/S (NYSE: NVO), Pfizer Inc. (NYSE: PFE), and  Amgen Inc. (NASDAQ: AMGN), manufacture GLP-1 drugs like Tirzepatide, Semaglutide, Liraglutide, and Dulaglutide.
The Best of the Worst?
On May 4, 2023, WW released its first-quarter fiscal 2023 results for the quarter ending March 2023. The company reported a GAAP earnings-per-share (EPS) loss of ($1.68) items versus consensus analyst estimates for a loss of ($0.38), a (-$1.30) miss. The operating loss was $28.6 million. When excluding restructuring charges, the adjusted operating loss was $5.9 million. Revenues fell (-17.1%) year-over-year (YoY) to $241.9 million, beating consensus analyst estimates for $235.41 million. The company ended the quarter with $140.8 million in cash.
More Shedding
Subscribers fell by (11%) YoY, primarily from the digital business. Gross margins fell to 49.4% versus 60.05% in the year-ago period. Adjusted gross margin fell (335 bps) to 57.1%.
In-Range Full-year 2023 Guidance
The company issued fiscal full-year 2023 revenues of $910 million to $930 million. Operating income is expected between $48 million to $60 million. After backing out the restructuring charges, adjusted operating income is expected between $80 million to $85 million. End-of-year membership is expected to be around $3.6 million.
Marketing Efficiency
WW International CEO Sima Sistani talked about how the company added 500,000 new subscribers while spending ($19 million) less on marketing. It also represents a 100,000 subscriber gain over the year-ago period. She stated, "To reiterate, we achieved more net addition with 18% less marketing spend versus the prior year's first quarter. This demonstrates that our new marketing approach and improved programs are working and driving efficient acquisition."
This reduced customer acquisition costs (CAC) to $176 per member from $359 in 2021. The CAC in 2020 was $146 per member. WW grew its membership to four million users, of which 80% access Weight Watchers through mobile devices. Its activation rate has been uptrending between 4% to 8%. Activated members have more success with Weight Watchers resulting in long-term memberships. The engagement rate, measured year-round, is uptrending 6% to 7% YoY.
WW International financials can be found at MarketBeat.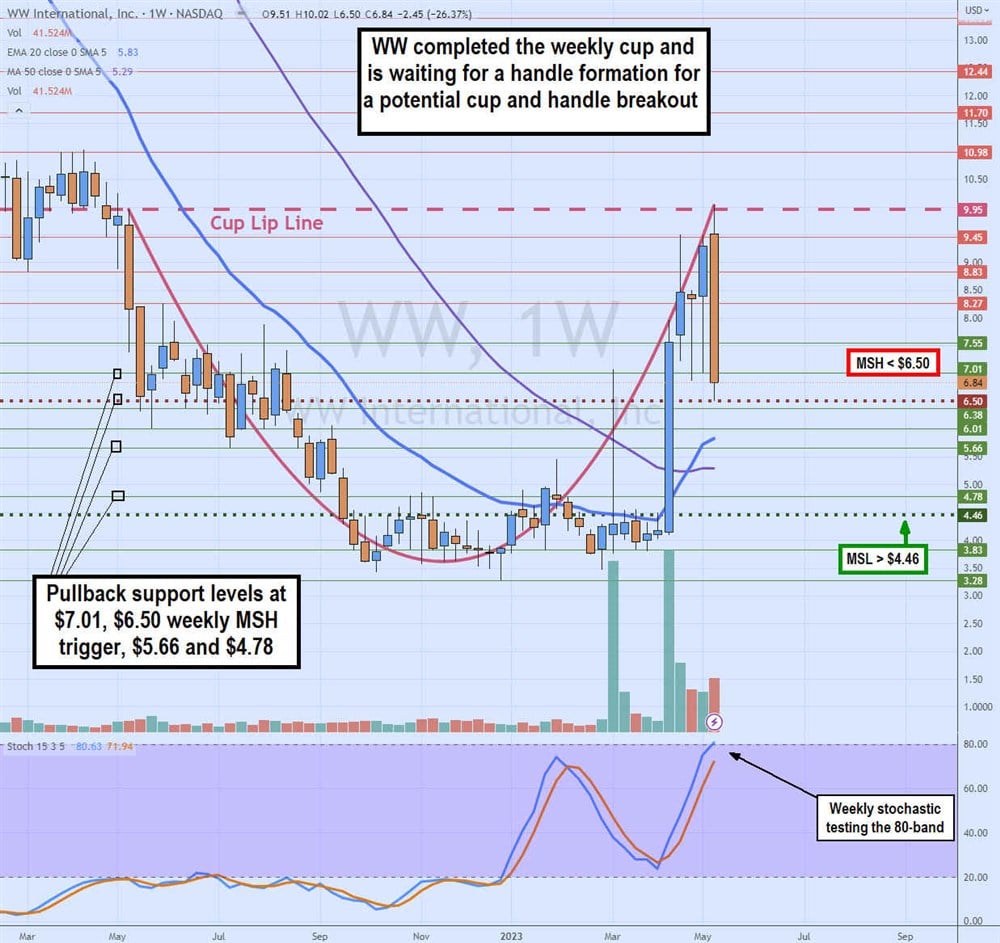 Potential Weekly Cup and Handle  Set-Up
The weekly candlestick chart on WW illustrates the cup formation starting at $9.95 in May 2022. Shares fell to a low of $3.28 in December 2022. WW triggered a weekly market structure low (MSL) breakout through $4.46 to test the $7.01 level upon the announcement of the Sequence acquisition. Shares plummeted back down under the weekly MSL trigger for over a month before WW announced the completion of the acquisition in March 2022. This sent shares back up through the $7.01 prior high, turning it into a support level. Shares continued to rocket higher to retest and reject off the cup lip line. WW attempts to form a handle after forming the weekly market structure high (MSH) sell trigger at $6.50. A bounce and breakout through the cup line at $9.95 can trigger the cup and handle breakout. Pullback supports are at $7.01 prior swing high, $6.50 weekly MSH trigger, $5.66 and $4.78.