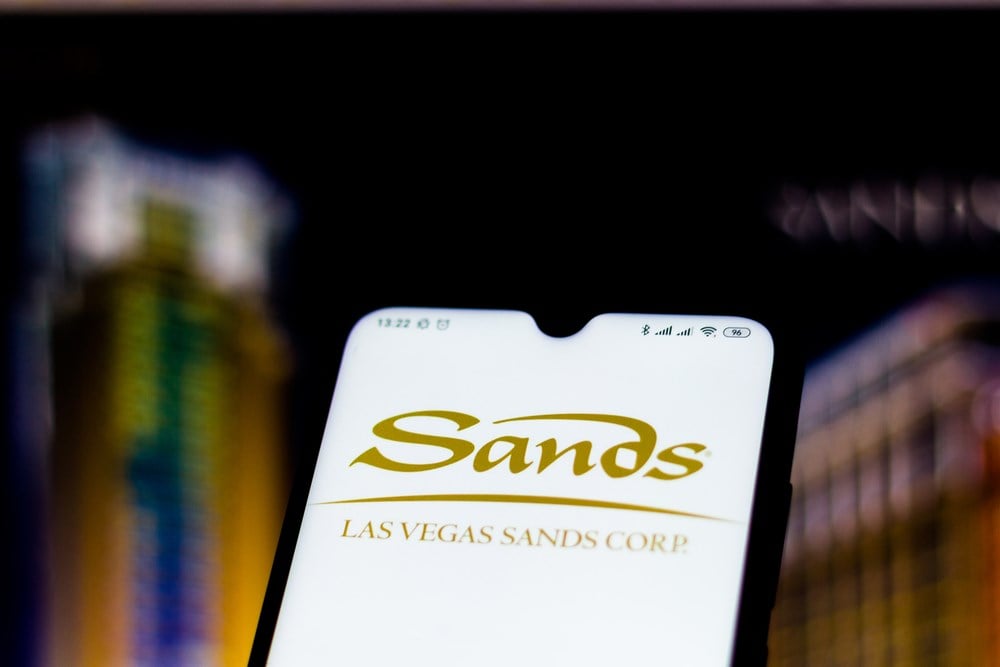 If you had to name the S&P 500 stock that's expected to grow revenue by 151% this year, would you have named casino operator Las Vegas Sands Corp. (NYSE: LVS), or AI titan Nvidia Corp. (NASDAQ: NVDA)?
As you can tell by that question, Wall Street has a positive view of Las Vegas Sands, even relative to this year's S&P hero Nvidia. 
Wall Street is eyeing revenue growth of 151% for Las Vegas Sands, expecting a strong return to travel and hotel stocks as the broader economy continues its post-pandemic rebound. 
Sales Forecasts Better Than Nvidia's
That revenue forecast is ahead of the 100.5% sales growth analysts see for Nvidia. 
Las Vegas Sands operates casinos in Macao and Singapore. It's planning the development of a property on Long Island, New York, in conjunction with the Canyon Ranch company. 
Analysts expect Las Vegas Sands to post $10.3 billion in total revenue this year, which would mark a 151% increase over 2022 revenue. 
Revenue declined in late 2021 and early 2022, but growth resumed in the quarter ending in the quarter ended in September 2022. Revenue growth accelerated sharply in the past two quarters. 
The company also reported losses in the past three years, first due to global pandemic closures of casinos, then due to China's slow reopening, relative to other countries. 
Pivoting Back to Profitability
This year, Wall Street expects the company to earn $2.08 per share. Next year, that's seen rising by 52% to $3.16 a share.
Since last year, investors have gotten accustomed to tech stocks, like Nvidia, racing higher, largely due to optimism about AI. 
Energy stocks, too, are on the rise once again after notching monster returns in 2022, especially when compared to other sectors.
However, travel and leisure, particularly outside of airline stocks, has been a surprise winner this year. 
For example, top-performing S&P 500 components in 2023 include Wynn Resorts Ltd. (NASDAQ: WYNN), Norwegian Cruise Line Holdings Ltd. (NYSE: NCLH), Royal Caribbean Cruises Ltd. (NYSE: RCL), Carnival Corp. & plc (NYSE: CCL), Booking Holdings Inc. (NASDAQ: BKNG), Marriott International Inc. (NASDAQ: MAR), Caesars Entertainment Inc. (NASDAQ: CZR), MGM Resorts International (NYSE: MGM), and Hilton Worldwide Holdings Inc. (NYSE: MGM).
Despite forecasts of a yet-to-occur recession, Americans have been splurging at hotels, restaurants, casinos, bars, for airfare and other travel-related activities. 
Meanwhile, Nvidia has been tearing up the charts, as the old deejays phrase goes, becoming the S&P's leading stock this year, returning 211.24%. 
Selloff Accelerated In July
That's a pretty stark contrast with Las Vegas Sands' performance. A glimpse at the Las Vegas Sands chart gives you a clear picture of the stock's three-month decline of 17.88%. The stock began its downward trajectory in May, but the selloff accelerated in July, following the company's most recent earnings report.
The stock appears to have found a floor above $48, a sign that perhaps it's stabilized. 
As you can see using MarketBeat's Las Vegas Sands earnings data, the stock beat analysts' views on both the top- and bottom lines. 
Is the selling here overdone? 
Analysts' forecasts seem to suggest that. Las Vegas Sands analyst ratings show a consensus view of "moderate buy" and a price target of $70.73, an upside of 44.56%. 
To give that a little more context, analysts see an upside of 21.91% for Nvidia. 
After the July earnings report, several analysts lowered their price targets on Las Vegas Sands, although none reduced their ratings to "sell," and even those lower targets are still above where the stock is trading now. 
Attractive Valuations For Buyers?
For investors looking for a stock that has potential to rise, which they can nab at an attractive valuation, Las Vegas Sands could be a strong candidate.
"Las Vegas Sands' Macao resorts (66% of 2019 EBITDA) are positioned to see strong revenue growth in 2023 after China's removal of COVID-19 restrictions in early January," wrote Morningstar analyst Dan Wasiolek after the company's earnings report. 
"We continue to think Las Vegas Sands and the gaming enclave are also well positioned for long-term growth," he added.