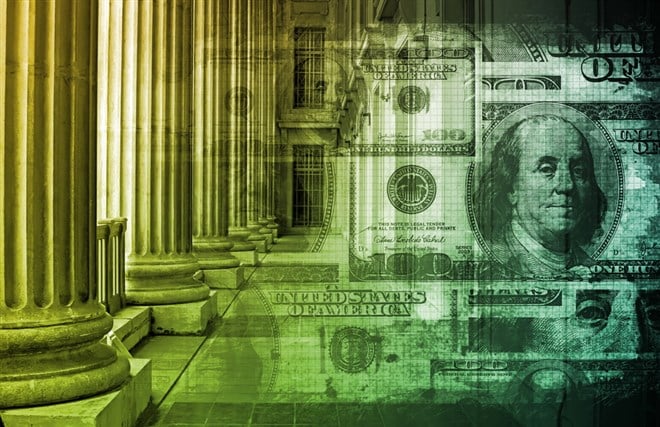 Banking stocks have been hit strongly this year amid the bankruptcy of several high-profile banks, deteriorating sentiment, and the expectation that the worst is yet to come.
Despite these challenges for the financial services sector, the good news is that it has produced some potentially undervalued opportunities for investors to take advantage of.
In this article, we'll cover three blue chip banking stocks that may have become cheap enough to buy today.
Citigroup
Citigroup (NYSE: C) could be a viable pick for investors. One reason is that many people could be thinking about rotating smaller banks out of their portfolios and instead lean on blue chips that have more resilient balance sheets, such as Citigroup.
Out of the banks in Citigroup's peer universe in terms of capitalization and revenues, Citigroup is valued the cheapest on the price/book (P/B) basis at just 0.45.
As a fallout from the global financial crisis (GFC) blue chip banks like Citigroup are also far less leveraged than they were before, thereby holding few loans relative to assets on their balance sheets.
Citi's debt ratio stands below zero, and its leverage ratio is similar to that of its peer companies at 8.73. The bank is also trading near the bottom of its 52-week range, and the consensus on Wall Street is that it's a hold.
The company's rise in book value from 2010 today suggests the discount on offer is mostly the result of the market sell-off as it had a similar book value in December last year while trading for around $20 more. Also, as a systemically important institution, its liabilities mean less to most retail investors.
One reason for the market's discounting could bet that its net income per share has shrunk 12% over the last three years. This is despite its operating income per share exploding 324% over the same period. The incredible difference is the same reason it might be undervalued on a book basis; due to a fast rise in its net working capital (NWC).
The bottom line is that if an investor is of a value orientation, then one could believe Citi will revert closer to its book value, accomplished thru unlocking profits from the incredible flow of assets relative to its liabilities.
Bank of America
Bank of America (NYSE: BAC) is another blue chip bank that has taken a beating. The company is trading right near the bottom of its 52-week range and is generally worth looking into further.
One red flag is that BoA is presently unprofitable on a trailing 12-month basis (ttm) as seen through its negative free cash flow of $6.3 billion. This is despite the company reporting a positive earning per share (EPS) of $3.20, which highlights how different valuation and financial reporting functions may be misleading.
With the amount of cash a company generates being the final arbiter of its intrinsic value, it then makes sense that the business might be correcting back to its fair value.
Operating cash flow for the bank has shrunk 111% over the last three years, while it also saw a 15% increase in revenues and 11% growth in net income over the same periods.
Another way of examining the weakness of the ratio is the P/FCF ratio, which stands at -33.56.
To make issues potentially worse for the bank, investors pay a fair bit for its earnings, as its price/earnings (P/E) ratio stands at 7.79. 
It should be noted that its drop in FCF is not necessarily a disaster scenario. Banks tend to have volatile FCF, as seen in 2018 when this grew 300.65% in 2018. There could also be some hidden upside in the bank provided some variables play out as expected.