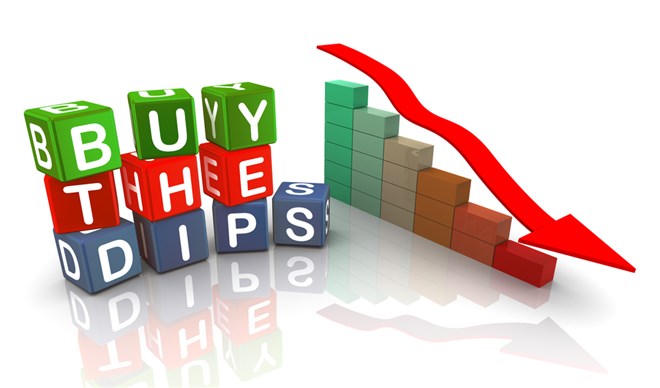 All investors and investors dream of always buying low and selling high. Buying on the dip is a way to achieve that goal, but is it always foolproof?
Recently, Mobileye Global Inc. (NASDAQ: MBLY) fell to a January 6 low of $28.73 before rallying, and two months later, was trading 45% higher. Investors who bought a dip, sometime during a January pullback, not even timing that low perfectly, would be seeing double-digit gains.
Mobileye Global offered a second opportunity to buy the dip, when it retreated to a low of $37.28 on February 2. It began rallying from that low during the same session and is now up 12% since then.
Buying the dip is a strategy wherein an investor or trader can initiate a new position or add to an existing holding while the stock is trading lower than its previous high. The expectation, of course, is that the price will recover within the time frame that the investor or trader is willing to hold the security.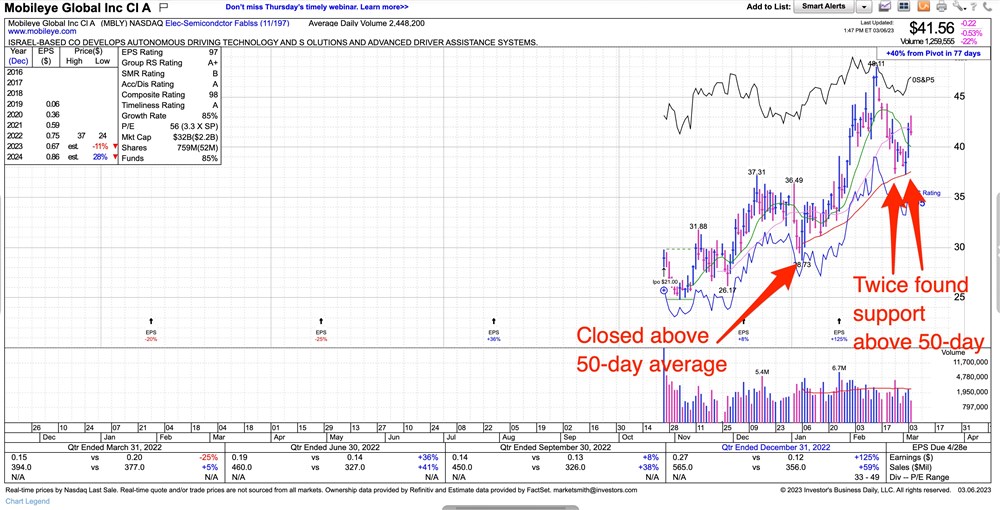 Traders frequently use the strategy to pocket some short- or medium-term gain. Investors with a longer time horizon also buy the dip, particularly using stocks whose underlying fundamentals are strong but have seen selling pressure along with the broader market, or in reaction to a specific company or industry situation.
Buying the dip shouldn't be done just because a stock is trading lower. Let's use Mobileye Global as a case study.
On January 6, 2023, the autonomous driving specialist sliced through its 50-day moving average but ended the session 3.9% above that line. It notched upside gains in the following two sessions while the price remained below prior highs. There was plenty of opportunity to buy the dip with a stock that big investors supported rather than holding a fire sale. 
In addition, the stock's earnings and revenue growth, as well as analyst estimates, bolstered the stock's appeal as having solid potential. 
A similar principle was in place when the stock pulled back again in February after rallying to a new high of $48.11 on February 15. From there, the stock gave up some gains, essentially in tandem with the broader market, and found support above its 50-day average on February 24, and just at that line on March 2. 
Buying the dip can be fruitful in a case like Mobileye Global. Still, in cases where there's little or no institutional support, often combined with poor fundamental performance, it becomes a riskier prospect. Initiating a position, or adding to a position, when a stock is out of favor with institutions can lead to losses that could have easily been avoided by focusing on a higher quality stock or at least one showing signs of an uptrend. 
Sirius XM Holdings Inc. (NASDAQ: SIRI) offers an example of a stock whose technical performance is melting down, at the same time sales and earnings growth is already tepid and expected to slow even more. Sure, there are brief periods of time when the stock rallies, but in recent months, even traders who want to pocket some quick gains haven't been able to profit from this one. 
Sirius XM provides a glimpse of a stock that would be a risky gamble to buy on the dip.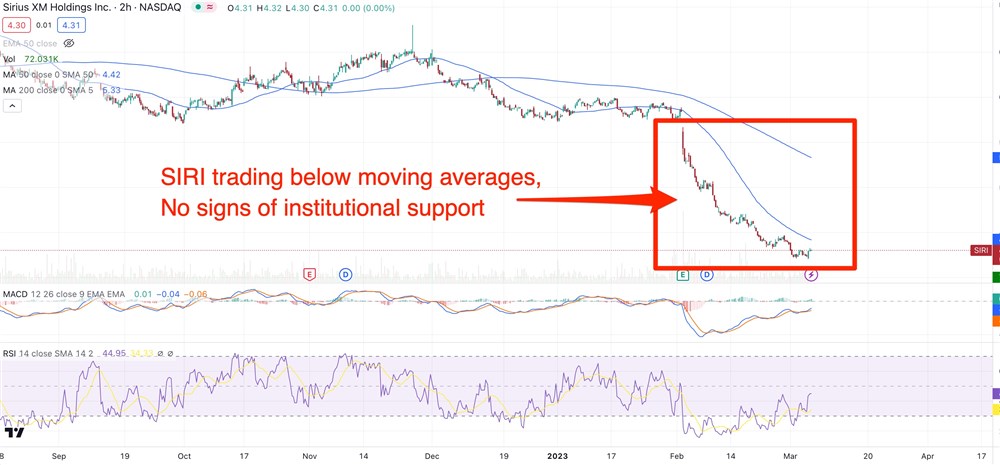 Buying the dip can be a good strategy, but only under certain conditions. If the broader market is trending lower or experiencing high volatility, even a stock with strong fundamentals and technicals can suddenly reverse lower, wiping out gains quickly.
One methodical way to easily buy the dip is by using dollar-cost averaging. This is a popular strategy in employer-sponsored accounts, such as a 401(k), where an account owner can simply continue adding to existing holdings with every paycheck. Over time, that's a good way to grow account value. Dollar-cost averaging can cause account value to decline in a bear market or a correction, but over time, it can be an effective way to add shares at a lower price, and watch them appreciate.