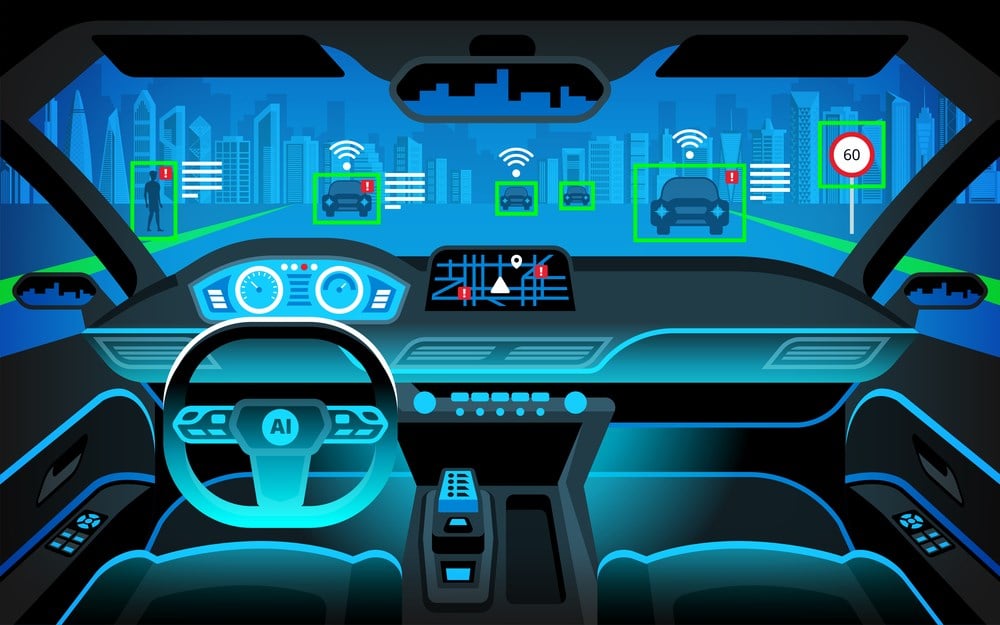 Advanced driver assistance systems (ADAS) and autonomous driving solutions provider Mobileye Global Inc. (NASDAQ: MBLY) stock formed a breakdown through its daily ascending triangle. The company produces its software and has its artificial intelligence (AI) chip explicitly designed for ADAS. Mobileye had a 50% ADAS system on a chip (SoC) market share when acquired by Intel Inc. (NYSE: INTC) in August 2017.
It has grown to a 70% market share by 2023. Intel spun off some of its Mobileye stake as a public company but still retains a 94% stake. Mobileye's legacy business is the single camera SoC they sell to original equipment manufacturers (OEM) for $50 per EyeQ chip. The company sold 28 million chips that went into 28 million cars in 2021 produced by over 50 OEMs, including Volkswagen AG (OTCMKTS: VWAGY), Ford Motor Co. (NYSE: F), Toyota Motor Co. (NYSE: TM) and China-based electric vehicle (EV) maker Geely's Zeekr brand. The company is evolving towards fully autonomous driving, which will lead to higher revenue per car.
Mobileye SuperVision
Mobileye's SuperVision is arguably the most advanced ADAS on the market. It utilizes AI, radar and lidar technology for a complete surround-view camera system that includes HD mapping, computer vision, machine learning, analysis and mapping for decision-making software and two EyeQ chips in an electronic control unit which sells for between $1,000 to $2,000, versus around $50 per legacy SoC.
It's already outfitted over 60,000 Zeekr EVs in China and looks to roll out in Europe in 2023. It expects SuperVision, such as Polestar 4, to launch in Q4 2023. SuperVision will be equipped with nine car models from six brands by 2026.
SuperVision Features
SuperVision provides point-to-point navigating pilot on all road types, including highway, rural, arterial and urban. The system is fully aware of the dynamic changing driving environment and operates up to 130 kilometers/hour. Its algorithms can detect cars ahead of the lead vehicle to cars with doors open on the shoulder and pedestrians on the side of the road.
Autonomous lane changing, automatic on/off ramp, and evasive maneuver assist are included with SuperVision. It's over-the-air updates enable the system to evolve and improve over time continually. It sets the standard for premium driver-monitors hands-free driving.
Earnings Beat
On April 27, 2023, Steelcase reported Q4 fiscal year 2023 earnings for the quarter ending March 2023. Non-GAAP earnings per share (EPS) came in at $0.14 versus $0.12 consensus analyst estimates, a $0.02 beat. Revenues rose 16.2% year-over-year (YoY) to $458 million beating $454.98 million consensus analyst estimates. Average SoC price rose to $53.9 from $51 in the year-ago period, driven by more than doubling SuperVision sales.
Lowered Guidance
Due to a significant EV maker, largely speculated as Tesla Inc. (NASDAQ: TSLA), lowering its prices, causing Chinese EV makers to lose out on sales, Mobileye lowered its fiscal full-year 2023 revenues to come in between $2.06 billion and $2.11 b with adjusted operating income of $548 million to $577 million. 
Mobileye CEO Amnon Shashua commented, "We are updating our 2023 fiscal year guidance we provided on January 26, 2023, to reflect a meaningful reduction in our expectations for SuperVision volumes in 2023, which is impacting the midpoint of our annual Revenue, Operating Loss, and Adjusted Operating Income guidance by about 6.5%, 34%, and 6.5%, respectively. 
The China electric vehicle market has been negatively impacted by meaningful pricing actions by a global EV OEM, reduction of government electric vehicle subsidies, and general economic weakness in the country." He mentioned that SuperVision orders had improved recently for its primary customer in China.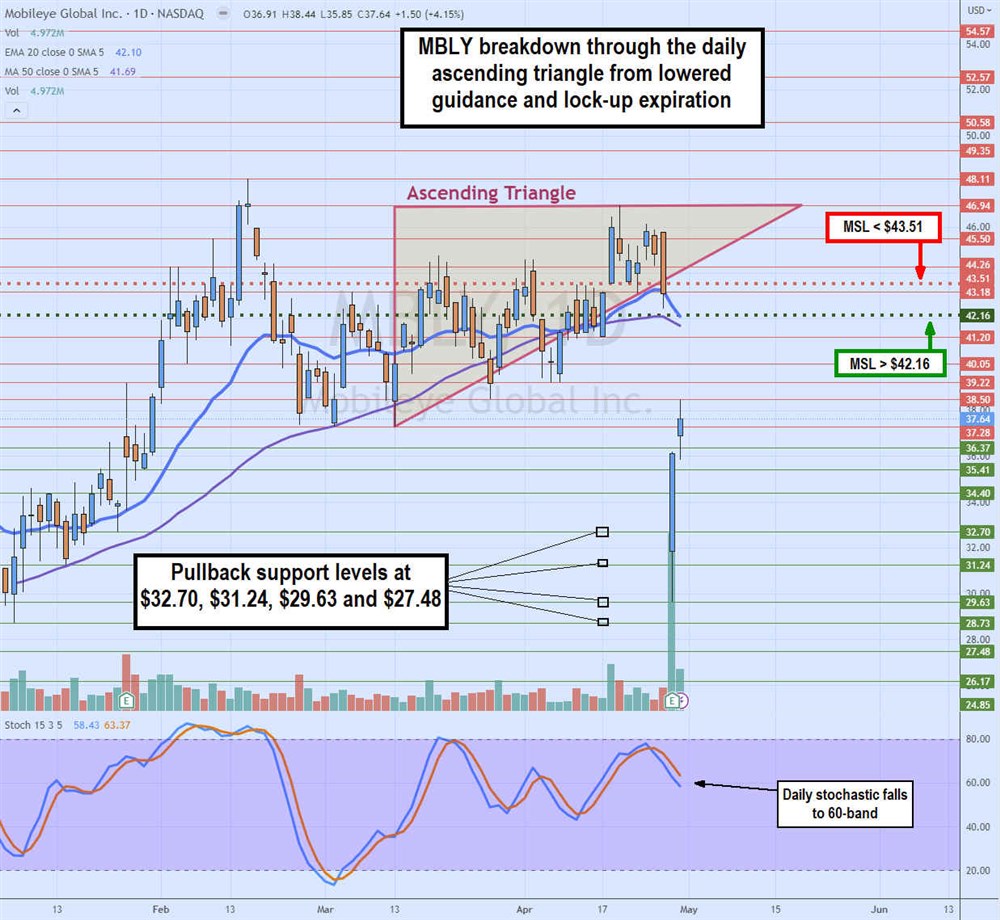 Ascending Triangle Breakdown
The daily candlestick chart for MBLY had an ascending triangle formed in March 2023, making higher lows on pullbacks against the flat-top resistance trendline at $46.94. The daily market structure low (MSL) buy triggered above $42.16, but an opposite market structure high (MSH) sell trigger formed down $43.51.
The MBLY earnings reaction caused shares to gap under the rising triangle trendline forming a breakdown out of the pattern. Shares fell to a low of $29.63 before staging a rally back to $37.64 on hefty volume. The daily stochastic has fallen to the 60-band. Pullback support levels are at $32.70, $31.24, $29.63 and $27.48.