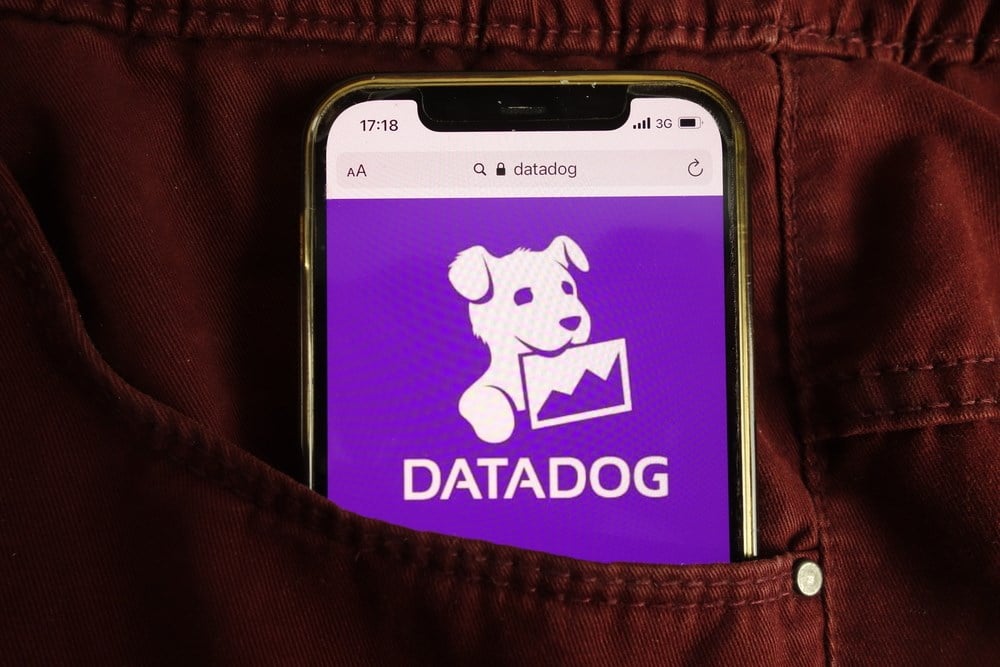 As a monitoring platform for cloud-based apps, Datadog Inc (NASDAQ:DDOG) has tremendous long-term growth potential tied to enterprise digital transformations, data analytics and cybersecurity — and its stock is trading 56% below its November 2021 peak. These two reasons alone make it a compelling takeout candidate. Now there's a third. 
Last week, Cisco announced a $28 billion acquisition of cybersecurity software firm Splunk, easily its biggest acquisition yet. Although regulatory hurdles remain, the 31% premium that Cisco is willing to pay shows how valuable security software players have become in the technology ecosystem. 
In the aftermath of countless corporate breaches, protecting proprietary and customer data has become a top priority for industries worldwide. For Cisco, the Splunk buyout is the old school computer networking equipment leader's next step in finding growth outside of its core competency.
Not surprisingly, the Cisco-Splunk deal also has much to do with artificial intelligence (AI). This year's hottest trend is inspiring tech and non-tech companies alike to develop (or acquire) AI capabilities that enhance their competitiveness. Splunk's AI-powered tools are expected to help predict, prevent and respond to threats, thereby enhancing Cisco's global role in cybersecurity.
Although Datadog's business model isn't a mirror image of Splunk's, it does check many of the same boxes. A next-gen observability and analytics platform with over 400 cloud and on-premise integrations. A leader in AI-driven IT operations. A stock that got crushed on second quarter earnings and is arguably undervalued. Check, check and check. 
What Is Datadog's Growth Outlook?
On August 8th, Datadog shares fell 17% after the company reported Q2 results. Revenue and adjusted earnings per share (EPS) increased 25% and 50% year-over-year respectively. Both figures topped Wall Street expectations and the customer count grew 23% to 26,100 — but it wasn't enough. 
The outperformance was overshadowed by management's cautious near-term revenue outlook. With customer spending in 'wait-and-see' mode due to macroeconomic conditions (inflation, rising rate pressures), full-year revenue is forecast to be up 'only' 23%. Since the market doesn't like slowing growth, macro-driven or otherwise, DDOG sold off in heavy volume. It was probably a near-sighted overreaction. 
That's because Datadog's long-term growth drivers remain in place. Demand for cloud-based monitoring and analytics is poised to trend higher over the next few years as more organizations recognize the importance of protecting their digital assets. Cloud migrations and digital transformations will keep moving forward — even if not full-steam ahead in the back of this year. In the process, Datadog's expanding product suite and partnerships with Amazon Web Services (AWS), Google Cloud and Microsoft Azure will prove to be valuable growth drivers.
As it has for the past decade, cloud spending as a percentage of overall IT spending is forecast to rise. According to research group Gartner, by 2026 this figure will reach approximately 17% — compared to less than 2% in 2010. Also by 2026, the observability software market is forecast to expand to $62 billion from $41 billion last year. As this growth unfolds, Datadog will have ample opportunity to grab a bigger piece of a bigger pie. A slowdown isn't a big deal for a company that's still in the early innings of a long-term growth game.
Who Could Acquire Datadog?
The list of companies that could find Datadog to be a valuable takeout play is extensive. It starts with competitors who would benefit from eliminating a key source of friction — if you can't beat 'em, join 'em. After all, Splunk is a competitor to Cisco. 
So too is IBM, Microsoft and Dynatrace, all of which could be legitimate Datadog bidders. It also wouldn't be out of the question for a cloud partner like Alphabet or Amazon to take a swing. Microsoft may be less likely, given its ongoing battle to appease regulators on the Activision Blizzard deal. Then, there are any number of deep-pocketed tech behemoths that could take a run at Datadog to bolster their cloud software presence.  
It's likely that many ears perked up on the Cisco-Splunk news. Datadog may need to suffer another downturn for a would-be acquirer to get more serious. Another gap-down overreaction is plausible if the Q3 release disappoints. Then again, it may not take much more devaluation for bidders to kick the tires.
That's because Datadog's current market value is $28.5 billion, almost the exact price that Cisco offered for Splunk. It is trading at 54x next year's EPS estimate. It's a multiple that's not that high relative to the software industry average — an average that includes several slower-growth companies. 
If DDOG dips back into the $70's or $60's, the likelihood of takeover talks would increase (unless the long-term fundamentals deteriorate). Given the anticipated growth in cybersecurity software, Datadog may already be getting some bites from large-cap tech.